Training in Uganda: Coping with floods, epidemic and terror threats
by
Nancy Montgomery
March 11, 2015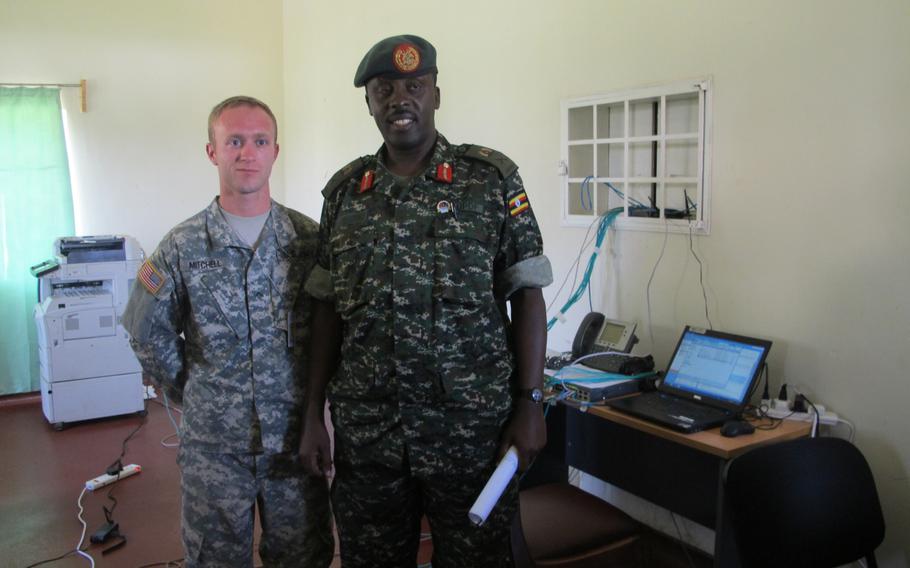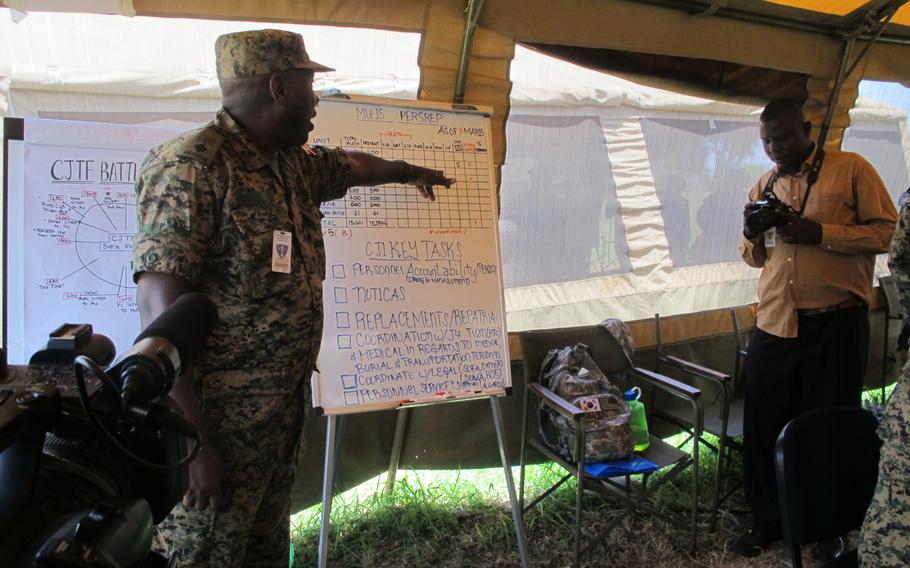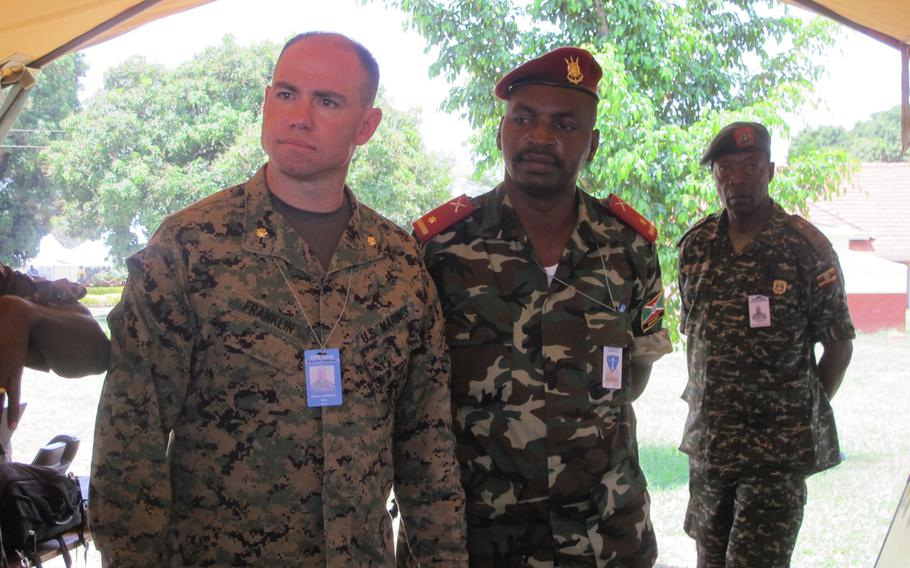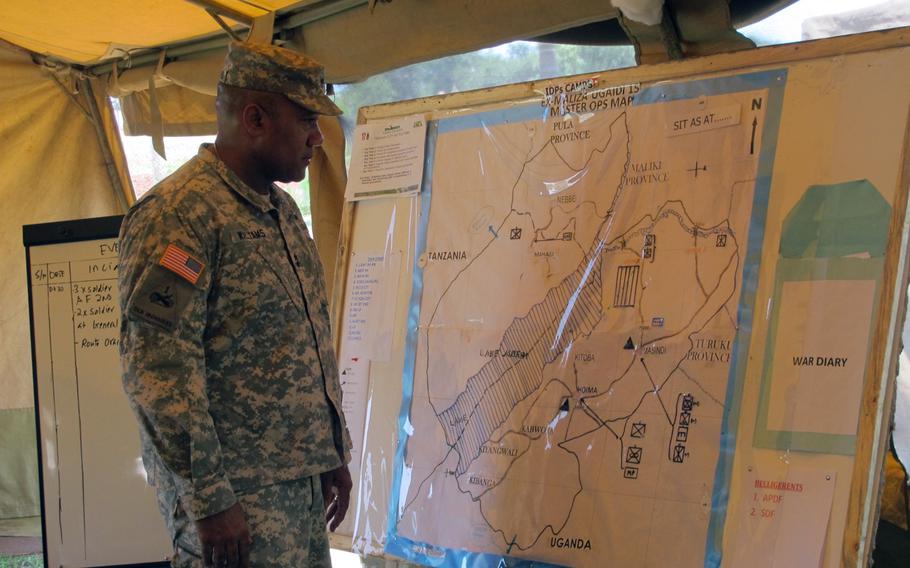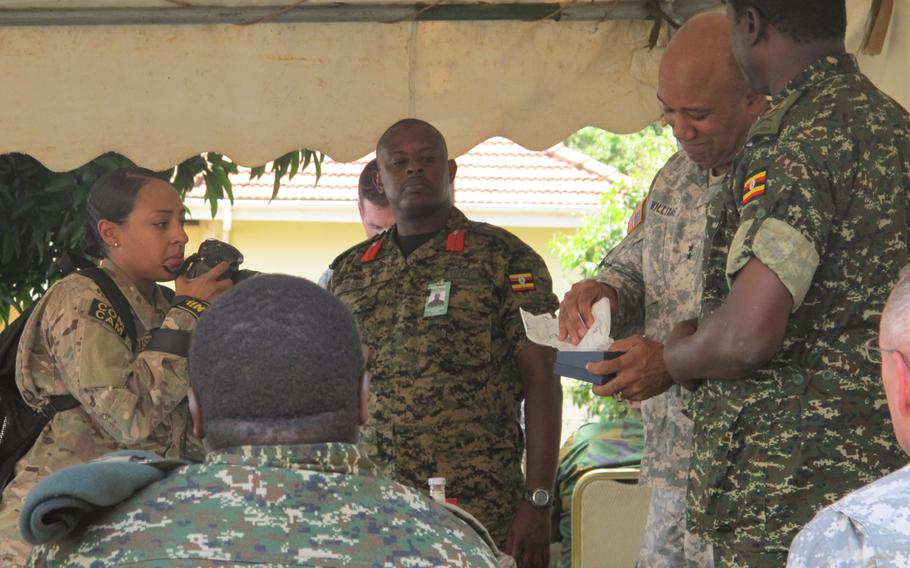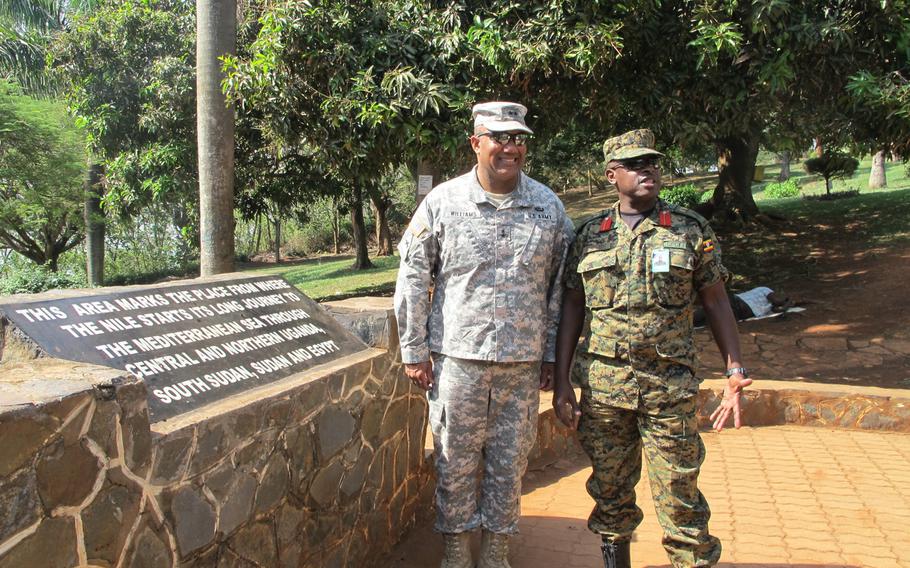 JINJA, Uganda — Pvt. Cody Mitchell saw the Army as his ticket out of Georgia. On Tuesday, less than a year after he enlisted, he was in a tent in Uganda exchanging pleasantries with the commander of U.S. Army Africa and posing for photos with a Ugandan army general.
"I know it's not always like this," Mitchell said later that day, as he drank a soda on a hotel patio overlooking a blue swimming pool and the green River Nile, still buoyant from his brush with military celebrity. "Every day, people are telling me I'm lucky just to be here."
Mitchell's presence in this verdant, breezy Ugandan town is for an annual training exercise the U.S. Army conducts with east African armies. Called Eastern Accord, the exercise is designed to foster regional cooperation to deal with security threats and humanitarian crises, train U.S. troops to work in austere environments with their African counterparts, and provide U.S. and east African military officials the opportunity to develop friendly relationships.
"What we're doing here is working with regional partners to assist them in preventing conflicts from becoming all-out war," said Col. Chip Daniels, commander of the 4th Brigade, 1st Armored Division and the exercise control director. "You have Africans exporting security in the region, which we think is wonderful; we're not sending brigades over here."
The 10-day exercise, which concludes Saturday, is one of four regional exercises organized annually by the U.S. Africa Command on the continent. Africa — rich in resources and also in ungoverned spaces where violent extremist groups can and do prosper — has been increasingly viewed as an important national economic and security interest.
"We're setting the seed corn," said U.S. Army Africa commander Maj. Gen. Darryl Williams, who spent Tuesday in Jinja observing the exercise at Gadhafi Barracks, named after and apparently paid for by the deposed, late Libya strongman. "We're setting the stage where they can work together and we can work together.
"It takes time to develop," said Williams, whose command is based in Vicenza, Italy. "The first time, you're just being polite. The second time, you're talking. By the third time, there's comprehension."
This year's exercise includes some 100 U.S. troops, about half from the 4th Brigade, 1st Armored Division out of Fort Bliss, Texas, as well as a handful of European observers. In the African contingent are soldiers from Tanzania, Rwanda, Burundi; but primarily from Uganda.
Mitchell, who worked before the exercise started setting up communications for it, said he viewed the U.S. troops primarily as trainers to the Africans, who he said were avid and receptive learners.
"But we all learned a lot out here," Mitchell said.
The Uganda Peoples' Defense Force is by African standards a well-established and professional force that has been vital in several U.N. and African Union peacekeeping missions. The small, landlocked country has been a U.S. ally for decades.
"We have a lot of commonality at a strategic level on security issues," said Col. Patrick Anderson, chief U.S. defense attaché in Uganda, who also observed the exercise on Tuesday. "In terms of political will and willingness to put skin in the game, Uganda punches above its weight."
One of Uganda's successes, officials said, was to neutralize the Lord's Resistance Army, a homegrown Christian extremist group known for its brutality. Several of the group's top lieutenants were killed; one recently turned himself in and is going on trial for war crimes at The Hague, leaving its notorious leader, Joseph Kony, isolated, it's thought, somewhere in the bush in central Africa. The U.S. sent about 100 special operations forces in 2011 to work with African Union troops looking for Kony.
But other groups in Africa are considered a terrorist threat. In east Africa that includes al-Shabab, the Islamist insurgency in Somalia, as well as al-Qaida affiliates.
The exercise posited a political crisis in a fictional country, "Souskousland," overlaid on a map of Uganda, resulting in armed conflict among groups vying for power, followed by fleeing civilians, a cholera epidemic and a flood. The troops' job was to stop the fighting and protect and aid the civilians.
"The exercise scenario is possible. It prepares us for what is likely to happen," said Maj. Gen. David Mahoozi, the Ugandan army chief, during a briefing by a group of African officers involved in the effort.
"Think about the soldiers on the ground right now responding to your orders," Williams told the same group. Commanders view battle space abstractly, he said, on charts and diagrams inked in pen. But a unit marking on a diagram represents real people — soldiers — who live or die by their commanders' decisions.
"Your orders, your decisions," Williams said. "You must do your job well. You must always think about the soldiers on the other side of your pen."
"I want to link our institutions with their institutions," Williams said in the earlier interview. "You can't get any more strategic than that."
For hours, Williams shook hands, patted backs, offered praise and exchanged gifts, accompanied by Ugandan generals and an entourage of U.S. officers, surrounded by a bevy of military photographers.
"We'll be in touch," he said as he left. "This is just the beginning."