Trace team helps Army in Italy stem the spread of coronavirus
by
Nancy Montgomery
August 18, 2020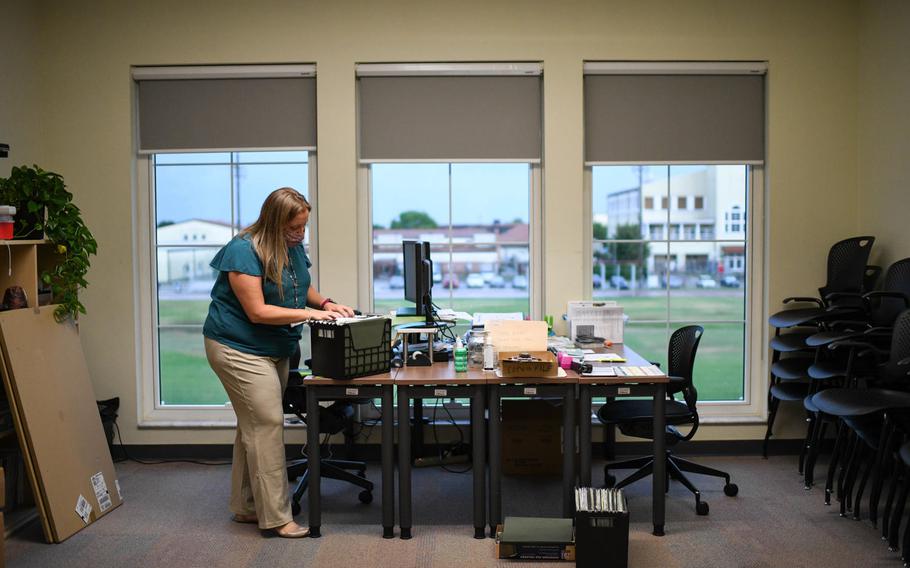 Stars and Stripes is making stories on the coronavirus pandemic available free of charge. See other free reports here. Sign up for our daily coronavirus newsletter here. Please support our journalism with a subscription.
VICENZA, Italy – With the coronavirus able to spread very rapidly through a population, the Army's contact tracing team in Italy has to act just as swiftly.
A vital part of U.S. Army Garrison Italy's efforts to control the spread of the virus, the contact tracing team leaps into action if someone tests positive for the virus — and even before they do.
People are questioned by a public health nurse about what they've done over the past two weeks, while they wait roughly 90 minutes for the results of a coronavirus test at the garrison's health center: Did they go to any bars or restaurants? How many people are in their household? Who are their co-workers? Whom might their children have played with?
"We start the process early. We want to make sure we're five steps ahead if they come back positive," said public health nurse Jennifer Williams, part of a team that immediately leaps into action if the test result is positive.
Patients found to have the virus are placed in isolation and monitored daily for 14 days while the contact tracing team, made up of a core group of three public health nurses, and supplemented at times with Red Cross volunteers and soldiers, gets on the phone and contacts anyone who in the past 14 days was within six feet of the person for at least 15 minutes.
"Over 90% of our close contacts have been contacted within six hours or less," said Lt. Col. Kelley Togiola, the public health emergency officer overseeing the trace team. Those people are then tested, isolated if positive or quarantined if negative and monitored daily. Each time someone new tests positive at the clinic, the process starts all over again.
"It also informs our science on how the virus behaves. It's how we were able to understand that asymptomatic people can be positive for the virus and transmit it," Togliola said.
The success of the program, a cornerstone of the public health effort to control the virus, stands in contrast to similar efforts in much of the U.S. There, the effort has been stymied by the virus's pervasiveness, long waits between testing and results, and contacts who can't be located or are uncooperative.
Since the garrison geared up for the effort in February, hundreds of people at risk of infection have been contacted, Togiola said.
"It has been hectic at times but I feel we've really been able to get it under control and keep our community safe," Williams said.
Military contacts are generally easy to locate and willing to be tested, quarantined and monitored.
"I don't think we've had anybody flat-out not participate," Togiola said.
Overall, the Defense Department has reported 47,513 cases of the virus and 74 deaths, including four service members. Because Defense Department officials have ordered commands not to disclose their coronavirus data, citing national security reasons, the number of infections within the garrison is not publicly known.
In addition to the garrison testing, Public Health Command Europe performs surveillance testing of populations such as the 173rd Airborne Brigade to estimate and monitor the current state of the epidemic.
And all new Defense Department arrivals to Italy are tested six to eight days into their mandatory 14-day quarantine.
Anthony Abruscato, who supervises the garrison's 24-hour emergency operations center, tracks that protocol and coordinates all other information with the public health team and commands.
"Garrison Emergency Operations Center is the conductor while other team members, like public health, make up the orchestra," he said. "Without one another, no music can be created."
montgomery.nancy@stripes.com Twitter: @montgomerynance