Top US commander in Europe endorses more Javelin missiles to Ukraine
---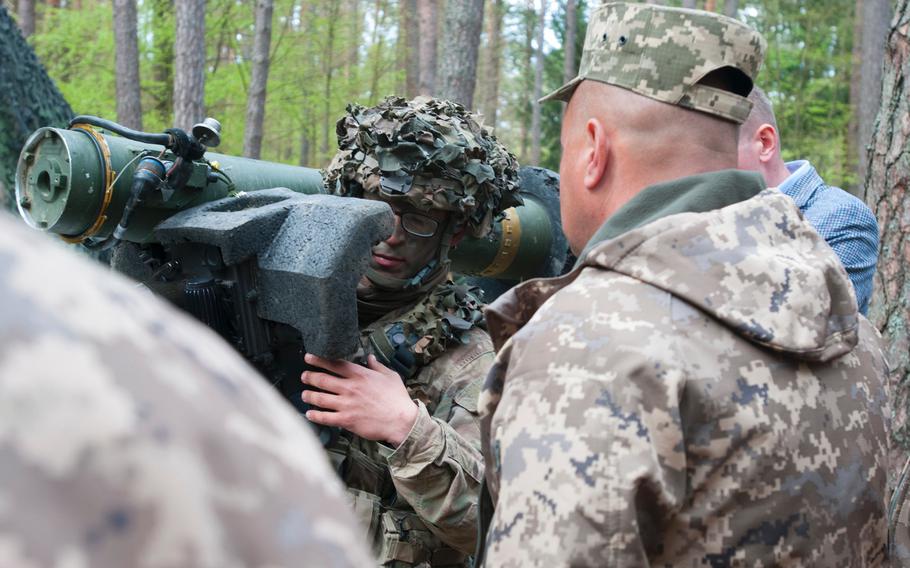 WASHINGTON – The United States should provide more Javelin missiles to Ukraine's military as it battles pro-Russian forces in the eastern region of the country, the top American military commander for U.S. and NATO forces in Europe said Thursday.
The U.S. military has trained enough Ukrainian soldiers to use the shoulder-fired, anti-tank missiles that America should provide more of the defensive weapons, Air Force Gen. Tod Wolters told reporters at the Pentagon. Ukraine has said the missiles have been critical in its efforts to fend off Russian-backed forces in the Donbass Region, where the war has continued since Russia annexed the nearby Crimea region from Ukraine in 2014.
"Yeah, I think more of those would probably help," he said. "Right now, it is my military advice that I think we should go forward with that because of the positive outcome – because they are better able to [defend] their sovereign territory."
Javelins are man-portable missiles capable of destroying heavily armored vehicles. They are touted as "fire-and-forget" missiles, meaning after the operator locks onto a target and fires, the missile guides itself to that target. Last year, the United States provided 200 Javelin missiles and 37 launchers to Ukraine.
Wolters comments Thursday came as the Javelin missile has gained attention in recent days amid an impeachment inquiry launched by House Democrats over President Donald Trump's interactions with Ukraine's president.
In a rough transcript of a July 25 phone call between the two leaders released last week by the White House, Ukrainian President Volodymyr Zelenskiy told Trump his country was ready to purchase more Javelins.
"I would like you to do us a favor though because our country has been through a lot and Ukraine knows a lot about it," Trump responded, according to the rough transcript. Trump continued to ask Zelenskiy to investigate U.S. political issues, including former Vice President Joe Biden and his son Hunter Biden. The elder Biden is among the frontrunners for the Democratic nomination for president in the 2020 election.
That conversation came just about one week after Trump ordered $250 million in military aid to Ukraine withheld by the Pentagon and State Department. Democratic leaders in the House have said their inquiry will determine whether Trump withheld that aid to pressure Ukraine to investigate his political rivals. Trump has denied that charge and insisted he acted appropriately in the July phone call.
On Thursday, Jonathan Hoffman, the Pentagon's chief spokesman, described the hold as "a brief pause" and said the bulk of that aid has now been delivered to Ukraine. The remainder was expected be released by next week, he said.
The aid included money for training operations and non-lethal military gear, but it did not include funds for Javelin missiles.
Hoffman said his understanding was the aid, first announced by the Pentagon in June, was withheld amid corruption concerns in Ukraine. However, he declined to discuss who made the decision to withhold the funding or the timing of that decision.
"I'm not going to be able to get into that," he told reporters during a briefing at the Pentagon.
Wolters said Thursday that Javelin missiles have been critical to Ukraine's defense and have boosted morale among U.S.-trained Ukrainian soldiers.
"All-in-all, when it's all said and done, you see a little bit of a bounce in the step of the Ukrainian soldier when he or she has had the opportunity to embrace this system," he said of the Javelin. "It allows them to better defend their turf."
On Thursday, the State Department announced it had approved the sale of 150 new Javelin missiles, 10 launchers and other training, support and logistical equipment requested by Ukraine for $39.2 million. Congress must approve the sale.
"Ukraine will have no difficulty absorbing this system into its armed forces," the State Department said in a statement.
Separately, Hoffman announced the Defense Department General Council on Thursday instructed defense officials to provide the council all documents and records related to Pentagon activities in Ukraine for cataloging and review.
The step was made to ensure the records would be available if requested by Congress or inspectors general, he said. But the records had not yet been requested by those entities, he said.
"It seems to be a fairly routine but proactive measure that we are taking," Hoffman said, adding he was unable to provide additional information on the subject.
dickstein.corey@stripes.com Twitter: CDicksteinDC
---
---
---
---