Top US Army Europe general working remotely after possible coronavirus exposure
---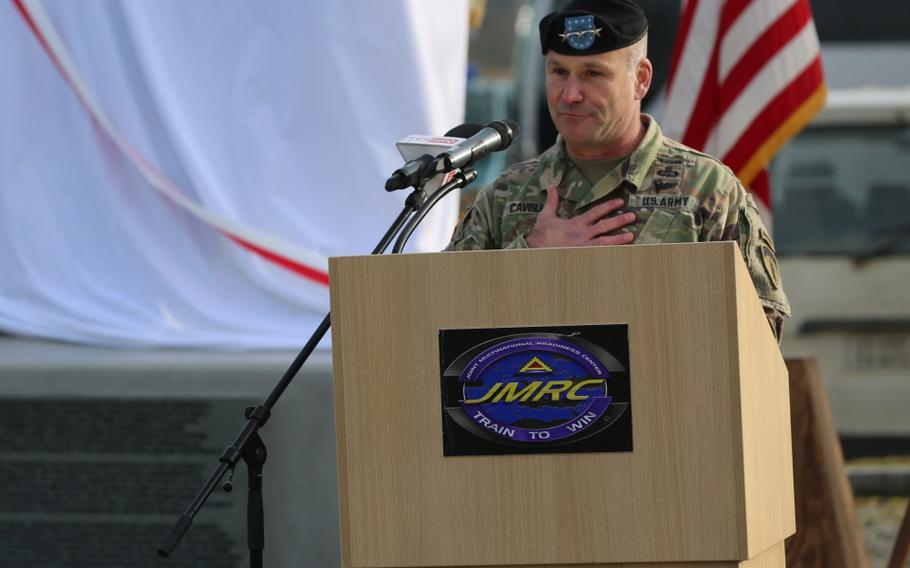 Read more coronavirus coverage from Stars and Stripes.WASHINGTON — The commander of U.S. Army Europe might have been exposed to the coronavirus during a recent conference, the Army announced Monday.
Lt. Gen. Christopher Cavoli, whose command is based in Wiesbaden, Germany, was teleworking after he and several staff members were possibly exposed to coronavirus, Army Secretary Ryan McCarthy said in a statement.
"Out of an abundance of caution and following recommended protocols, he and others potentially affected are self-monitoring and working remotely to fulfill their command duties and responsibilities," McCarthy said.
The statement did not say at which conference Cavoli might have been exposed to the virus, but he was pictured Friday seated next to an Italian officer at a conference of NATO land force commanders at the Wiesbaden headquarters.
The meeting brought together 24 senior military representatives to discuss Defender Europe 20, a large-scale exercise slated to begin next month. Officers representing NATO, the European Union, Belgium, Canada, the Czech Republic, Denmark, Estonia, France, Germany, Georgia, England, Hungary, Latvia, Lithuania, the Netherlands, Poland, Spain and Romania also participated, the command said earlier this month.
"Members of the conference also collaborated and discussed the many proactive steps nations and military forces are taking to prevent the spread of COVID-19 during the exercise," the USAREUR statement said.
Italy has experienced the worst outbreak of the disease outside Asia and the country's premier issued a decree Monday restricting travel throughout the country and closing schools and universities in an effort to stop the virus' spread. More than 9,100 people in Italy have tested positive for the disease caused by the coronavirus — including a U.S. sailor based in Capodichino near the Naples International Airport.
More than 450 people in Italy have died of COVID-19 and 724 have recovered, the country's health department said Monday. Some 4,300 patients are hospitalized with symptoms, including more than 700 in intensive care, while nearly 3,000 more are in home isolation.
USAREUR health officials have notified all other American personnel who were at risk for exposure to coronavirus, McCarthy's statement said.
The Pentagon was implementing measures to protect workers, such as posting signs about hygiene and promoting "social distancing," where people do not come closer than within six feet while conducting work, Jonathan Hoffman, chief Pentagon spokesman, told reporters Monday. This is being done in an effort to prevent the spread of the virus, he said.
Defense Secretary Mark Esper demonstrated social distancing that morning during a regular senior-level staff meeting that usually takes place in a room packed with people, Hoffman said. On Monday, attendees joined from other rooms in the building via video conference instead, while Esper and Army Gen. Mark Milley, chairman of the Joint Chiefs of Staff, were in the room with several others.
"I think the secretary is trying to set the example that we need to take some of these common sense measures ... such as social distancing seriously and to implement those. And to do it in a way that we can continue to go about the business of the Pentagon," Hoffman said.
Other U.S. military services are implementing their own preventive measures to deal with the coronavirus. Among the actions taking place, the Marine Corps is emphasizing the use of teleconferences instead of in-person meetings and the Navy has created a group within the chief of naval operations office to collect and disperse information from commands within the service about the coronavirus.
Stars and Stripes reporter Chad Garland contributed to this report.
---
---
---
---