Tillerson to skip NATO meeting in favor of China, Russia talks
by
John Vandiver
March 21, 2017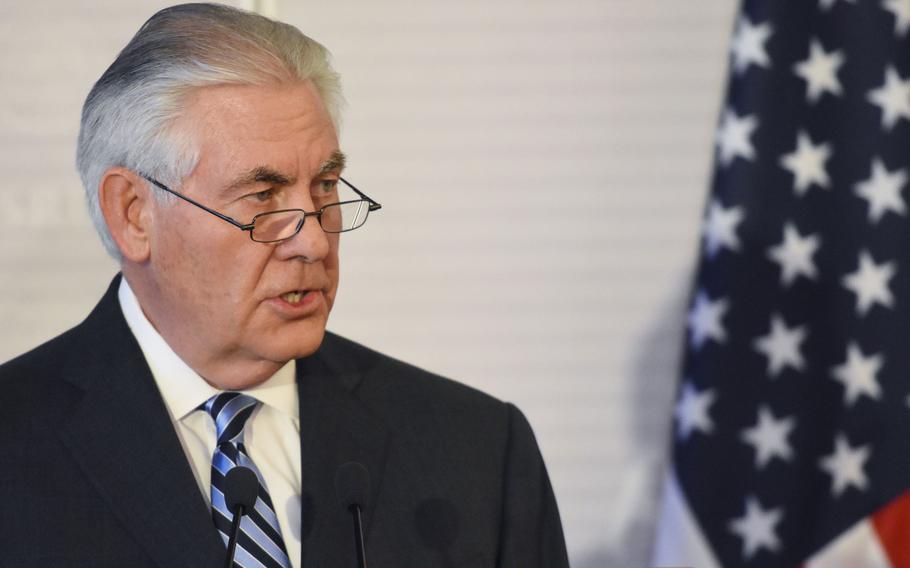 STUTTGART, Germany — Secretary of State Rex Tillerson will skip high-level NATO talks in Brussels next month in favor of remaining in the U.S. for a visit by China's president and then traveling to Moscow.
Tillerson's decision to forgo attending NATO's April 6-7 foreign ministers meeting, announced by the State Department, marks an unusual breach of precedent for America's top diplomat. Skipping the talks in favor of meeting with rivals China and Russia also could fuel existing concerns among some allies that the administration's desire for closer ties with Russian President Vladimir Putin could chip at NATO solidarity.
Reuters, citing unnamed sources, said NATO even offered to change the meeting dates to accommodate Tillerson, but that the State Department rejected the offer. Instead, Undersecretary of State for Political Affairs Tom Shannon will represent the United States at the NATO meeting.
The decision to bypass the NATO talks emerged on the same day FBI Director Jim Comey testified before a House Committee during which he said law enforcement was investigating potential ties between Moscow and Trump associates.
NATO had referred questions about Tillerson's attendance plans to the State Department, but a former alliance commander recommended that Tillerson first "consolidate the base," before spending significant time with adversaries.
"While China and Russia are key international players, they are also both working at cross purposes with the U.S. at every turn," former NATO Supreme Allied Commander James Stavridis told Stars and Stripes.
Although Tillerson is expected to miss the April talks in Brussels, he will meet Wednesday with foreign ministers who are attending a meeting in Washington of the U.S.-led coalition fighting the Islamic State group. NATO Secretary-General Jens Stoltenberg also will be in attendance.
Tillerson, the former head of the Exxon Corporation, has faced criticism for so far keeping a low-profile on the world stage. He has spoken little publicly and has said he is not inclined to talk to the media. Unlike past secretaries of state, who have been steeped in government bureaucracy, Tillerson comes from the business world and appears willing to dispense with convention.
"I doubt it is a deliberate snub, but it is hard to understand why the U.S. Secretary of State would choose to meet first with the leaders of two totalitarian states, China and Russia, ahead of the NATO leadership," said Stavridis, a retired admiral who now serves as dean of the Fletcher School at Tufts University.
Snub or not, for NATO it is likely to reinforce concerns about the commitment of U.S. President Donald Trump to the 28-nation military pact, which Trump has described as "obsolete."
Since Trump's election, he has given mixed signals about his view of NATO, saying on the one hand he values the organization and on the other routinely denigrates some members as freeloaders who underinvest in defense at the cost of U.S. taxpayers.
On Saturday, Trump again raised the issue when he blasted Germany specifically, saying he wanted the U.S. to be directly paid for the "very expensive defense" American forces provide.
Such comments have strained relations between Washington and Berlin.
In late May, Trump is slated to attend NATO largest meeting of the year in Brussels, where heads of state will assemble to lay out future plans. Defense spending is expected to top the agenda.
vandiver.john@stripes.com Twitter: @john_vandiver