Spangdahlem grounds F-16s, cancels exercise after crash
By
Marcus Kloeckner Jennifer H. Svan
October 9, 2019
---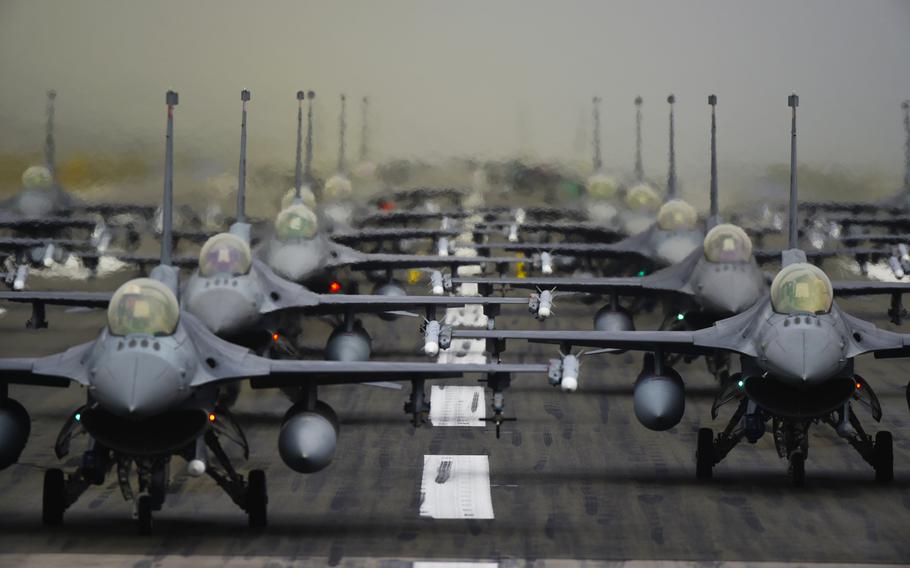 KAISERSLAUTERN, Germany – The Air Force said Wednesday it has grounded its fleet of F-16s at Spangdahlem Air Base and canceled an exercise after one of the 52nd Fighter Wing's jets crashed during a training flight.
Base officials were holding talks to determine when F-16 flying operations would resume, Air Force Capt. Erin Recanzone, a wing spokeswoman, said Wednesday. "Typically, that's just a decision that's made once we determine it's not a systemic issue … that it's an isolated incident."
An F-16 Fighting Falcon out of Spangdahlem crashed Tuesday afternoon in an isolated, wooded area near the German town of Zemmer-Rodt, a few miles south of the base and north of the city of Trier, officials said.
The pilot ejected safely and was transported to the medical center on base, where he was treated for minor injuries. He has since been released, Recanzone said.
The crash occurred on the second day of an exercise to test the wing's ability to operate in a wartime environment. The remainder of the exercise, which was supposed to run until Thursday, was canceled, officials said.
No one on the ground was injured in the crash, and no property was damaged, Recanzone said.
But had the crash occurred just seconds earlier, it would have hit Zemmer-Rodt "and the damage would have been huge," the town's mayor, Edgar Schmidt, told Stars and Stripes by phone.
Even though residents have rarely complained about the fighter jets that routinely fly over the town of 3,000, Schmidt said he plans to meet with the commander at Spangdahlem to ask that training flights over Zemmer-Rodt cease.
"Of course, everyone here is relieved and happy that the plane crashed in the woods," he said. "But no one really expected that a plane would go down here."
Local fire fighter chief Juergen Cordie said the F16 "literally razed off the tops of trees," German TV station SWR reported. State and private forests appear to have been damaged, said Schmidt. Experts were assessing the crash site Wednesday and checking for spilled jet fuel, he said.
Pieces of the plane were being recovered from the crash site, Recanzone said.
"The Germans were the first to respond to the scene," she said. "We've been working very closely with them on making sure the scene is safe and secure."
The aircraft was assigned to the base's 480th Fighter Squadron – the only U.S. Air Force fighter squadron permanently based in Germany.
Tuesday's crash was the fifth since 2002 involving planes out of Spangdahlem.
The Air Force has launched an investigation to determine the cause of the crash, Recanzone said.
svan.jennifer@stripes.com Twitter: @stripesktown
---
---
---
---