Service members returning to US with pets face limited space, thousands in fees during pandemic
by
Jennifer H. Svan
May 30, 2020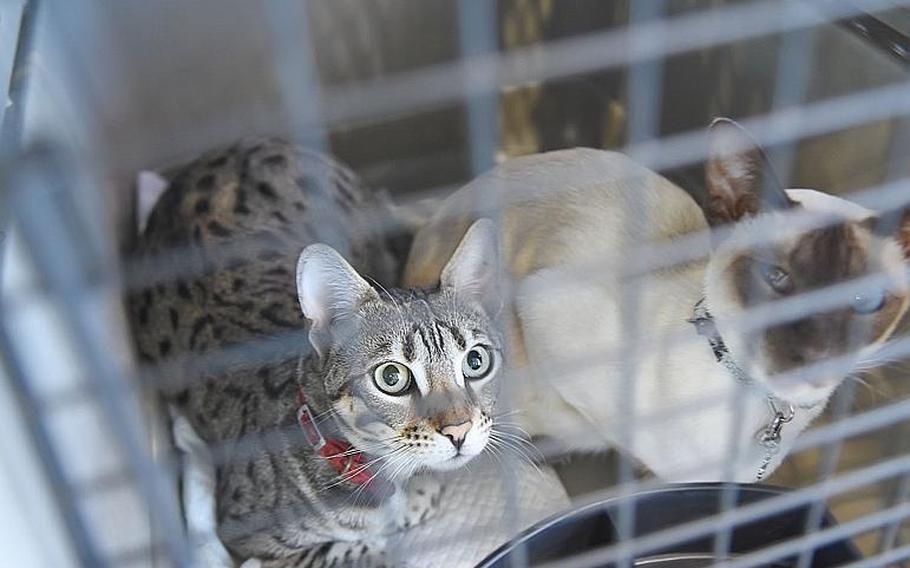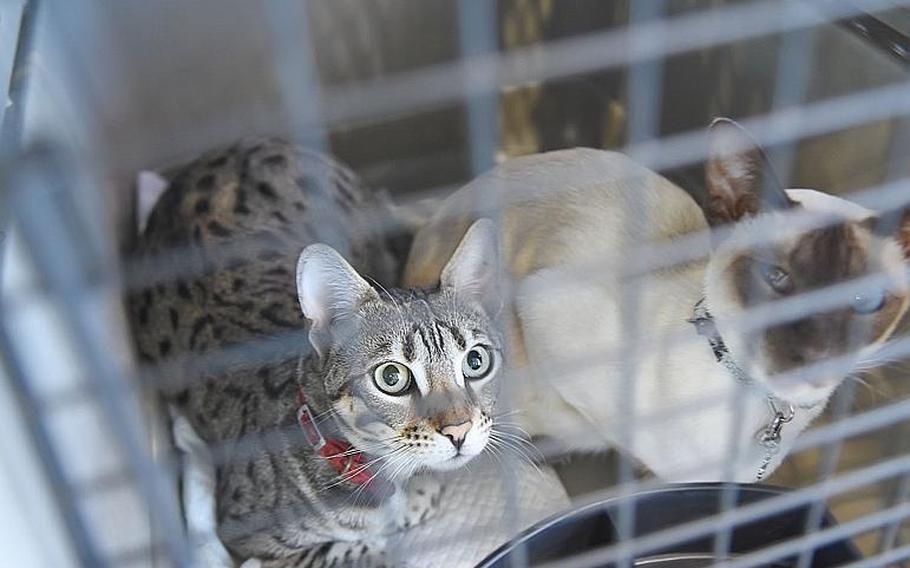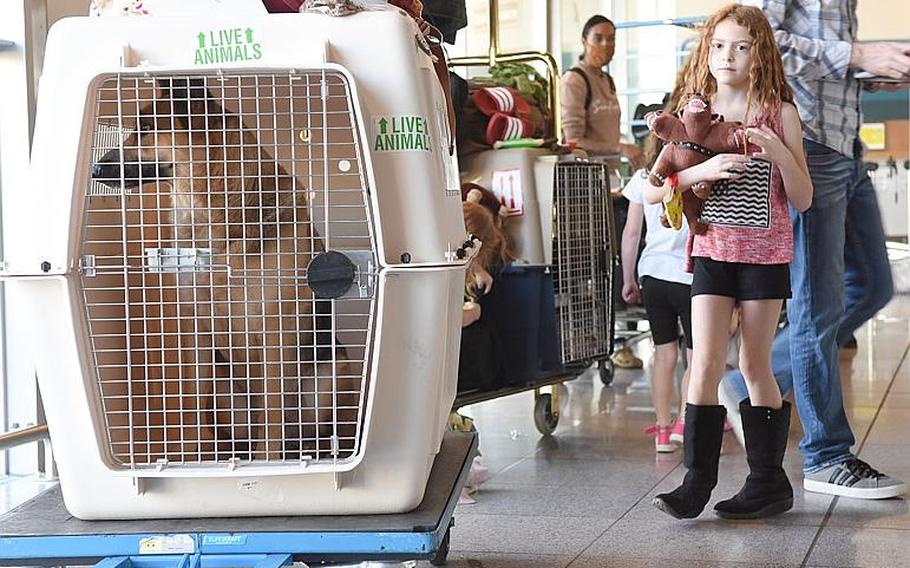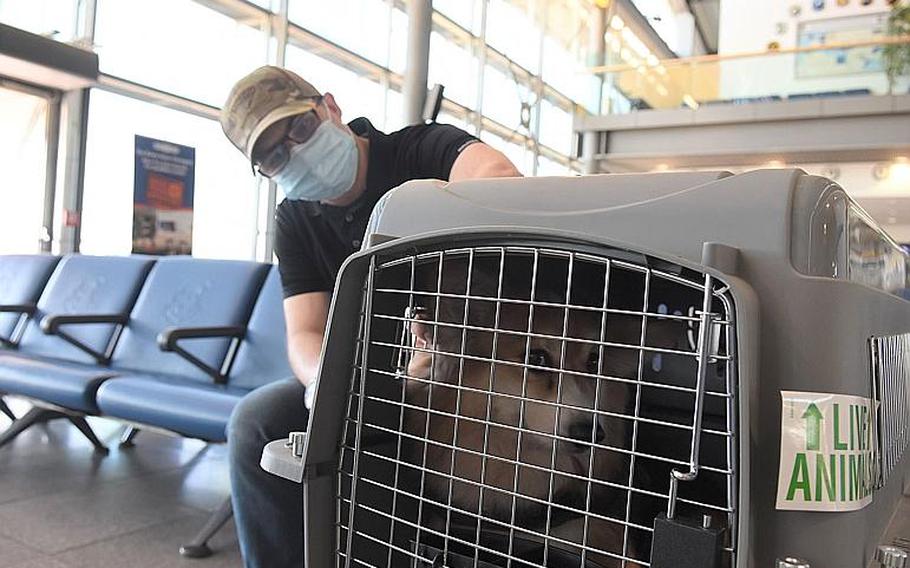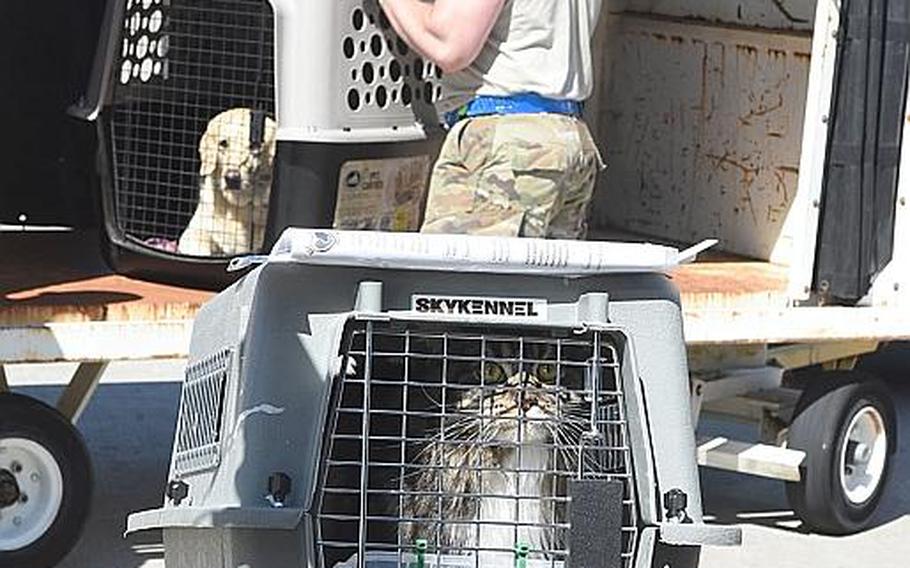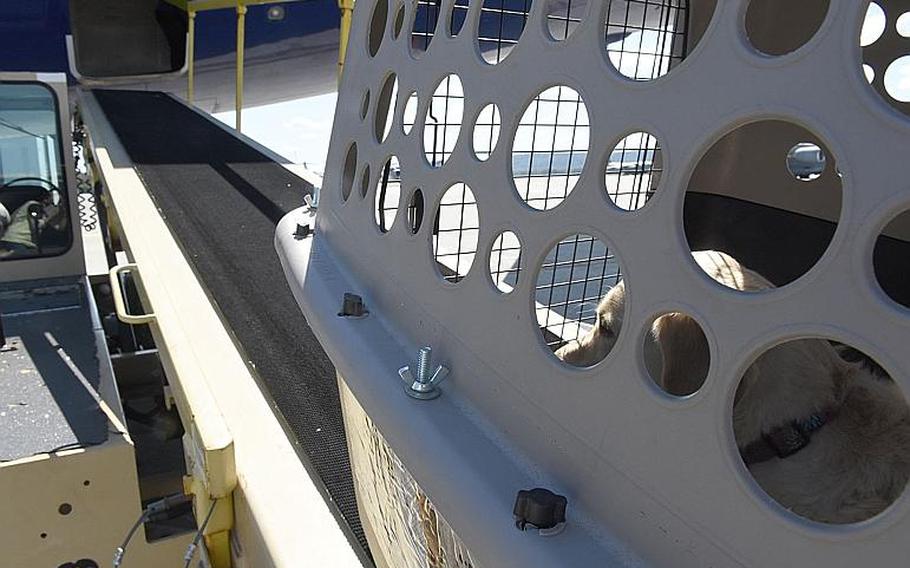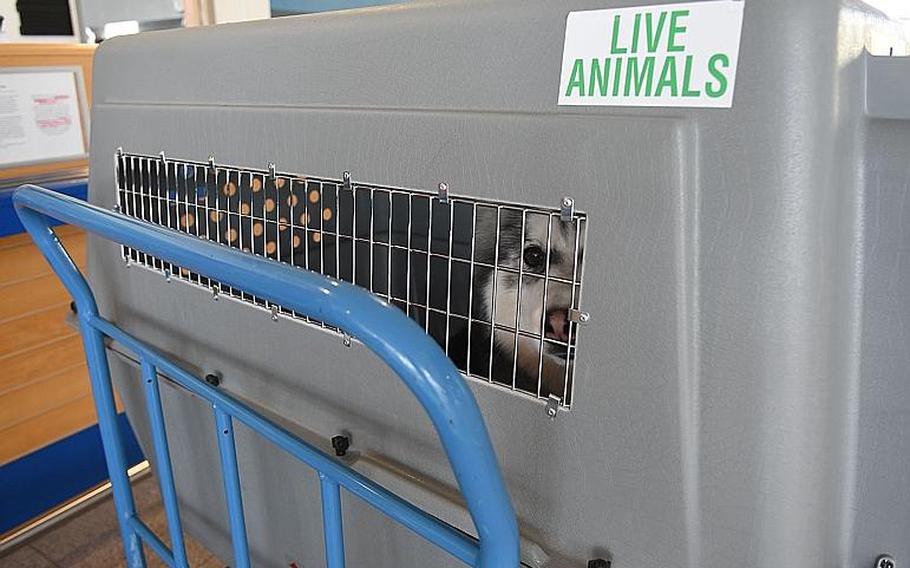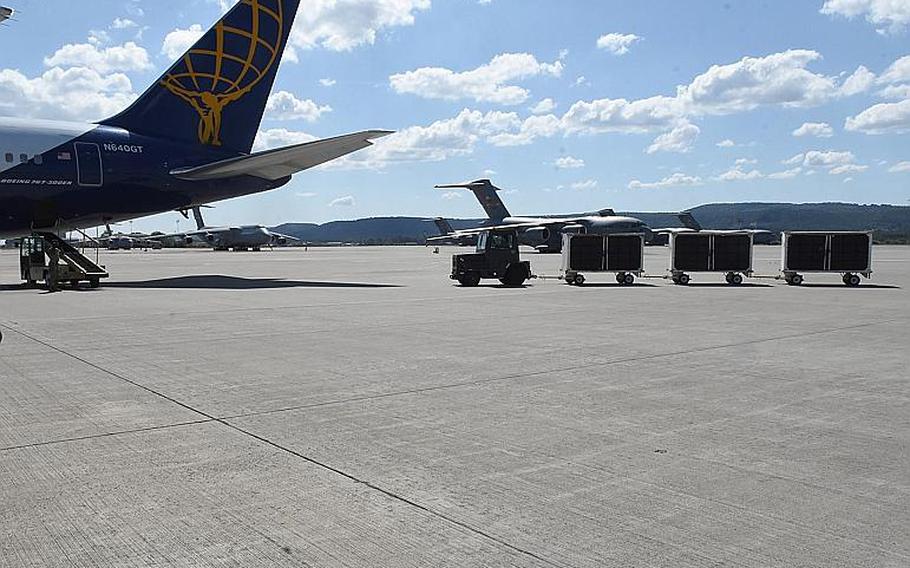 Stars and Stripes is making stories on the coronavirus pandemic available free of charge. See other free reports here. Sign up for our daily coronavirus newsletter here. Please support our journalism with a subscription.
RAMSTEIN AIR BASE, Germany – Facing costs in excess of $3,000 to move his pet in the middle of a pandemic, Air Force Tech. Sgt. Gregory Oakley thought he might have to leave his beloved Corgi, Fritzi, behind with another family in Germany.
"I considered having to give her up," Oakley said of the dog he handpicked six years ago from a litter of puppies in Frankfurt, "because it was just going to cost so much."
Oakley said he had to "move mountains" to get one of 10 pet spots in the cargo hold flying from Ramstein to Baltimore on Friday on the Patriot Express, a charter flight contracted by the Pentagon for military families.
Like Oakley, many service members returning from overseas with pets are scrambling for limited spaces, as commercial shipping costs skyrocket amid the disruption to air travel caused by the coronavirus pandemic.
The Defense Department has temporarily increased the number of rotator flights for personnel and added more in-cabin pet spaces to meet the demand, but out of Ramstein, most spots for animals that don't fit in the cabin are already booked through August, base transportation officials said.
"They're running out fast," said Revillano Sarao, Ramstein's installation transportation officer.
Commercial options are also limited and pricey. With thousands of flights canceled, airlines are pivoting to freight to make up for the lack of passengers, putting a premium on cargo space, said Kari Mendoza, a Navy veteran who for more than 10 years has run Island Pet Movers, a worldwide pet shipping company on Hawaii that serves primarily military customers.
United Airlines stopped flying pets in its cargo compartments in March, Mendoza said, and most carriers on international flights are requiring customers to use pet shippers, rather than allowing pets to fly as excess baggage — a less costly option.
"Coming out of Europe, pricing has more than doubled," she said of pet shipping. In Asia, Mendoza said prices are "absolutely insane," citing a recent price shared by a colleague of $14,000 to move two German shepherds on Korean Airlines from Incheon to the United States.
Start making plans as early as possible, she advised, and get quotes from more than one shipper. It may cost less to fly commercial on airline carriers with pet spaces than go by military air and pay a company to ship one's pet, Mendoza said. But those spaces are hard to find on international flights.
It doesn't appear the Pentagon will make an exception to the Joint Travel Regulations and reimburse military personnel for transporting their pets during the pandemic.
Chief Master Sgt. Ramon Colon-Lopez, senior enlisted adviser to Joint Chiefs Chairman Gen. Mark Milley, said during a virtual town hall meeting May 14 that the military would "look into" an exemption.
In a statement to Stars and Stripes on Thursday, U.S. Transportation Command officials said pet travel in conjunction with a relocation "would continue to be funded by the traveler."
In-cabin pet spaces aboard Patriot Express missions were temporarily increased last month from 10 to 20 spaces "to support the anticipated influx of passengers traveling with pets," transportation officials said.
Cats or small dogs – up to about 15 pounds - can fly in the cabin aboard Patriot Express flights, but they must ride in a carrier that fits under the seat, said Sabine Fehrentz, the passenger travel lead at Ramstein.
Some C-17 flights with pet spaces were added to move passengers out of Ramstein for summer moves, officials at Ramstein's passenger terminal said Friday.
Those weren't added in time to help Stephanie Sparkes-Schultheiss Benson and her family. About three weeks ago, Benson's husband, an Air Force lieutenant colonel, found out he had to be in Hawaii for his next assignment in June.
But there were no pet spaces available on the Patriot Express for Jax, the family's wired fox terrier.
After numerous phone calls to the airlines, they found a solution. The family will fly with Jax on Lufthansa from Frankfurt to Chicago. Then they'll take two more flights on Alaska Airlines from Seattle and then onto Hawaii, to complete a 38-hour journey.
SATO, Ramstein's commercial travel office, arranged the travel, but Sparkes-Schultheiss Benson said she made sure she knew in advance which airlines were taking pets and how many spaces were available before the tickets were booked.
"There is a way," she said. "It was the biggest relief we've had because that was the one thing —we're like, 'We have to leave and we are not leaving our dog behind, so what do we do?'
"They're trying to make it work," she said of the military and pet travel. "I just think there's no great solution."
svan.jennifer@stripes.com Twitter: @stripesktown
---
---
---