Russian jet follows US B-52 into NATO airspace in 'significant violation,' allies say
by
John Vandiver
September 1, 2020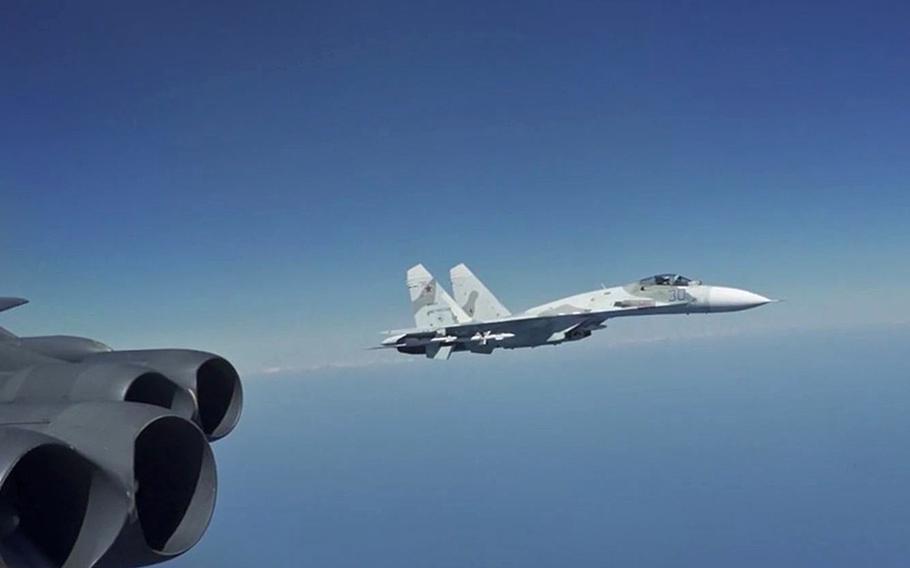 STUTTGART, Germany — A Russian fighter jet followed a U.S. B-52 bomber over Denmark, marking a rare and "significant violation" of NATO airspace, allies said this week.
The incident Friday prompted Denmark to scramble quick reaction aircraft to counter the Russian Su-27, which took off from Russia's military exclave in Kaliningrad, NATO said.
"The unauthorized intrusion of sovereign airspace is a significant violation of international law," NATO's Allied Air Command said in a statement Monday. "Friday's incident is the first of this kind for several years and indicates a new level of Russian provocative behavior."
The intercept happened during a large NATO training drill in Europe, which involved the U.S. flying six B-52 bombers around European airspace escorted by about 80 fighter jets from allied states. The drill, called Allied Sky, prompted Moscow to scramble jets of its own.
On Tuesday, the Danish government summoned Russia's ambassador to lodge a formal complaint over the airspace intrusion.
In a separate incident Saturday, the U.S. said a B-52 bomber's maneuvers above the Black Sea were restricted by two Russian fighter planes that flew in an "unsafe and unprofessional manner" when they crossed within 100 feet of the Air Force's strategic bomber.
The intrusion into NATO airspace Friday happened after the Russian jet intercepted the B-52 over the Baltic Sea as it was closing in on Danish airspace near Bornholm island, NATO said.
"The Russian Su-27, flying from Kaliningrad, followed the B-52 well into Danish airspace over the island, committing a significant violation of airspace of a NATO nation," it said.
The Russian jet turned back before Danish planes could reach it, NATO said. Danish jets remained airborne to guard the airspace, the statement said.
"This incident demonstrates Russia's disrespect of international norms and for the sovereign airspace of an Allied nation. We remain vigilant, ready and prepared to secure NATO airspace 24/7," Gen. Jeff Harrigian, commander of U.S. Air Forces in Europe and head of NATO's Allied Air Command, said in the statement.
There has been an uptick in Russian intercepts of U.S. aircraft in recent months, including confrontations over the Mediterranean Sea and near the United States.
Last week, the Air Force scrambled a flight of F-22 fighters to intercept six Russian Tu-142 maritime patrol aircraft flying off the coast of Alaska. The Russian aircraft loitered in the area for about five hours and came within 50 nautical miles of Alaskan shores, but at no time did they enter U.S. airspace, the military said.
vandiver.john@stripes.com Twitter: @john_vandiver