Russian fighter buzzes US aircraft for second time in four days
by
John Vandiver
April 20, 2020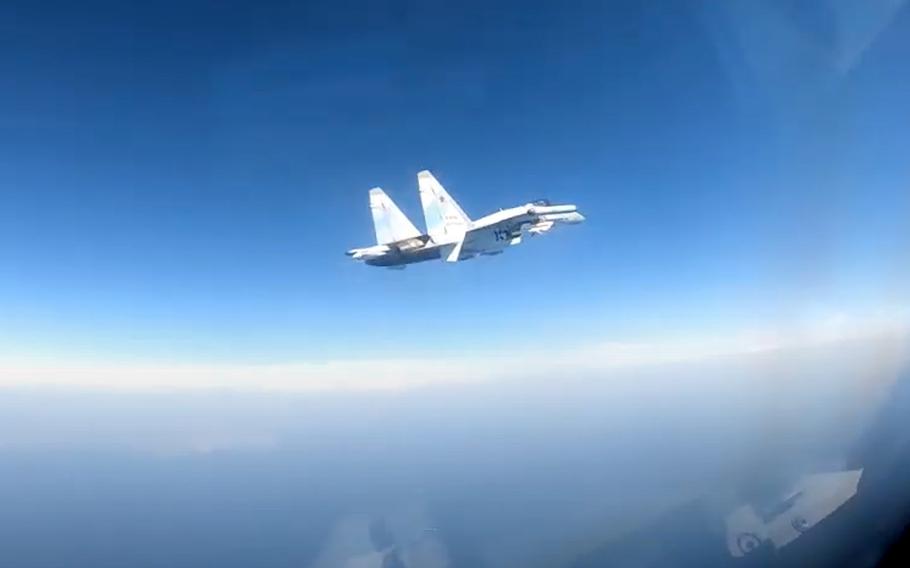 STUTTGART, Germany — A Russian fighter plane on Sunday cut within 25 feet of a U.S. military aircraft, marking the second time in less than a week that unsafe maneuvers by Russian pilots put Navy pilots at risk, the military said.
The incident over the eastern Mediterranean Sea involved a Russian SU-35 fighter conducting two high-speed intercepts of a U.S. P-8A submarine reconnaissance plane, U.S. Naval Forces Europe-Africa said late Sunday, without specifying the location.
While the first intercept was judged safe, the second was deemed "unsafe and unprofessional due to the SU-35 conducting a high-speed, high-powered maneuver that decreased aircraft separation to within 25 feet," NAVEUR said in a statement.
The encounter exposed the U.S. aircraft to wake turbulence and jet exhaust, forcing the P-8A to "descend to create separation and ensure safety of both aircraft," the Navy said.
Russia's defense ministry said in a statement Monday it scrambled a fighter from Hmeymim air base in Syria to shadow the U.S. aircraft, which it said was flying toward Russian military facilities. The defense ministry did not address the Navy's complaint that the Russian fighter performed unsafe maneuvers.
On Wednesday, an SU-35 also risked a midair collision over the Mediterranean when it performed an inverted high-speed maneuver 25 feet in front of a Navy P-8A.
The incidents are part of a recent string of close military encounters with adversaries. Earlier this month, U.S. Air Force F-22 fighter jets intercepted a pair of Russian maritime patrol planes 50 miles off the western coast of the Aleutian Islands in what military officials said at the time was a test of U.S. capabilities amid the coronavirus pandemic.
And last week, 11 Iranian military vessels moved dangerously close to several American ships conducting operations in the northern Persian Gulf, the Navy said.
On Thursday, U.S. European Command's Gen. Tod Wolters told reporters that last week's encounter with the Russians over the Mediterranean appeared to be more about the actions of one air crew rather than a strategy aimed at testing American combat capabilities.
"I've studied the intent, and my conclusion at this point is that it was probably something that was more along the lines of unprofessional as opposed to deliberate," Wolters said.
Sunday's incident occurred in international airspace where the P-8A was operating within international law and did nothing to provoke the Russian response, the Navy said.
"The unnecessary actions of the Russian SU-35 pilot were inconsistent with good airmanship and international flight rules, seriously jeopardizing the safety of flight of both aircraft," NAVEUR said.
vandiver.john@stripes.com Twitter: @john_vandiver
---
---
---