Russia's close ally Belarus explores working closer with NATO
by
John Vandiver
January 3, 2020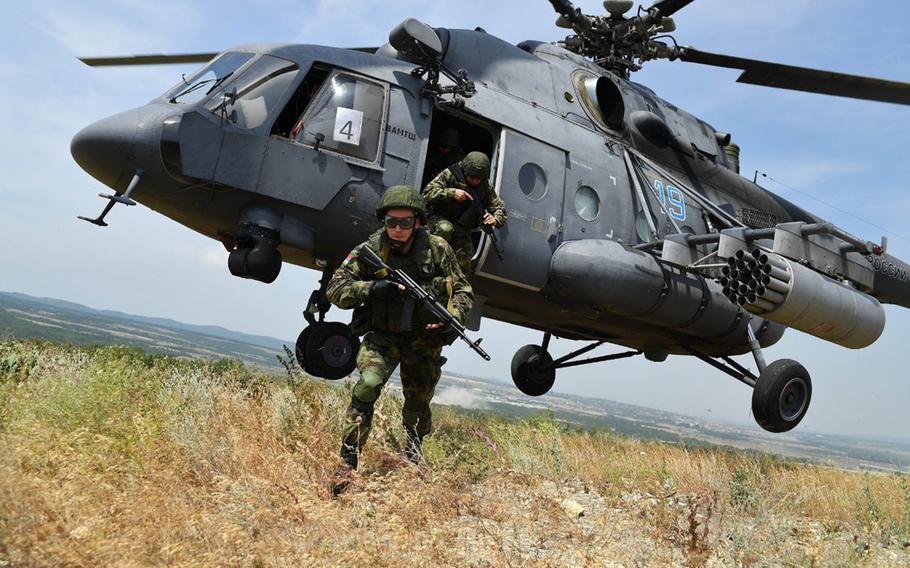 STUTTGART, Germany — The top military official in Belarus says his country, a closely tied Russian ally, is open to conducting joint military exercises with NATO.
Belarus defense chief Oleg Belokonev recently told local media his country should be regarded in similar terms as Serbia — a country with close ties to Russia but one with a military training connection to NATO.
"Belarus is ready for joint exercises with NATO. There are talks on possible formats," Belokonev told Nasha Niva newspaper. "But we will agree on this if NATO understands that Russia is our strategic ally."
Belokonev was responding to a question about whether Belarus' relationship with NATO should resemble that of Serbia.
The idea of upgraded ties between Minsk and NATO comes amid signs of tension between Russia and Belarus, which serves as a Russian territorial buffer between NATO.
This week, Russia halted oil deliveries to Belarus over contract problems, Russian state media reported Friday. The two countries also have been at odds over payments for weapons systems.
In 2019, Belarus also angered Russia when it refused to play host to a Russian air base.
On Dec. 20, Belarus' authoritarian leader, Alexander Lukashenko, met with Russian President Vladimir Putin in St. Petersburg to discuss deeper economic ties, The Associated Press reported. The meeting drew a rare protest of about 1,000 people in Minsk, who held up signs that said "First Crimea, then Belarus" and "Stop Annexation!"
Russia annexed Ukraine's Crimean Peninsula in 2014, which has led to continued conflict between the two nations and heightened tensions on NATO's eastern border.
The U.S. has begun to seek out closer ties with Belarus in the meantime. In August, former Secretary of State John Bolton made a visit to the former Soviet state —the highest level American official to visit the country in years.
Secretary of State Mike Pompeo had planned to visit Belarus and other central Asian countries this month but canceled the trip after the attack on the U.S. Embassy in Baghdad.
While Belarus is a member of NATO's partnership for peace program, to date that has mainly involved smaller activities, such as military officials taking part in courses with NATO members.
"Belarusian personnel are attending courses in NATO countries and practical cooperation is being developed in areas such as civil preparedness, crisis management, arms control and scientific cooperation," a NATO official said under customary condition of anonymity Thursday.
Meanwhile, Belokonev told Belarusian media that it also is considering taking part in international "peacekeeping exercises" that could involve training with Italian forces.
vandiver.john@stripes.com Twitter: @john_vandiver