Russia makes Open Skies treaty flight over US military bases in Germany
by
Jennifer H. Svan and Slobodan Lekic
August 12, 2020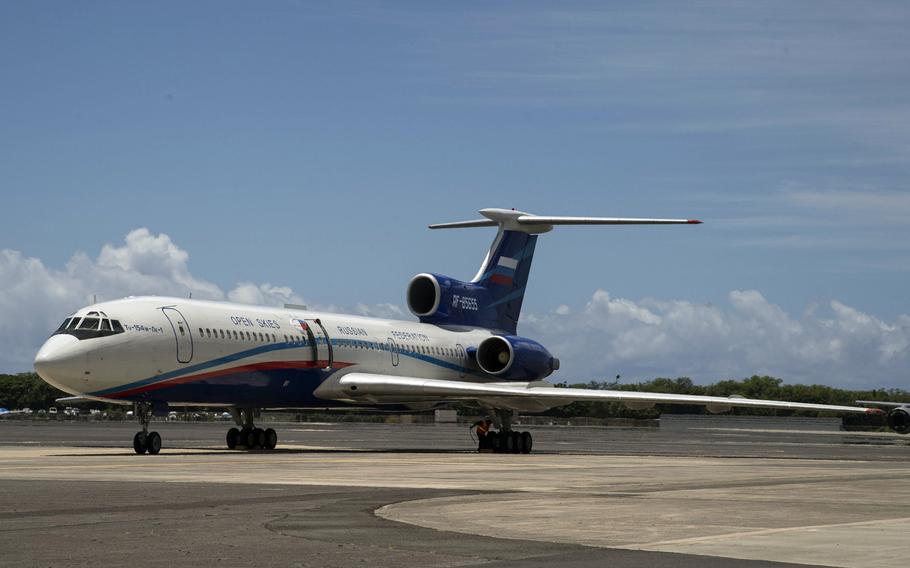 KAISERSLAUTERN, Germany — A Russian surveillance plane flew over Ramstein Air Base on Wednesday on its second Open Skies treaty flight this year through German airspace, military officials said.
The Russian Air Force Tupolev Tu-154 aircraft also had a look at Spangdahlem Air Base and flew near U.S. Army bases in Bavaria, officials said.
The Open Skies treaty allows its 35 signatories to conduct short-notice, unarmed reconnaissance flights over the territory of other party states to collect data on military forces and activities.
President Donald Trump said in May that he wants to pull the U.S. out of the treaty, but Germany and other European allies have vowed to remain, which means surveillance flights over U.S. bases by a country the U.S. views as an adversary likely will continue.
Spangdahlem and Ramstein air bases were overflown Wednesday by the Russian Tu-154, Erica Vega, a U.S. Air Forces in Europe-Air Forces Africa spokeswoman, said in a statement.
The mission was the second of two Russia was authorized to fly over Germany this year under the terms of the treaty.
"While we do not know what bases they are most interested in, the previous mission followed a similar path," Vega said.
Trump said in May that the United States would withdraw from the treaty within six months, accusing Russia of repeatedly violating the terms of the agreement, including by denying or restricting observation flights by other parties over the heavily fortified Russian exclave of Kaliningrad and parts of Georgia that have been occupied by Russia since 2008.
In addition to allowing surveillance flights with as little as 72 hours' notice, the Open Skies treaty authorizes signatories to ask for images obtained by others during those overflights. All European countries except Switzerland, Austria and Serbia are signatories.
Since 2002, the U.S. has conducted 201 overflights — two-thirds of them over Russia — and Russia has flown a total of 77 missions over NATO's European allies, Canada and the U.S., according to treaty statistics. Last year, Germany flew 11 reconnaissance missions over Russia, which conducted six flights over Germany.
svan.jennifer@stripes.com Twitter: @stripesktown