Restaurants, hotels poised to reopen in Germany will remain off limits for many US personnel
by
Jennifer H. Svan and Marcus Kloeckner
May 7, 2020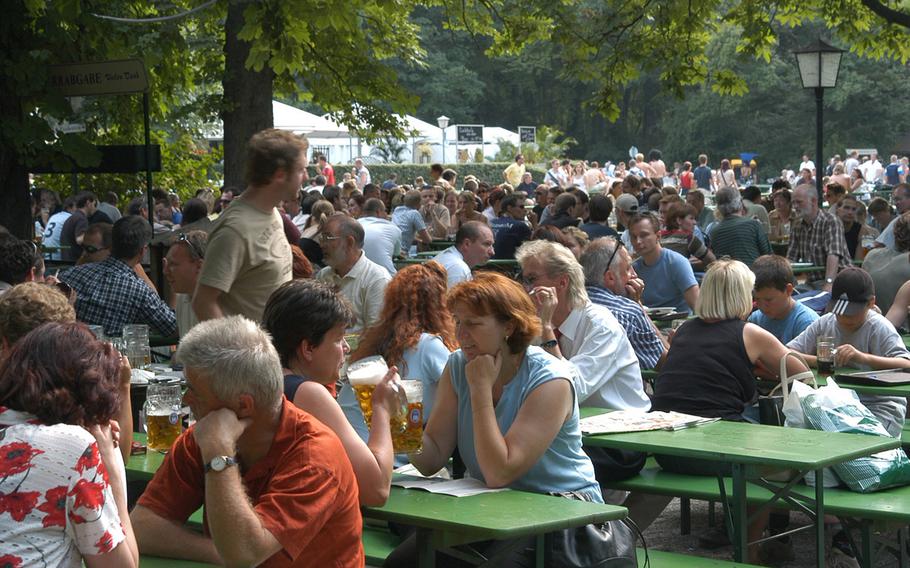 Stars and Stripes is making stories on the coronavirus pandemic available free of charge. See other free reports here. Sign up for our daily coronavirus newsletter here. Please support our journalism with a subscription.
KAISERSLAUTERN, Germany — U.S. military personnel in Germany may have to bide their time before they can enjoy a night out again in the country, where restaurants and hotels will begin to cautiously reopen this month after weeks of coronavirus closures.
Each of Germany's 16 federal states is deciding when to reopen eating establishments and hotels, with some saying the hospitality businesses can start welcoming guests again starting next week, but must continue to follow strict social distancing rules.
But depending on which branch of service they're with and where they live, American military personnel and their families may have to wait up to three or four weeks before they can eat out again.
In Rheinland-Pfalz, home to about 50,000 U.S. personnel and their families, restaurants can reopen by May 13, regardless of whether they offer indoor or outdoor seating, or both, according to local media outlet SWR. Hotels, youth hostels and campgrounds with their own sanitary facilities will follow on May 18.
But Army personnel and families in the southwestern state, which includes Kaiserslautern, are authorized to use only the outdoor seating area of restaurants when they reopen, according to an order issued Tuesday by Maj. Gen. Christopher O. Mohan of the 21st Theater Sustainment Command, spokesman Master Sgt. Dan Bailey said.
The order is unlikely to change in the next few days, Bailey said, because the 21st TSC "will generally trail host nation decisions by a recommended 14 days before implementing any changes to restrictions for our personnel.
"This allows for one full [coronavirus] incubation period to pass before we implement similar changes to maintain a safe and secure environment for our garrisons and local communities."
German Chancellor Angela Merkel has said restrictions would be reintroduced if there are more than 50 new coronavirus infections per 100,000 people within seven days. Social distancing measures in the country have been extended until at least June.
A midnight to 5 a.m. curfew and 100-kilometer travel restriction included in Mohan's order will make hotel stays "impractical" but not necessarily put them off limits, Bailey said. Exceptions will be made for official duty.
In Bavaria, Germany's second-most populous state and home to about 40,000 U.S. military personnel and their families, beer gardens and restaurants with outdoor terraces will be welcoming customers again by May 18. Restaurants that have only indoor dining will join them a week later, and hotels will reopen by the end of the month, officials announced this week.
Customers at restaurants will be required to wear face masks when entering and when going to the restrooms. Tables will have to be at least 6.5 feet apart.
The state saw a high density of coronavirus infections, and U.S. Army Garrison Bavaria personnel are barred from going to restaurants and hotels. Although the order is expected to be modified, it was unclear when that might happen and what the changes would be, a garrison spokesman said.
Air Force personnel assigned to the 86th Airlift Wing at Ramstein in Rheinland-Pfalz are less restricted than their Army counterparts. They may patronize off-base restaurants and hotels as soon as they are legally allowed to reopen, spokeswoman Sandra Archer said Thursday.
Air Force personnel are also not under the same 100-kilometer travel restriction as their Army counterparts in Rheinland-Pfalz.
As for when on-base restaurants and hotels will return to full service, "the command is currently working" through the changes, Archer said.
"The intent is to stay aligned with local and state government regulations," she said.
Restaurants in Rheinland-Pfalz will require reservations and patrons will be required to provide their names and addresses to allow "chains of infections" to be traced if another patron or staff member tests positive for the coronavirus, according to SWR.
A general order for U.S. Army Garrison Wiesbaden also places the indoor seating at restaurants off-limits to personnel, and bars them from going to shopping malls and other large retail centers, which are cautiously starting to reopen in Germany.
Baden-Wuerttemberg, home to the Stuttgart Army garrison and the U.S. European and Africa commands, has not announced when restaurants and hotels will be allowed to open again, but said it would be before the end of the month.
Stars and Stripes reporter Immanuel Johnson contributed to this report.
svan.jennifer@stripes.com Twitter: @stripesktown