Report: European militaries ill-equipped to defend themselves
by
John Vandiver
February 26, 2016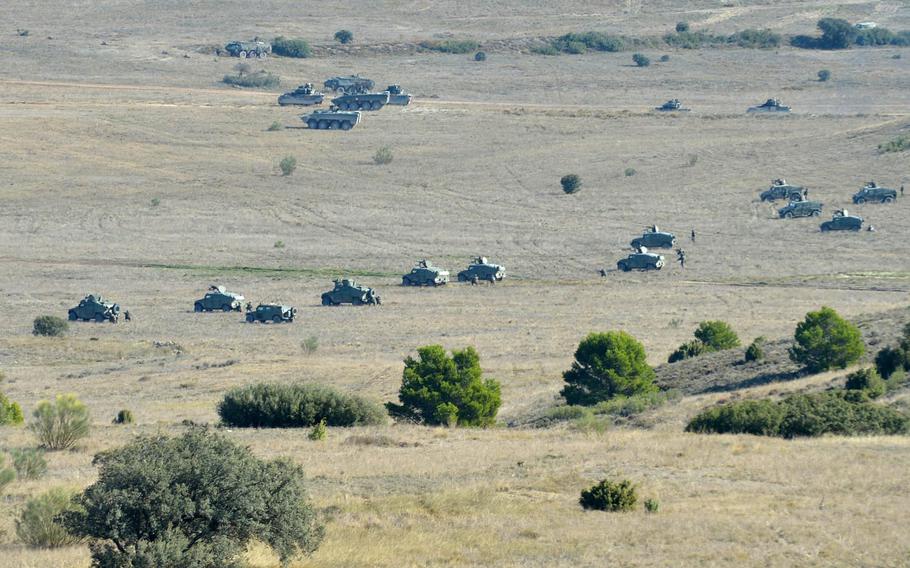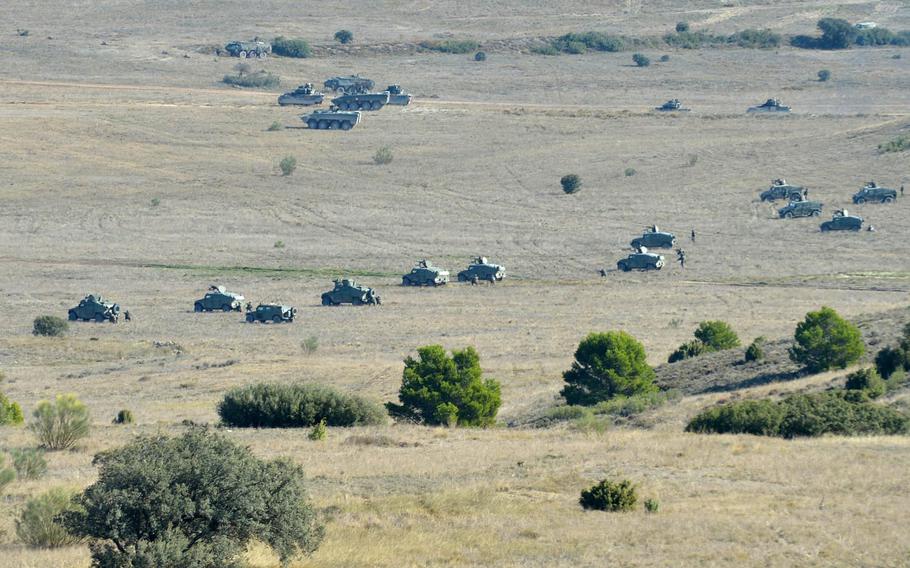 Europe's leading armed forces are so hollowed out they are incapable of conducting major rapid-response operations, raising questions about NATO's overall readiness to respond to a more aggressive Russia, a study re-leased Friday by the Atlantic Council concludes.
The study, "Alliance at Risk: Strengthening European Defense in an Age of Turbulence and Competition," analyzes the status of six European NATO militaries. It paints a grim picture of an alliance wholly dependent on the United States as the guarantor of security.
The readiness of the United Kingdom's army is so dismal that the deployment of a single brigade on a short notice operation poses a major challenge, wrote retired Gen. Richard Shirreff,former deputy supreme allied commander, Europe.
"Indeed, last November's deployment of a small armored battle group to Poland — to take part in a flagship NATO exercise to demonstrate solidarity against Russia — almost necessitated retrieving tanks from the training fleet in the western prairies of Canada, because the serviceability and spares situation in the U.K.'s fleet was so dire," Shirreff wrote.
The report, a compilation of assessments by country experts, examined the militaries of Britain, Poland, Italy, Norway, France and Germany.
In the case of Germany, Europe's economic powerhouse, the military has been chronically underfunded for a generation, experts said. As it stands now, the force is virtually incapable of conducting major operations on its own.
German defense spending, about 1.3 percent of the country's gross domestic product, "does not even begin to match the requirements," the report says, citing the German army's inspector general.
And while there have been recent commitments to increase expenditures, it's feared that those funds will be eaten up by personnel costs rather than being spent to improve readiness.
"As a consequence, shortages and readiness problems have become apparent with increasing frequency," wrote Patrick Keller, coordinator of foreign and security policy at the Konrad Adenauer Foundation, one of the report's authors.
Indeed, the majority of German combat systems cannot be used immediately for missions, exercises or training, he said.
Of Germany's 31 Tiger helicopters, only 10 are combat-ready and deployable. Fighter jets, infantry fighting vehicles and transport aircraft suffer from a similar lack of readiness, the report says.
"Germany cannot 'pool and share' its way out of the crisis of an underfunded Bundeswehr — in the end, you need to buy things," Keller wrote.
Other nations examined in the study came in for similar critiques.
The defense of Norway, where U.S. Marines have large stockpiles of pre-positioned weapons, rests heavily on American assistance, wrote report co-author Rolf Tamnes, director of the Oslo, Norway-based Institute for Defense Studies.
"Norway cannot meet its defense obligations without a significant increase in its defense expenditures and a major reallocation of defense resources in favor of operations," Tamnes wrote. The country is now increasingly vulnerable to Russia's growing inventory of long-range, precision-guided weapons, he added.
While the U.S.-led NATO alliance outspends rival Russia by a large margin on defense — collectively allies invest $1 trillion annually — much of European defense spending does little to ensure combat readiness. The more enduring challenge for allies is to direct resources to military readiness rather than personnel costs, the report says.
One step to improve readiness is to establish a permanent NATO base in the Baltics, which would reinforce defense lines where allies are outgunned locally by a larger Russian force, the Atlantic Council study recommends.
Such recommendations have become more frequent from Western defense analysts, who say a stronger presence would send a deterrent signal to Russia.
"Along with the Baltic air-policing mission, effective deterrence demands more than just episodic training activity. Rather, a permanent land presence is required to prevent any Russian coup de main operation that could achieve its aims before any NATO reserves are able to react," Shirreff wrote.
Critics counter that such a move would unnecessarily provoke Moscow, which has said it doesn't have designs on NATO territory.
Currently, NATO is examining a plan for setting up a multinational force in Eastern Europe, but that unit will be rotational rather than permanent. The size of the force is now under review.
NATO has emphasized that its moves represent an adaptation to Russia's recent actions in Ukraine.
The alliance has doubled its crisis response force to 40,000 troops and created from that unit a "spearhead" force capable of operating within 48 hours of a crisis.
Still, there remain questions about whether NATO political decision-making is fast enough to mobilize such a force in a crisis.
Shirreff, who calls for a combined arms brigade to be established in the Baltics, says the U.K. needs to play a leading role in NATO's push for more effective crisis response forces.
"The implementation of the new national defense strategy must address the threats of the age, whether it is re-vanchist Russia and its potential clash with NATO or the arc of chaos on the periphery of Europe," he wrote.