Rasmussen: NATO to establish quick-response 'spearhead force'
by
John Vandiver
September 1, 2014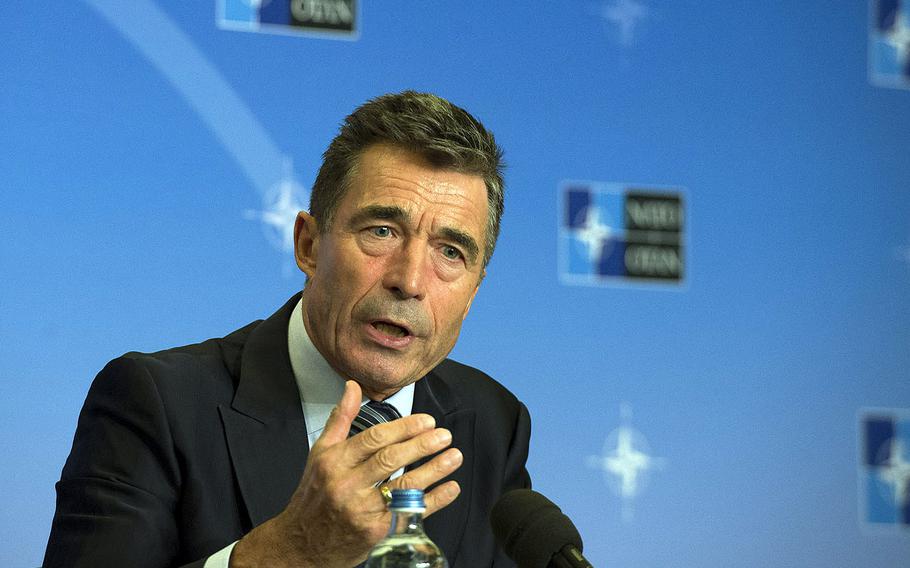 NATO will establish a new "spearhead force" in answer to Russian aggression in Europe that is capable of conducting crisis-response missions in a matter of days, NATO Secretary-General Anders Fogh Rasmussen said Monday.
Leaders from NATO will meet on Thursday in Wales, where much attention will be devoted to adapting the 28-member alliance to counter an increasingly aggressive Russia.
"We will develop what I would call a spearhead within our response force – a very high readiness force able to deploy at very short notice," Rasmussen said at a news conference in Brussels. "This spearhead would be provided by allies in rotation, and could include several thousand troops, ready to respond where needed with air, sea and special forces support."
Such a force will require "reception facilities" on NATO territory and pre-positioned equipment and supplies, along with command and control elements and logistics experts, Rasmussen said.
"So this force can travel light, but strike hard if needed," he said. "We will also look at possible upgrades to national infrastructure. That could include airfields and ports to support reinforcements, if the need arises."
Rasmussen said it was too early to say how many NATO troops would be on the ground in eastern Europe at a given time or how many bases they would operate out of. Those details would be hammered out after the conference, he said.
While NATO already has a formal Response Force, the multinational unit has been criticized for not being structured to conduct real-world rapid-response operations. The force has mainly been used for conducting training exercises and peacekeeping missions.
After Russia's annexation of Ukraine's Crimea Peninsula, NATO Supreme Allied Commander Gen. Philip Breedlove said the alliance must take steps to improve the readiness of its reaction force. The new spearhead force is the result, Rasmussen said.
"It will be (deployable on) very, very short notice," he said. "We are speaking about a very few days."
---
---
---
---