Ramstein wing boss heading to aircraft acquisitions post at Pentagon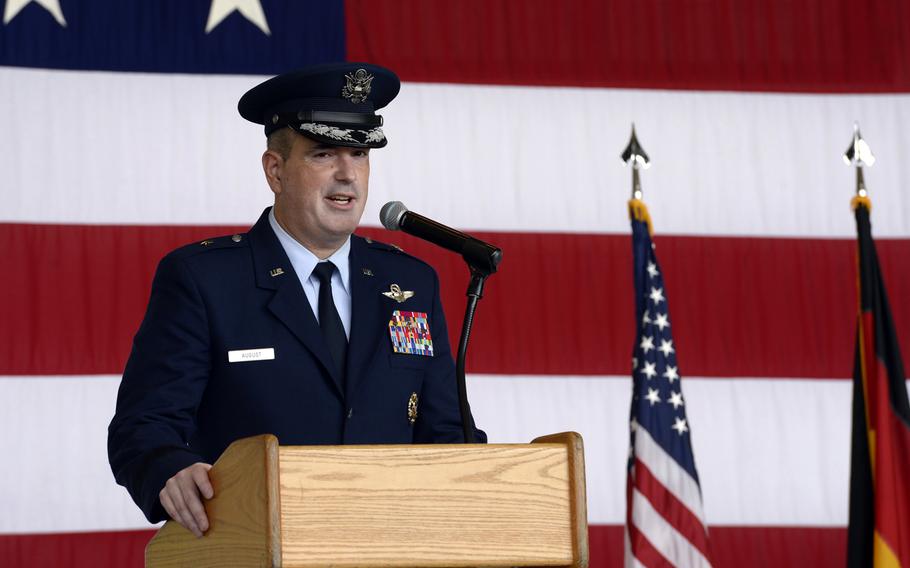 KAISERSLAUTERN, Germany — The commander of the Air Force's largest wing in Europe has been selected for a Pentagon assignment with responsibility for acquiring critical aircraft within the service's fleet.
Brig. Gen. Mark R. August, head of the 86th Wing at Ramstein Air Base, Germany, has been named the next director of global reach programs under the Air Force assistant secretary for acquisition, technology and logistics, the Pentagon said Thursday.
The portfolio includes the service's airlift, training and special operations programs as well as specialty acquisitions like the Presidential Airlift Replacement. It also includes the KC-46 refueler, which has suffered from delivery delays and safety defects, Air Force officials have said.
The Pentagon did not say when August would report to his new post or name his replacement at Ramstein.
August, a C-130 pilot, took command of the 86th Wing in August 2018.
The Pentagon also announced Thursday that Maj. Gen. Randall Reed has been named the next commander of 3rd Air Force. Headquartered at Ramstein, 3rd Air Force is responsible for U.S. Air Forces in Europe and Africa's operations and support activities.
Reed is currently a senior defense official and defense attache in Ankara, Turkey. He would replace Maj. Gen. John Wood.