Ramstein gate closed, postal services changed, commissary baggers gone
---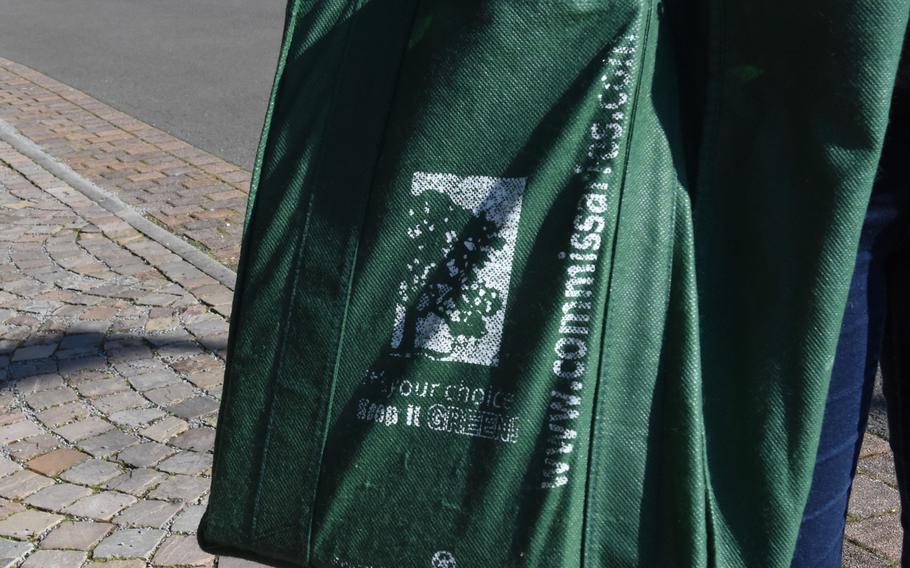 Stars and Stripes is making stories on the coronavirus pandemic available free of charge. See other free reports here. Sign up for our daily coronavirus newsletter here. Please support our journalism with a subscription.
KAISERSLAUTERN, Germany – A main gate to Ramstein closed indefinitely. No reusable bags at the commissary, and no one to help shoppers pack their groceries. Mail services available only on certain days.
Those are some of the changes personnel and families assigned to Ramstein Air Base will see as more adjustments are made to reduce the spread of the coronavirus in the largest U.S. military community overseas.
Reusable bags are being removed from checkouts at commissaries worldwide and commissary management is asking customers not to bring them into stores, military officials said this week. The Defense Commissary Agency said this was "an additional precaution during the COVID-19 pandemic" to limit risks from the virus. Bagging services were also recently halted.
At Ramstein, the East Gate is set to close at 1 a.m. Wednesday, partly because of reduced traffic since personnel are working fewer shifts, and more are teleworking, officials said.
"The closure is being done in the best interest of our" gate guards, said Sandra Archer, an 86th Airlift Wing spokeswoman.
The LVIS gate will remain open from 6 a.m. to 6 p.m., Monday to Friday and the West Gate will continue to be open 24 hours, Archer said.
Customers who use the two post offices on Ramstein and one on Kapaun will be assigned two days each week, based on their last name, to pick up packages and send mail. Monday and Wednesday will be for people with last names starting with A to K, and Tuesday and Thursday for L to Z.
Parcel pickup and outgoing mail services will be provided from 10 a.m. to 1 p.m. and 3 p.m. to 5 p.m., officials said on Facebook. Customers can check their post office boxes for smaller parcels and letters outside of those hours.
Anyone who can't make those times can come in on Friday from 11 a.m. to 1 p.m. and from 3 p.m. to 5 p.m. An hour on Friday morning, from 10 a.m. to 11 a.m., will be for retirees only.
The finance window at Kapaun's post office is closed indefinitely, officials said.
"All of these measures are designed to decrease exposure to each other and to our teams so we can all stay healthy," postal officials said on Facebook Tuesday.
Post office personnel, as well as other units on base, have been split into teams and work separate shifts to minimize close contact and reduce potential exposure to the coronavirus, Archer said.
"Having only half of our team on-shift, plus wearing gloves and maintaining appropriate distancing, has slowed down our processes, so we cannot maintain the same window hours we did prior to COVID-19 ops," postal officials said on Facebook last week, when they first announced the reduced hours.
Ramstein and Kapaun have 15,000 P.O. boxes — one of the largest numbers in the Air Force.
On a positive note, defense personnel in Europe whose personal vehicle registrations expire in 30 days will have a 60-day grace period to renew them, the Army announced last week.
In the Kaiserslautern area, the automatic extension should have been done electronically for those registered in the system, Kapaun Vehicle Registration officials said last week on Facebook.
svan.jennifer@stripes.com Twitter: @stripesktown
---
---
---
---