Ramstein airman guilty of sexually assaulting another airman, stealing his PlayStation
---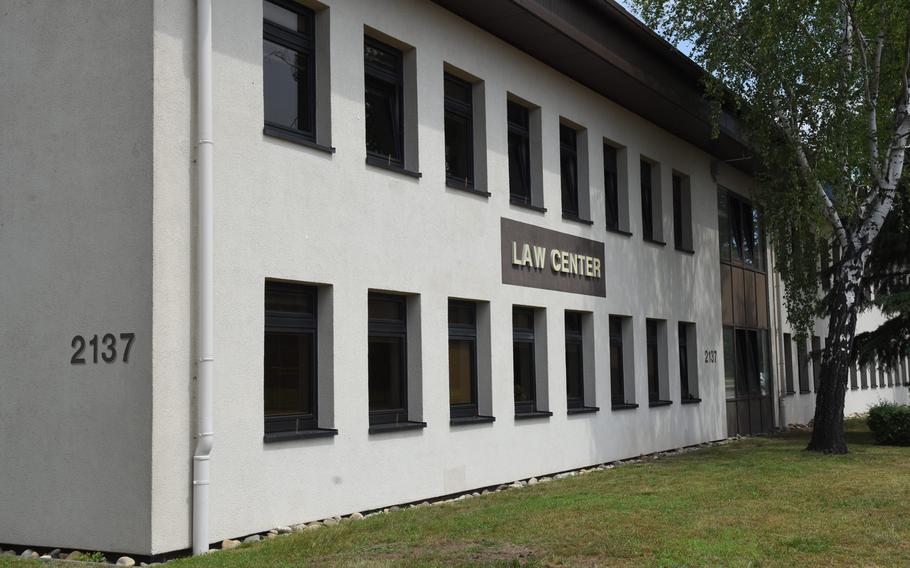 RAMSTEIN AIR BASE, Germany — After sexually assaulting a drunk airman in the airman's own dormitory bed last year, Airman 1st Class Jordan Hickman left the victim's door as he found it — cracked open — and left, carrying a PlayStation console under his arm.
Video footage from a security camera would show Hickman spent 19 minutes in the victim's room after closing the door and turning off the lights inside, as described at a general court-martial at Ramstein this week.
On Wednesday, a military judge found Hickman guilty of sexual assault and larceny.
Hickman, a member of the 86th Vehicle Readiness Squadron, was sentenced Thursday morning to three years in prison, a punishment that also includes a dishonorable discharge and an order to forfeit all pay and allowances.
Hickman, 20, will also have to register as a sex offender.
He faced up to 30 years in prison, the maximum confinement for sexual assault under military law.
The defense characterized the case as "two young men" drinking alcohol and "experimenting." They raised the possibility that the victim, who by all witness accounts was highly intoxicated, may have consented to a sexual act while in an alcohol-induced blackout, which would explain why he had no memory of the event the next day.
But the government said it was implausible to think the victim suddenly woke up and agreed to sex with someone he hardly knew after he was left passed out on his dormitory bed.
"This is worse than facing an attacker in the bushes," prosecutor Maj. Matthew Tusing said. "He couldn't even fight back."
The assault occurred after a raucous dorm party that began on May 4, 2018, one teeming with alcohol and upward of 75 people, according to court testimony.
The victim wore a Chewbacca one-piece costume to the party since it was Star Wars Day. He testified he drank eight to nine red Solo Cups of "jungle juice" — the party beverage consisting of rum, vodka, tequila and gin, diluted with Hawaiian Punch and chunks of fruit.
One of the victim's last memories from the evening, he testified, was standing up on a table and saying, "May the Fourth be with you," a moment that was recorded on Snapchat and played in court.
Hickman was also at the party and said to be drinking. He was among the airmen who helped carry the victim, whom by this time was having trouble walking, back to his dormitory room.
The victim was left on his bed. His door was left cracked open, so airmen could check on him, according to court testimony.
The next day, after the victim woke up, he testified to feeling pain when trying to use the bathroom.
He walked to Security Forces and ended up at Landstuhl Regional Medical Center. Hickman's DNA from bodily fluids was found on the victim.
Video footage from the security camera in the hallway outside the victim's dormitory room tied Hickman to the crime scene.
Soon after helping the victim into his room and leaving with everyone else, Hickman was seen entering the victim's room again — this time alone — and closing the door behind him.
His behavior at the door was telling, lawyers for the government said.
"He does not knock," Tusing said, addressing Air Force Judge Lt. Col. Christina Jimenez, "He walks right in. They are strangers.
"When he left, he left with the lights off and the door cracked."
Hickman knew the victim "was passed out when he arrived; he knew he was passed out when he left," Tusing said.
Hickman in a statement before the judge tearfully apologized for his actions.
"My intent was to make sure (the victim) was OK," he said. "After arriving there, I made poor choices."
The victim also addressed the court, describing bouts of anxiety and trouble sleeping since the assault.
"I will never outlive, outgrow or forget this incident," he said.
svan.jennifer@stripes.com Twitter: @stripesktown
---
---
---
---