Putin leads inauguration of statue of Prince Vladimir
---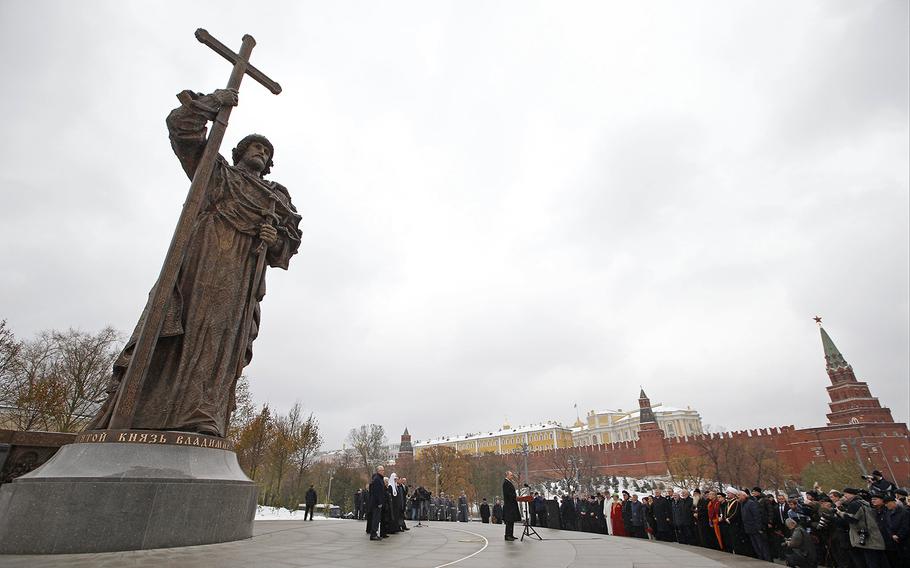 MOSCOW — Russian President Vladimir Putin has led ceremonies launching a large statue outside the Kremlin to a 10th-century prince of Kiev who is credited with making Orthodox Christianity the official faith of Russia, Ukraine and Belarus.
In a speech by the 52-feet-tall bronze monument to Prince Vladimir, Putin said the medieval ruler was a "farsighted politician" who "laid down a moral foundation that defines our lives to this day."
The opening took place as Russia marks National Unity Day, a contemporary holiday that replaced the Soviet Union's annual celebration of the Bolshevik seizure of power in 1917.
Prince Vladimir, also known as Vladimir the Great, chose Orthodox Christianity for the medieval kingdom of Kiev Rus.
Ukraine also claims Prince Vladimir as the country's founding father.
---
---
---
---