Protesters to rally outside Ramstein against alleged drone operations
by
Jennifer H. Svan and Marcus Kloeckner
June 26, 2019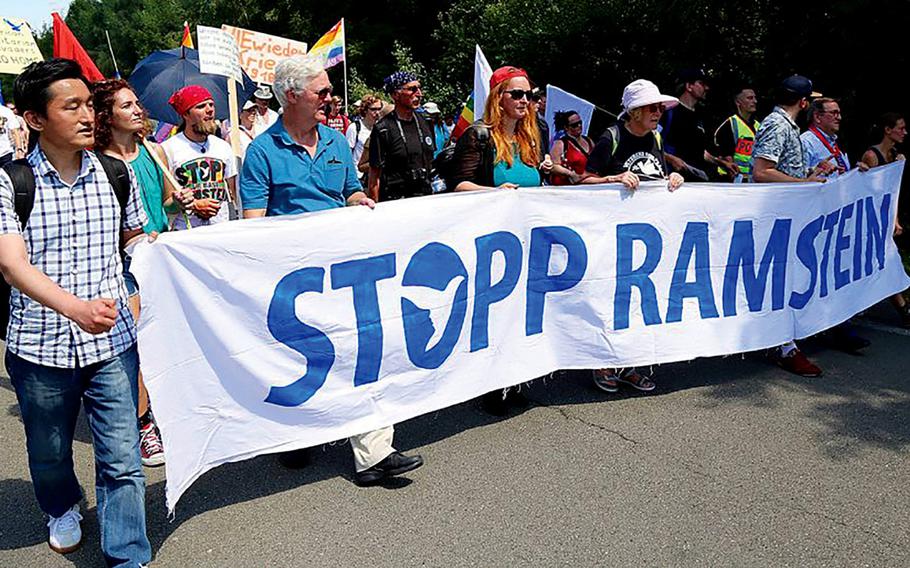 KAISERSLAUTERN, Germany — Thousands of peace activists are expected to gather outside Ramstein Air Base on Saturday to protest its alleged role in U.S. drone operations.
The annual demonstration against the largest U.S. military base in Germany could include a temporary blockade of the main access road, although organizers and police say the protest is expected to be peaceful.
Activists with the "Stop Air Base Ramstein Campaign" staying at a peace camp near Ramstein this week are receiving instruction in acts of civil disobedience, including "blockade training."
"With our blockade, we are practicing civil resistance and countervailing — against the madness of daily drone warfare and drone warfare system," says a statement from the group, part of the Berlin-based "Stopp Ramstein — No Drone War" alliance.
This is the fifth year the alliance has organized a protest outside the base.
Kaiserslautern police spokesman Bernhard Erfort said 3,000-4,000 protesters are expected this year.
The group plans to gather at city hall in Ramstein-Miesenbach and begin marching to the base around 1:45 p.m. on Saturday. The protest is expected to wind down by 3 p.m., according to a schedule obtained from the group.
In years past, activists have formed a human chain across the road near the base's Gate 5 on the west side, temporarily blocking and backing up traffic.
The previous rallies have been peaceful, Erfort said.
Activists are demanding an end to what they say is the use of the air base to relay telemetry to drones that collect information on terrorist groups and attack designated targets. The "extrajudicial" attacks on suspected terrorists and militants violate international law and kill civilians, the group says.
Air Force officials have denied for years that any data is relayed through Ramstein for drone operations.
However, a German high court determined in March that there were "substantial indications" known to the German government that U.S. drone missions assisted from Ramstein are at least in part "violating international law."
Base officials said at the time that no drones are launched or operated from the base as part of counterterrorism activities.
A spokeswoman for the 86th Airlift Wing at Ramstein said base officials are aware of the planned demonstration and "respect the rights of others to voice their opinion and practice freedom of speech and assembly."
"Our primary aim here is to ensure a safe demonstration, both for those involved and for our" personnel and neighbors, base spokeswoman Sandra Archer said.
Twitter: @stripesktown