Planning for a US base in Poland gains momentum
by
John Vandiver
March 13, 2019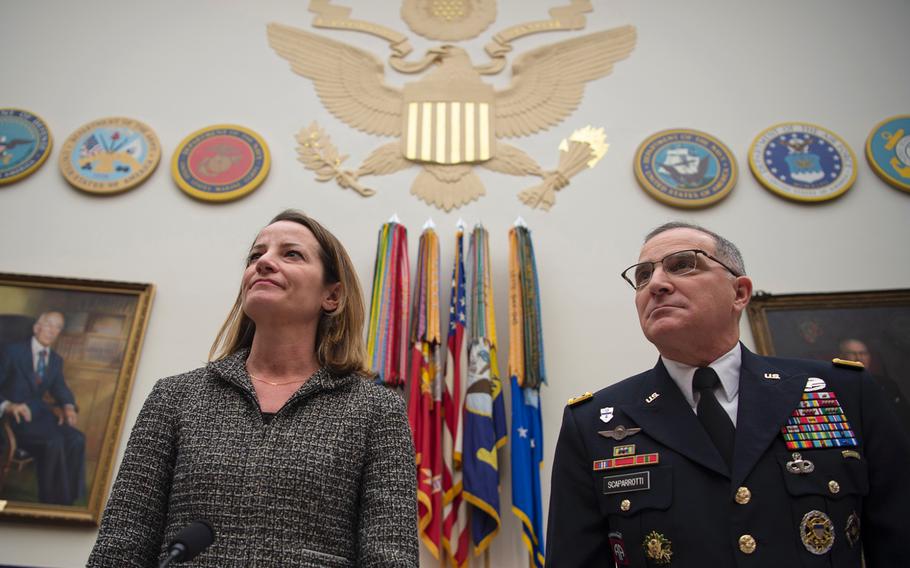 Discussions about a permanent U.S. military base in Poland are moving forward, with a top Pentagon official arriving in Warsaw this week to hammer out details on expanding the American military presence in the country, officials said.
Under Secretary of Defense for Policy John Rood is meeting with his Polish counterparts to work on the plan, a top Pentagon official told lawmakers Wednesday. While it could take about six months to finalize, progress was being made, said Kathryn Wheelbarger, acting assistant secretary of defense for international security affairs.
"We are working out some of the technicalities," Wheelbarger said during testimony before the House Armed Services Committee.
Last year, Poland offered to spend up to $2 billion toward a permanent U.S. base. U.S. European Command chief Gen. Curtis M. Scaparrotti said Wednesday that he wants a mix of permanent troops and rotational forces in Poland, making perhaps his clearest public comments yet in support of the idea.
"I think it is a mix (of rotational and permanent troops.) I am perfectly content with large forces we are rotating today," Scaparrotti said.
However, Scaparrotti said there is a role for a permanent headquarters element, which would manage the flow of rotational troops and be effective at establishing relationships with allies in the region.
Should the plan become reality, it appears likely that the basing arrangement will be something less than the "Fort Trump" concept Poland was initially lobbying for.
Earlier this month, Polish media reported that among the measures the U.S. was considering was an Army headquarters in Poznan, a special operations site near Krakow and making permanent an Air Force detachment in Lask.
Talk of a larger military mission in Poland comes less than a week after revelations about President Donald Trump's interest in demanding countries that have U.S. forces pay the full cost of hosting them, plus a 50 percent premium for the privilege of protection.
Wheelbarger said she was unaware if the "Cost plus 50" as it is known was getting a serious look in Europe.
"My understanding is that rhetoric came from conversations from the Pacific," she said. "It's not a conversation we've had in my portfolio at all."
Trump's apparent interest in charging allies for troops, reported last week by Bloomberg, was blasted by lawmakers on Wednesday.
Rep. Adam Smith, the Democratic chairman of the House Armed Services Committee, said the idea was a "monumentally stupid approach." U.S. forces overseas are there for the mutual benefit of the U.S. and allies, he said.
At a separate House Committee on Foreign Affairs hearing Wednesday, which focused on the value of NATO, lawmakers also raised concern about "Cost plus 50."
Rep. Eliot Engel, the committee's Democratic chairman, called the concept "outlandish."
"This whole scheme reveals how little (Trump) understands about how our alliances advance our own strategic interest," Engel said.
vandiver.john@stripes.com Twitter: @john_vandiver
---
---
---