Pilot of F-15 that crashed off UK coast is confirmed dead
by
Brian Ferguson
June 15, 2020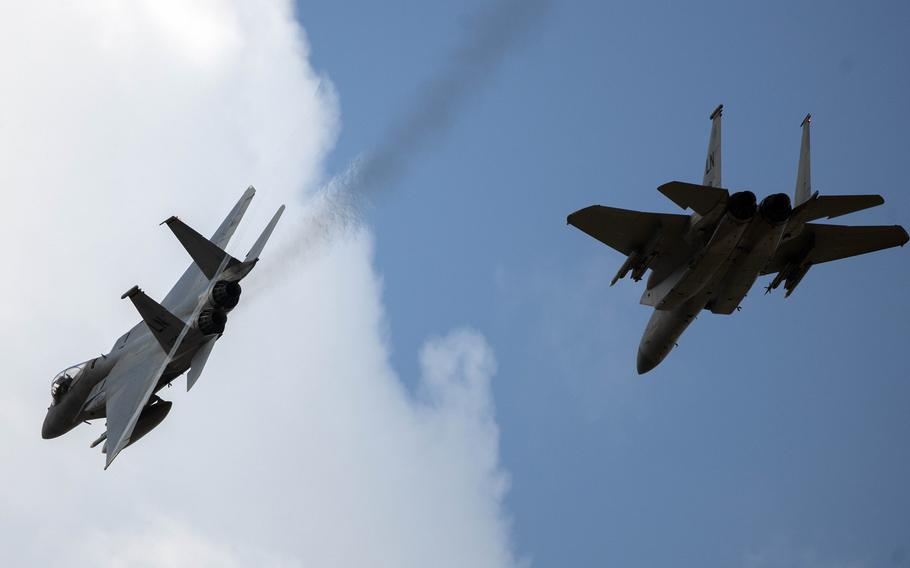 The body of the pilot of a U.S. Air Force F-15 jet that crashed into the North Sea was found Monday after an hourslong search off the coast of northeast England, officials said.
"It is with a very heavy heart that I confirm the pilot of the downed F-15C Eagle has been located and confirmed deceased," Col. Will Marshall, commander of the 48th Fighter Wing, based at RAF Lakenheath in England, said in a video message.
The F-15 crashed Monday at around 9:30 a.m. during a routine training flight, Marshall said in an earlier video message.
The pilot's identity will not be released until all next of kin have been notified, Marshall said.
"This is a tragic loss for the 48th Fighter Wing community and our deepest condolences go out to the pilot's family and the 493rd Fighter Squadron," he said.
The pilot's body was located several hours after the British coast guard found wreckage from the plane off the English coast.
Emergency communications were heard on a "frequency used throughout NATO" just before the crash, The Aviationist website reported.
Several British and American military planes, and British coast guard helicopters, helped search for the pilot, media reports said.
Two British lifeboats were also dispatched to the site where the crash occurred, Jim Rice, a spokesman for the Royal National Lifeboat Institution, told Stars and Stripes.
The crash was the third notable incident involving an F-15 in two years.
An F-15C from the Oregon Air National Guard's 142nd Fighter Wing skidded to a stop at Joint Base Andrews, Md., last month after the pilot declared an in-flight emergency. No injuries were reported.
On June 10, 2018, an F-15C from the 44th Fighter Squadron at Kadena Air Base, Japan, crashed into the ocean south of Okinawa. The pilot ejected and was recovered by Japanese rescue forces.
The Air Force operates roughly 249 F-15 Eagles, which were developed in the 1970s by McDonnell Douglas.
Plans to upgrade the aging fleet that were approved by Congress last year allowed for the purchase of two new Boeing F-15EX fighters, with an option for six more, and for new computers, cockpits and electronic warfare systems for the F-15C and D models.
The 48th Fighter Wing is the only Air Force F-15 wing in Europe, and consists of more than 4,500 active-duty military members. RAF Lakenheath is the largest U.S. Air Force-operated base in England, according to its website.
ferguson.brian@stripes.com Twitter: @BrianFerg57