Pence visits servicemembers at Ramstein after negotiating Turkey agreement
---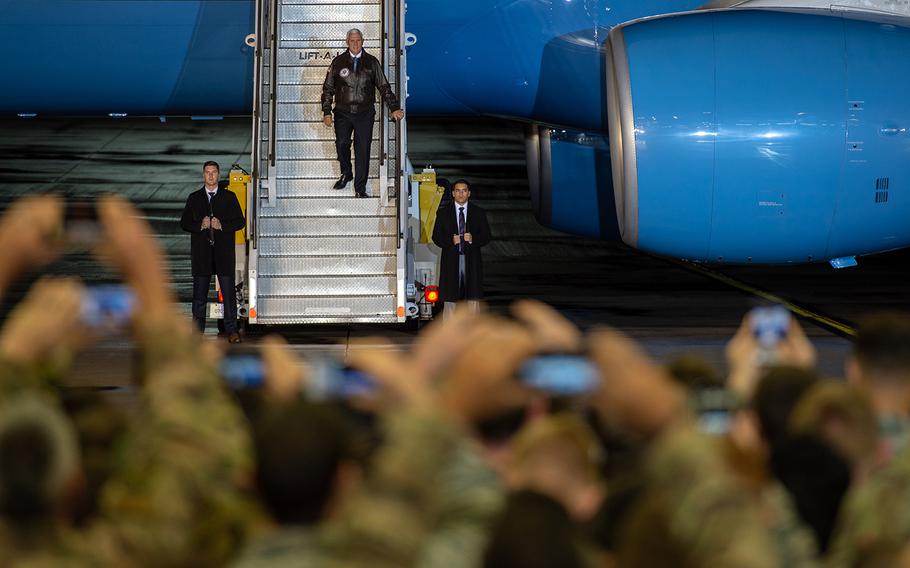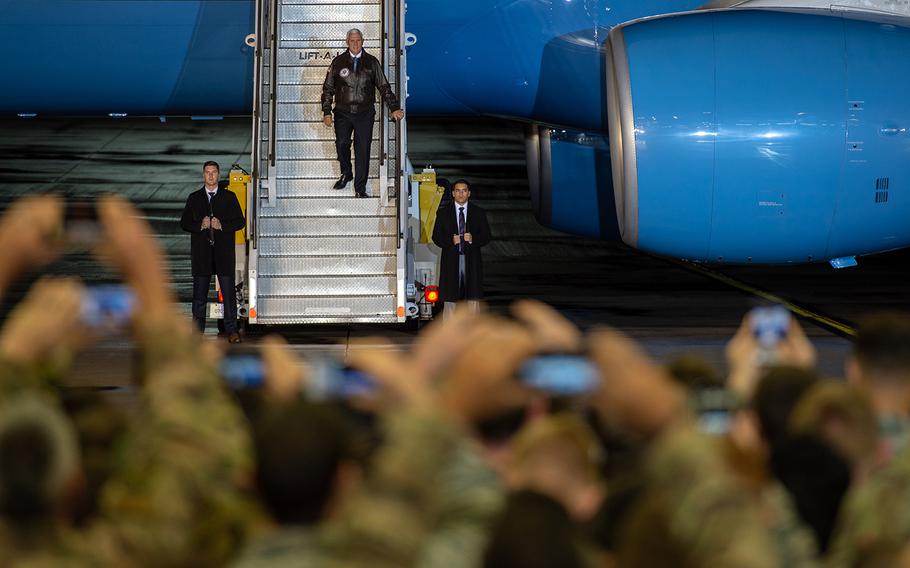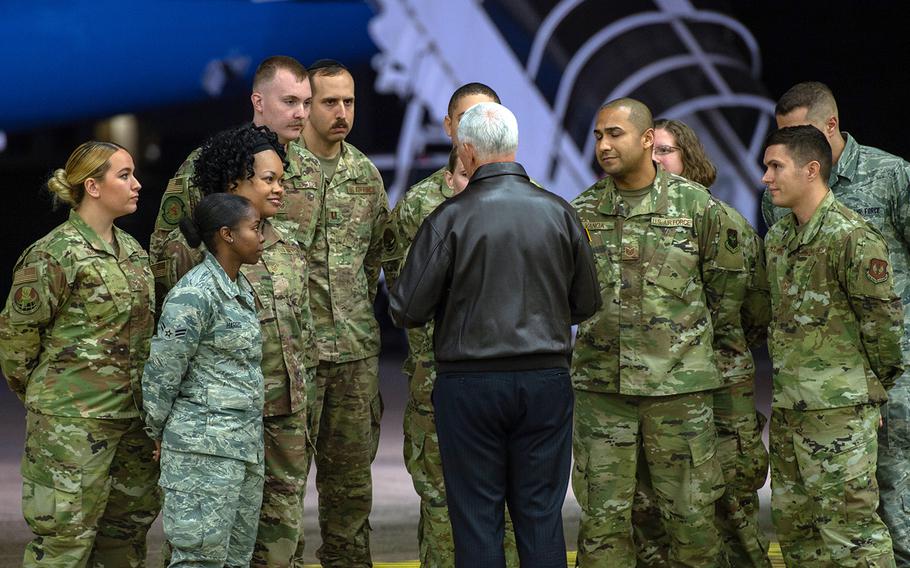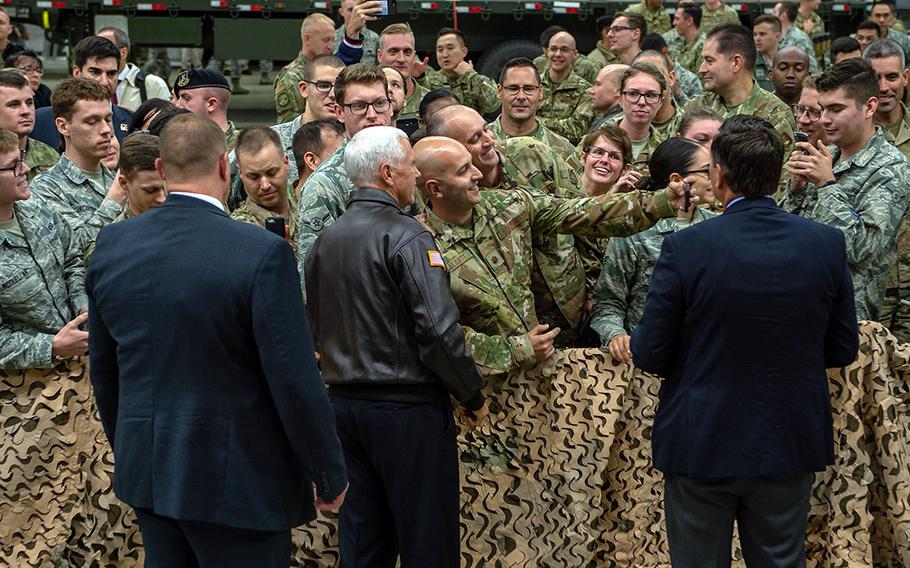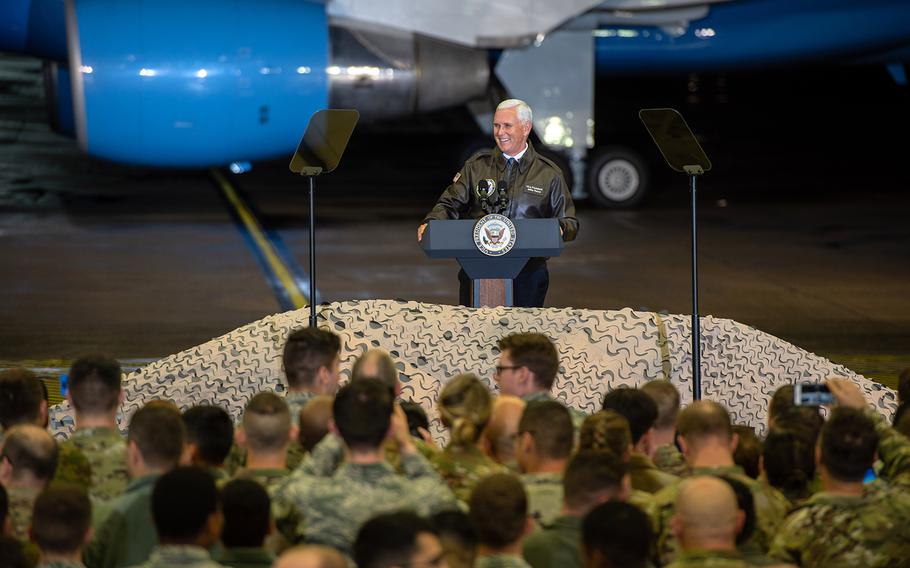 RAMSTEIN AIR BASE, Germany — Vice President Mike Pence paid a visit to servicemembers at the Ramstein flight line early Friday, hours after negotiating what he called a cease-fire of Turkey's incursion into northern Syria.
Pence looked upbeat as he stepped off Air Force Two after midnight, where he was greeted by hundreds of U.S. military personnel in a hangar pulsing with loud rock music. Pence told servicemembers he wanted to stop and say hello on his way back to Washington after a long day of meetings with Turkish President Recep Tayyip Erdogan in Ankara.
"You all stayed up late to see me on," he said. "I'm very honored by that."
Pence's trip was aimed at getting Turkey to stop its military offensive in northeastern Syria, a campaign it began more than a week ago to rid the border of Kurdish fighters controlling the area after President Donald Trump said the U.S. wouldn't stand in the way.
Trump was widely criticized for the move that many in the defense community and in Congress said gave Turkey the "green light" to invade Syria and failed to protect the Syrian Kurds, who fought alongside U.S. military personnel to defeat the Islamic State in Syria.
"Today, I'm proud to report, thanks to the president's strong leadership, the United States and Turkey have agreed to a cease-fire in Syria," Pence told servicemembers, eliciting loud cheers.
Turkish Foreign Minister Mevlut Cavusoglu, however, said the agreement is not a cease-fire, since a cease-fire can only be made by two legitimate sides, he was quoted as saying by Turkish media. He said Turkey would pause its offensive for 120 hours to give Syrian Kurdish fighters time to clear out from the border area. The so-called "safe zone" would extend about 20 miles into Syria and would be Turkish-controlled.
The U.S. would facilitate that withdrawal, according to a statement from the White House.
Kurdish-led Syrian Democratic Forces chief Mazlum Abdi said they would abide by the cease-fire from Ras al-Ain to Tal Abyad, Agence France-Presse reported.
The U.S. also agreed not to impose additional sanctions on Turkey. Once a permanent cease-fire is in place, the U.S. has agreed to lift sanctions it imposed on Turkey on Monday.
Both sides painted the agreement as a win for their respective countries.
Cavusoglu said Turkey got what it wanted as a result of Erdogan's strong leadership, according to the Turkish news agency Anadolu.
Trump tweeted late Thursday that it was "a great day for civilization," and went on to say that "people have been trying to make this 'Deal' for many years."
Pence told the servicemembers, "We have a framework for peace in the region for Syrians and bring security for our allies in Turkey, our allies in the Syrian Defense Forces, and it will advance peace and security for all the men, women and children who have suffered through years of war and terror."
The situation in Syria was on the minds of some Ramstein airmen who came out to see Pence.
"That was one of the reasons we came out, to see what was going on (with Turkey and Syria)," said Maj. Kelly Miller, 40, a flight nurse. "I think it's great that there's a cease-fire and I'm glad that they made it happen."
Airman 1st Class Zachary Kelley, a medical technician in Ramstein's pediatrics clinic, said peace is the goal.
"We want peace first," he said. "We don't want to go fight for no reason."
Pence took time to shake servicemembers' hands and take selfies with those who asked. He told personnel that he and Trump thanked them for their service.
"You have my commander in chief's and my own deepest respect for your courage and values," he said.
Many found out about the visit earlier in the day. Even then, they didn't know who was coming right away.
"We were told someone important was coming along and they needed some people to volunteer to be there to greet them," said Capt. Amy Stanley, 27, a flight nurse at Ramstein.
"We all just kind of raised our hands and came on over," she said.
svan.jennifer@stripes.com Twitter: @stripesktown
---
---
---
---