From the Stars and Stripes archives
Olivia de Havilland recalls wartime shows, enjoys making similar type tours now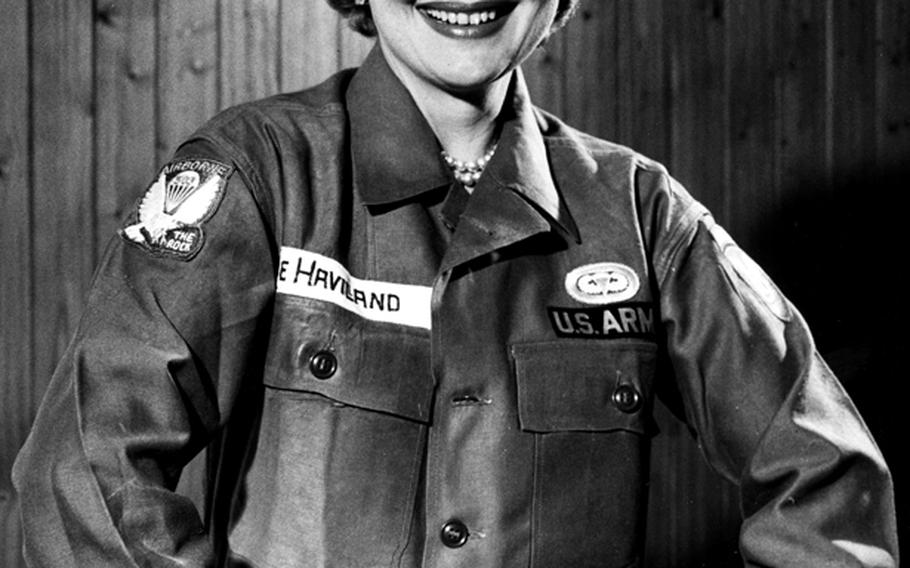 OLIVIA DE HAVILLAND was radiant and lovely, like a movie queen ought to be.
"Come on in," she said. "But you'll have to excuse the house — we're raising the roof around here," The carpenters were busy and the interior decorator had just sent over a new chair for Miss de Havilland's bedroom and the delivery boys were struggling up the stairs with it.
She and her French husband, Paris magazine executive Pierre Galante, were literally "raising the roof." Their white stucco house in Paris' 16th Arrondissement was undergoing a complete transformation. Included in the remodeling was a project that heightened the top floor to make space for a playroom for their children.
This day Miss de Havilland had every right to be a bundle of nerves — upset house, a trip to the States to prepare for, plans for a personal appearance at the premiere of her new film in Atlanta. But she displayed the charm and smoothness for which she Is famous as she graciously and naturally received the reporter and photographer from The Stars and Stripes. It was more as though she, in her role as Paris mother and housewife, were having neighbors in for a midmorning cup of coffee.
Although she now lives in Paris, Miss de Havilland is still very much a part of the movies. And she is still enjoying a vast popularity both in the U.S. and overseas, often in remote corners of the world. "I have received letters commenting on films that I'd even forgotten about," Miss de Havilland said as she thumbed through a recent batch of mail. There were letters from Madagascar, East Germany, Yugoslavia and the Far East.
The Oscar-winning actress, whose performances in "The Snake Pit" and "The Heiress" are regarded among the highlights in the history of the cinema, says she likes living in Paris. Business and social engagements keep her occupied, but she has found time in her schedule to keep appointments with some of her favorite people — U.S. servicemen.
Appearing at U.S. military installations is one of the star's old loves. It was her patriotic contribution during World War II. She earned the reputation for being one of the most faithful and favorite celebrities visiting isolated islands and battlefronts in the Pacific during World War II. She risked life and limb in this effort. Once she rode out a crippled plane over the ocean. Another time she came down with virus pneumonia, spent days in an island hospital before doctors finally could diagnose her near-critical case.
She calls herself a "50-cent-a-year" woman, because she is presently under contract with the Army's Special Services for personal appearances for the next two years in Germany, France, Italy or at whatever installation in Europe where she may be invited. She Is paid $1 for the contract.
Last year she was made a honorary member of the 11th Airborne Div and now one of her prized possessions is the khaki jacket tailored to her measurements bearing the 11th's patch on one sleeve and the identification patch, "de Havilland" across the chest.
She has been to Berlin and to bases in Italy. Her summer schedule of tours is booked solid, as far as time and other commitments will allow. Counting her travel time, Miss de Havilland last year devoted nearly a month to visits with U.S. servicemen in Europe.
The $1 contract has helped Miss de Havilland to retain her American citizenship. She was born in Tokyo of British parents and was naturalized in the U.S. after she went to Hollywood. Now, married to a French citizen, it would be necessary for her to return to the U.S. periodically to retain citizenship. The law provides that if a naturalized citizen remains outside the U.S. for five years, citizenship is lost.
At present, it is expected that Congress will pass a bill waiving the existing law in Miss de Havilland's case. Rep. Francis E. Walter (D-Pa.) recently introduced such a bill. He did not know Miss de Havilland personally, he said, but he was acquainted with her visits to servicemen both during the war and at present. Meanwhile, Miss de Havilland. with a Government contract, can retain her citizenship without interruption of the life she likes best.
Her marriage to Pierre Galante came about in the same storybook manner as the rest of her fabulous life since leaving school at Our Lady's Convent at Belmont, Calif., in 1934; going to drama school and beginning a motion picture career in 1935.
She met the magazine executive on her first visit to France, in 1953. That year she had come to Paris with her young son, Benjamin, on her way to Cannes for the international film festival.
It may have been by coincidence that Galante, a member of the festival committee, was at the airport when she arrived. It also may have been by coincidence that he happened to join her manager and her at lunch one day in Paris. And, by coincidence again, he was at her table every day during banquets at the film festival.
Later Miss de Havilland left for Dallas for a summer theater engagement. Shortly after, there was a cable front Galante. He was coming to Texas.
By now. the actress was aware that the Frenchman's attentions had nothing to do with coincidence. So, to welcome him to Dallas, she decided to please him with something typically French — foie gras and champagne. The fourth day of this diet, though, caused the visitor to say, "I am deeply in love with you, but even though I am French there are two, things I really don't like — goose liver and champagne."
Miss de Havilland recalls she was more impressed, or perhaps stunned, at first at his gallantry in enduring the pate and champagne for four days than she was with his declaration of love. Shortly after they were married at Yvoy-le-Marron, near Orleans, France. It was April 2, the same day Napoleon had married Marie.
Paris life is interesting, says Miss de Havilland. She didn't know much French on her first visit to France, but now she speaks it welt. Among the Galantes' friends are numerous French film notables. They like to entertain at home and will do so again once the house is finished. Thanksgiving dinner is always a big occasion at the Galante home. Benjamin now is in school in Normandy. The Galantes have a daughter. Gisele, who will be 2 years old this month.
Her new picture, "The Proud Rebel," will be on service screens soon. It to due for an early showing on the Champs-Elysses in Paris. Miss de Havilland attended the premiere In Atlanta, where just 20 years before she had gone for the opening of "Gone With the Wind."
"I'm not sure whether they're going to like me in Atlanta this time," she said before leaving Paris. "Last time I was the shining example of Southern womanhood. This time it's also a Civil War film, but I'm on the other side."
---
---
---
---