Oliver found guilty in AFN murder
---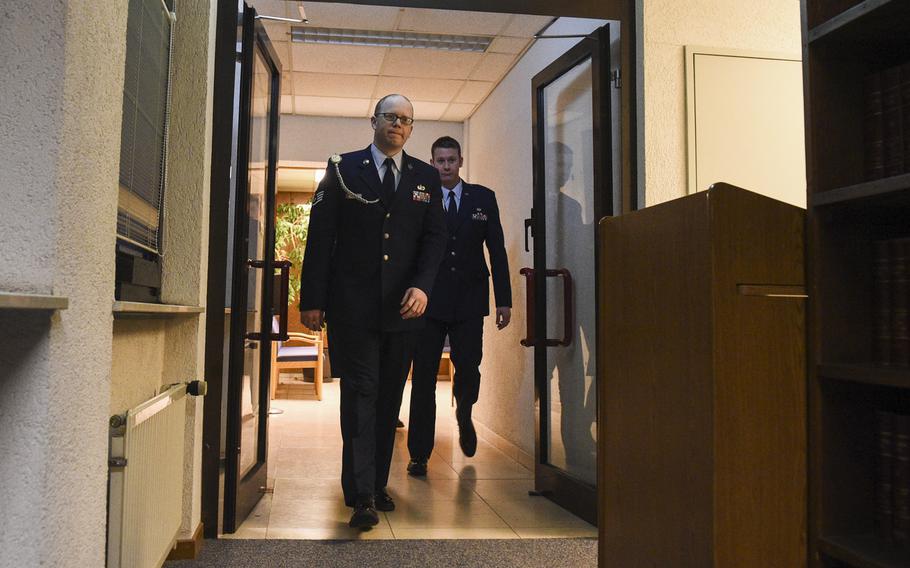 RAMSTEIN AIR BASE, Germany — Air Force Staff Sgt. Sean Oliver was found guilty of unpremeditated murder Wednesday in the killing of Navy Petty Officer 2nd Class Dmitry Chepusov, an American Forces Network broadcaster.
Oliver had been charged with premeditated murder, but the panel — similar to a civilian jury — was allowed to consider lesser charges. Despite the conviction of the less serious offense, he still could face life in prison.
Oliver, a broadcast technician for AFN, also was found guilty of obstruction of justice and making false official statements related to Chepusov's murder. The panel also found him guilty of other charges stemming from a separate assault in Ohio in 2012.
The sentencing phase of the trial is scheduled to start Thursday.
The panel returned its verdict after just over five hours of deliberations — roughly an hour longer than it took the government and defense to deliver their closing arguments in the case.
In wrapping up the prosecution's case on Tuesday after nearly two weeks of testimony and presentation of evidence, senior prosecutor Lt. Col. Brian Thompson described a timeline of events, beginning with Facebook messages between Oliver and Chepusov's estranged wife, Karla Alejandra Zolezzi.
Zolezzi and Oliver both testified in the trial that they were in a sexual relationship, though they offered differing accounts of the status of their relationship at the time of Chepusov's murder, which occurred at the apartment of another AFN colleague after a night of drinking.
Oliver testified that he choked Chepusov after the sailor said he was going to go home and have sex with Zolezzi, even if she didn't want to. Oliver said he was trying to protect Zolezzi from what he perceived as a rape threat.
Thompson said Chepusov had no way of knowing where Zolezzi was at the time of the alleged threat. Zolezzi hadn't seen Chepusov since before Thanksgiving 2013, she testified, and had spent the four days before the murder at Oliver's house. Oliver dropped her off at the on-base apartment she shared with Chepusov hours before the murder — after the sailor had left the apartment for a night on the town with Oliver and other AFN colleagues, Zolezzi testified.
The only person who knew Zolezzi's whereabouts at the time of the murder was Oliver, Thompson said. He accused the airman of engaging in "character assassination" against Chepusov and of changing his story multiple times in order to counter the evidence authorities had against him.
German police found Chepusov's lifeless body in the passenger seat of Oliver's car during an early morning traffic stop on Dec. 14, 2013, in Kaiserslautern. He told German police and Air Force investigators that he'd found Chepusov walking drunk in downtown Kaiserslautern, and that he was driving the sailor home when he was stopped.
Oliver later told Air Force investigators that he choked Chepusov to stop him from attacking him, but planned only to knock him out, not kill him, and that he believed the sailor was alive when he put him in the car.
On the stand Friday, Oliver maintained that he didn't intend to kill Chepusov, and he panicked when he suspected the sailor was dead. He said that he didn't check to confirm that suspicion, but he was on his way to dump Chepusov's body when he was stopped by police.
German and American pathologists concluded in separate autopsies that Chepusov died of strangulation. Oliver had pleaded not guilty to the charges.
Oliver also was charged with aggravated assault and obstructing proceedings for a separate incident in Ohio in 2012. The panel found him guilty of the obstruction charge and of a lesser charge of assault consummated by battery.
millham.matthew@stripes.com Twitter: @mattmillham
---
---
---
---