No tag at recess: DODEA schools are ready for a coronavirus learning experience
by
Jennifer H. Svan
August 17, 2020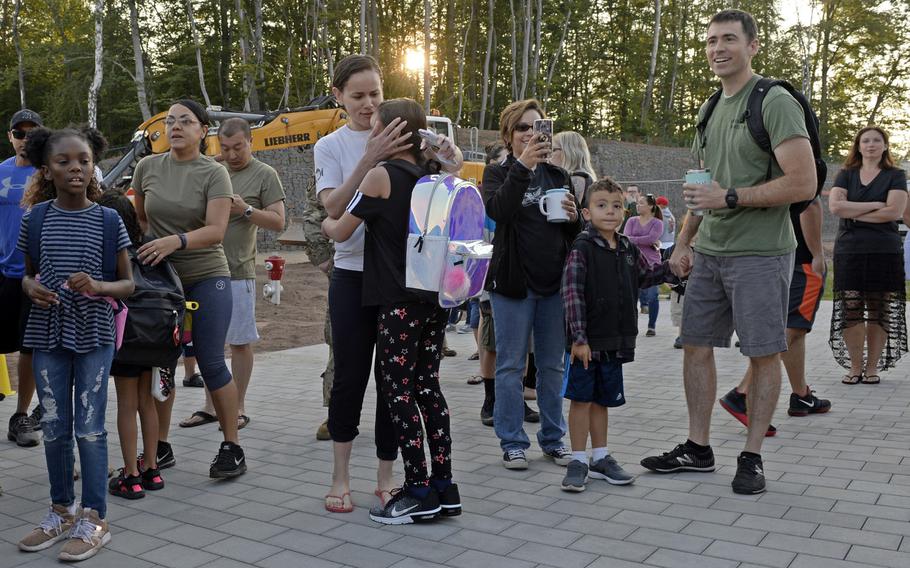 Stars and Stripes is making stories on the coronavirus pandemic available free of charge. See other free reports here. Sign up for our daily coronavirus newsletter here. Please support our journalism with a subscription.
KAISERSLAUTERN, Germany — From mandatory face masks to one-way traffic in crowded hallways, the coronavirus has ensured a vastly different back-to-school experience for thousands of children of U.S. military and government workers in Europe when classes begin next Monday.
There will be no games of tag at recess at some schools, fewer elective choices at others, maybe a "grab-n-go" lunch in the classroom instead of the cafeteria, and no singing in music class, unless it's outside and face coverings are worn.
In a series of virtual town hall meetings held during the past week, Department of Defense Education Activity-Europe school leaders discussed plans for safely returning to in-person learning for the first time since March, when school buildings abruptly closed as the coronavirus pandemic took hold.
The most noticeable change in schools will be a requirement for students and staff members to wear cloth face coverings when they're unable to maintain a safe distance from others. Safety guidelines to reduce the spread of the coronavirus in schools, drawn up by the U.S. Centers for Disease Control and Prevention, say people should stay at least six feet apart if in-person events are held.
Face coverings will be mandatory on school buses, at the bus stop and when students are in transit or moving throughout the school, officials said during the virtual town hall meetings.
"We are going to use the phrase 'When my feet are moving, my mask is on,'" Ramstein Intermediate School principal Caryn Currie said during a virtual town hall last week. "That will help our students understand that in any transition period, their mask is on."
In classrooms, recommendations for wearing masks or not will depend on class size and space, officials said.
For instance, RIS classrooms can safely accommodate up to 18 desks plus the teacher without continuous wearing of a face mask, they said. That's the class ratio expected for third grade, but in fourth and fifth grades, the average class size is expected to be more than that, meaning students and teachers might have to wear masks in the classroom.
Schools have said they'll provide two cloth face-coverings to staff members and students, but "they are absolutely free to wear whatever mask they have at home," said Vogelweh Elementary School principal David Lee during a virtual town hall last week.
At Ramstein Middle School, however, staff and students must wear school-issued face coverings, officials said.
Plastic face shields are also permitted, but only with face coverings underneath and not during gym class, officials at several schools said.
Some DODEA middle and high schools in Europe are also revising class schedules to keep students in cohorts as much as possible to minimize exposure to the virus.
At Wiesbaden High School, students will take four classes every day for a semester, rather than seven classes every other day, school officials said. The revised schedule would mean a teacher would come into contact with around 75 students a week instead of 150.
Students at some schools will also have fewer electives to choose from, since some teachers have gone over to virtual instruction, officials said. Music instruction will also be different, with some elementary schools no longer offering recorder lessons and upper-level band students at Ramstein Middle School receiving instruction at school and playing their instruments at home.
svan.jennifer@stripes.com Twitter: @stripesktown