Navy's top officer: No new forces on horizon for US 6th Fleet
---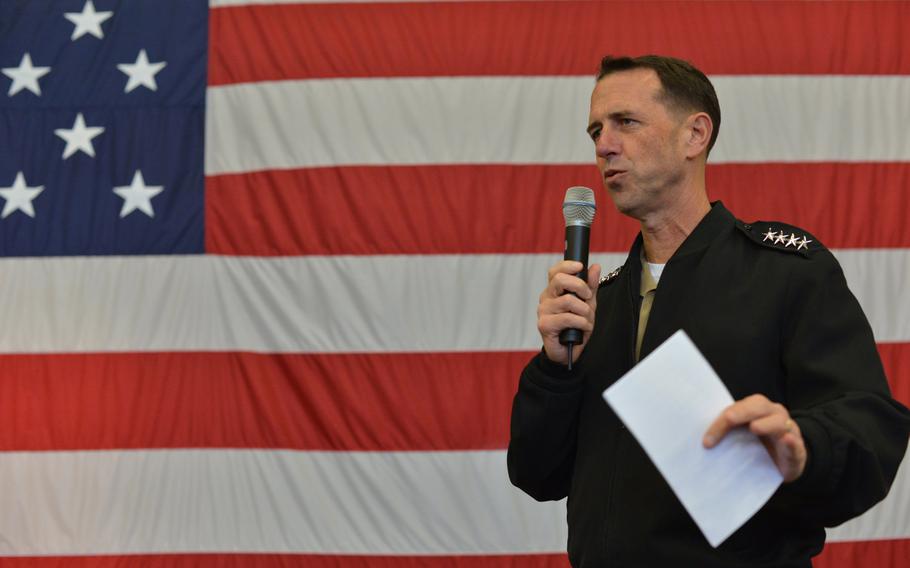 NAPLES, Italy — The U.S. fleet in Europe will likely remain at its current size despite growing Russian activity in the region, the Navy's top officer said Tuesday.
Chief of Naval Operations Adm. John Richardson told sailors at U.S. 6th Fleet headquarters here that bringing more people and ships to Europe is difficult when Navy resources are already stretched across the globe.
"I would say there is no plan to do that," Richardson said when asked about fleet expansion. "But that doesn't mean we're not open to continuing to examine it."
Richardson arrived in Naples after visiting two fleets with their own demands for ships and people — 5th Fleet in Bahrain, which operates in the Persian Gulf, and 7th Fleet in Japan, which covers much of the Pacific. His trip comes less than a month after he replaced Adm. Jonathan Greenert as CNO.
U.S. 6th Fleet, a major theater during the Cold War, has received new attention in recent years due to the Syrian civil war, the spread of militant groups in North Africa and, most recently, Russia's growing assertiveness.
Naples is considered undermanned by some in the Navy, with a little over 900 personnel split between 6th Fleet and its parent command, U.S. Naval Forces Europe-Africa. Chief of Naval Personnel Vice Adm. Bill Moran suggested during a visit last week that the Navy might try to boost numbers at the headquarters. Others have wondered if more aircraft carriers or amphibious warships could be deployed long-term to the region.
Richardson cast doubt on both ideas on Tuesday, saying the demands of other fleets leave few resources to spare.
"I would love to give you more forces… we just have to do that and balance with the rest of the demand around the world," he said.
Richardson said he stays in close touch with U.S. 6th Fleet commander Vice Adm. James Foggo, who controls theater assets like ships and aircraft, and Foggo's boss, U.S. Naval Forces Europe-Africa commander Adm. Mark Ferguson.
Both men have warned about the uptick in Russian operations in Europe and its military plans. Russia has built new bases in the Arctic and in the Mediterranean port of Latakia, Syria. Its Navy is gradually replacing older ships in the Black Sea, adding new submarines and installing new missile systems on many of its warships.
Ferguson recently said Russia is building toward a "sea denial strategy" aimed at raising the risks of U.S. or NATO operations in regions like the Black Sea and the Baltic Sea.
Encounters with Russian ships and aircraft are already frequent in both bodies of water, many considered provocative and some considered dangerous by Navy officials.
Richardson was headed next to Venice for the biennial Regional Seapower Symposium, where discussion is expected to focus on EU efforts to stop human smugglers in the Mediterranean and Russia's naval buildup.
---
---
---
---