Navy's online bid to fight sexual assault sparks controversy
---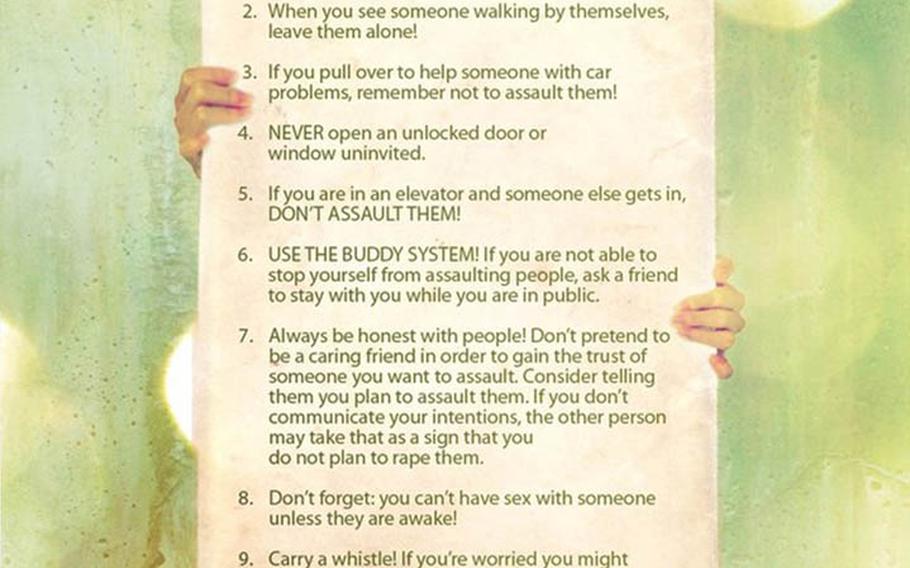 NAPLES, Italy – The Navy's reported incidents of sexual assault rose by 6 percent last year, and Navy officials say they are trying to change that. One way appears to be through the use of social media, but a post on the Navy's official Facebook page has sparked online controversy for its questionable approach.
A posting on the page from June 22 shows what appears to be a naked woman holding a sandwich-board size card in front of her torso that contains 10 tips for sexual assault prevention. The poster, which is prevalent on blogs across the Internet, is credited to a blog called, "tumblinfeminist."
Among the tips:
"Don't put drugs in people's drinks in order to control their behavior.""If you pull over to help someone with car problems, remember not to assault them!" "Always be honest with people! Don't pretend to be a caring friend in order to gain the trust of someone you want to assault. Consider telling them you plan to assault them. If you don't communicate your intentions, the other person may take that as a sign that you do not plan to rape them."The posting on the Navy page garnered 706 Facebook "likes" and 260 comments as of Friday, divided between people applauding the irreverent tone and those who were outraged and offended. Some claimed to have been sexually assaulted.
"Since when did sexual assault become a joke?" one commenter asked. "I must Have (sic) missed that symposium."
"Considering it was the Navy that stood this post up, I would say it had command approval, and it's just stating the obvious," another commenter wrote.
"My daughter enlisted in the Navy," another person wrote. "She leaves in October. How worried should I be?"
Navy officials would not make the officers in charge of Navy Facebook administration available for an interview, but said the Navy takes sexual assault seriously and that this posting was an effort "to encourage discussion on a serious issue in our Navy."
Navy spokeswoman Lt. Alana Garas, the service's public affairs officer for sexual assault and prevention, told Stars and Stripes on Thursday that the poster was posted with "insufficient context." A comment posted by Navy Facebook administrators later that day explained its purpose, she said.
That context came in the form of a comment below the picture, which stated that it is not a Navy-generated product, "but we extended it to get your attention."
"As sad as it is, you'd be surprised how many people need to be told seemingly basic things," the official Navy comment reads.
Some agreed with the official Navy rationale.
"Unfortunately, this is how you have to 'talk down' to the new recruits so that they 'get it,'" one person wrote. "Years, heck DECADES, of being uber serious hasn't worked. Way to go Navy :)."
Garas said she did not know how many comments had been removed by Navy Facebook administrators, and that the service doesn't track such things.
"As a practice we're reluctant to delete posts," Garas said.
On Thursday and Friday, Garas repeatedly refused to say whether the initial picture in question will be taken down by Navy Facebook administrators.
Under the Navy Facebook page's information section, it states that obscene, defamatory or abusive comments or submissions are banned. There is also military boilerplate about not posting sensitive, mission-related matters.
Critics say the post is in bad taste and insults the intelligence of rank-and-file sailors.
A retired Navy officer who blogs Navy issues under the pseudonym "Cdr Salamander" at cdrsalamander.blogspot.com, took issue with the posting on the U.S. Naval Institute's blog this week.
"I am still at a loss what to do with this cancer of advice," Salamander wrote. "There are ways to address sexual assault, and there is good advice to provide to our Sailors. This fails on all accounts, and is actually counter-productive on many levels. Not only is the advice worthless for Sailors -- it makes the Navy seem idiotic for having it on their wall -- messaging fail of epic proportions."
Responding to that Naval Institute blog, Lt. Lesley Lykins, the director of Emerging Media Integration for the Navy Office of Information and an administrator of the Facebook page, said about half of those who commented on the post "vehemently" disliked it.
"Of course ... the other half were just as vocal in their support of the poster," Lykins wrote. "The 700+ 'likes' are a whole other nut to crack. The challenge is getting people's attention on an issue that demands serious scrutiny. We could have certainly done a better job of providing more context at the onset."
Geoffz@estripes.osd.milTwitter: @Stripes_GeoffZ
---
---
---
---