NATO to examine role in fight against Islamic State
---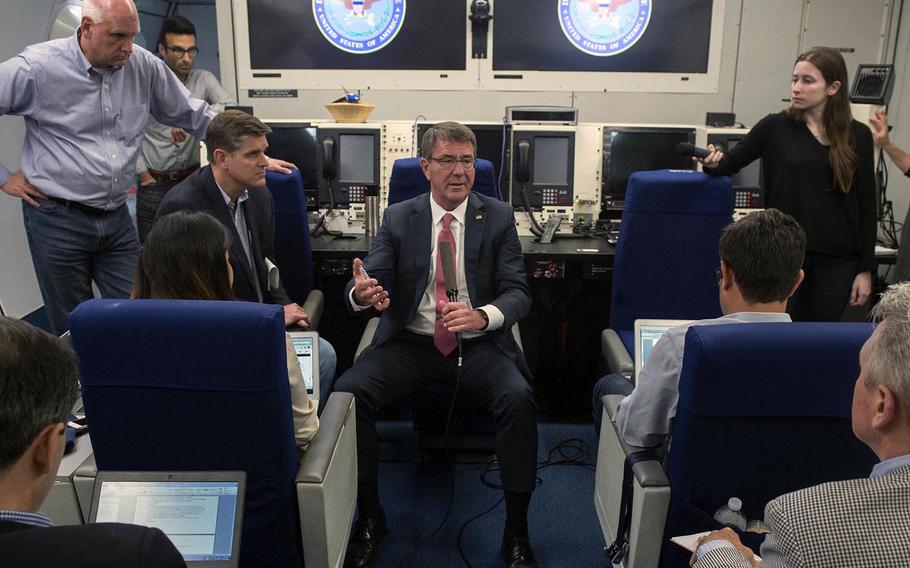 STUTTGART, Germany — As NATO puts the finishing touches on a plan to increase its presence in eastern Europe, allies gathered in Brussels Tuesday also will examine how the 28-nation military alliance can play a more formal role in the U.S.-led campaign against the Islamic State group, Defense Secretary Ash Carter said.
Carter, who is in Brussels for two days of talks with NATO defense ministers, told traveling reporters he expects the mission in Iraq and Syria to be a key point of discussion even as member states fine-tune plans to send rotational battalions into the Baltics and Poland.
"I'll also remind you that I'm always asking for more and will continue to ask for more — for more from everybody, including ourselves (in the fight against the Islamic State)," Carter told reporters late Monday en route to Brussels.
For NATO, which is preparing for a summit in Warsaw next month, debate over how the alliance should shape its military presence in eastern Europe has dominated discussions in recent months. But for the U.S., there also is interest in seeing the alliance play a more formal role in the nearly 2-year-old battle against militants in Iraq and Syria. While many individual NATO nations contribute to the U.S. coalition in different ways, Carter said NATO could play a more prominent role when it comes to organizing the generation of forces as well as contributing command-and-control capabilities. NATO, at the center of organizing troops contributions, could potentially streamline and expand the role of European forces.
"(I)t's very hard for an individual nation to volunteer on its own, but it can do it if it's ... working with the others," Carter said. "So the ... whole really is greater than the sum of its parts."
Meanwhile, the alliance also willfine-tune its plan for bolstering its presence in Europe, where in the past years NATO has expanded the size of its crisis response forces, with the U.S. military adding more rotational forces and hardware such as tanks to reassure allies uneasy over Russian moves in Ukraine.
NATO already has announced it will send four reinforced battalions in the Baltics and Poland, but how those 1,000-member units will be structured isn't yet clear. Germany, the United Kingdom and the U.S. already have pledged to be "framework nation" contributors, but a fourth country is still needed.
NATO Secretary-General Jens Stoltenberg, speaking at the start of talks Tuesday, also said allies are working on a plan to build a multinational, brigade-size unit in Romania. That unit would help facilitate the flow of forces in NATO's southern and Black Sea region, a source of increased focus for NATO.
"We will take decisions on a tailored presence for the southeast region, with a land element built around a multinational framework brigade in Romania," said Stoltenberg. "We will also adopt a framework for NATO's further adaptation to the challenges from the south."
During talks in Brussels, NATO also will conduct a meeting of its nuclear planning group, which oversees the posture of such weapons in alliance strategy.
The status of the ongoing mission in Afghanistan, where alliance forces have been deployed for more than a decade, also will likely be a point of discussion, particularly in light of last week's decision by President Barack Obama to authorize U.S. troops deployed on a "training" mission to again take part in offensive combat operations.
Nearly two years ago, NATO announced that it was ending combat operations in Afghanistan as it transitioned to a train-and-advise mission in the war-torn country.
---
---
---
---