NATO to consider permanent brigade in Baltics
---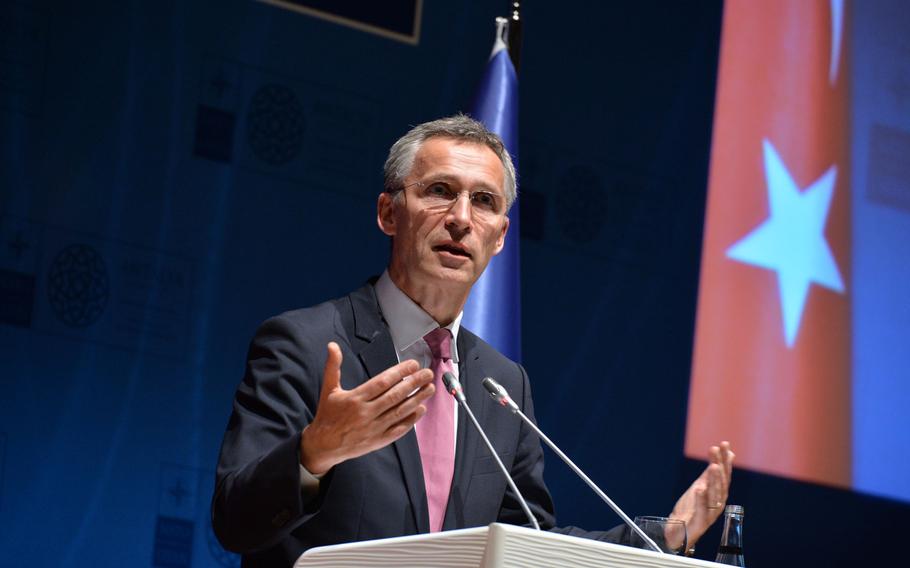 NATO leaders will soon review a request by Baltic nations for a permanent allied ground force presence in the region to forestall Russian aggression, NATO Secretary-General Jens Stoltenberg said Thursday.
Estonia, Lithuania and Latvia are expected to make a formal request this week for a brigade-size multinational force to be spread out across the Baltics as part of an effort to increase NATO capabilities along the alliance's border with Russia.
"When we receive the letter we will go carefully through that letter and discuss the various proposals," Stoltenberg said at the conclusion of a foreign ministers' meeting in Antalya, Turkey.
He did not indicate whether he would favor such a request, which is likely be a source of disagreement among allies, some of which are concerned that efforts to reassure countries in eastern Europe could exacerbate tensions with Moscow.
Instead, Stoltenberg emphasized that NATO was already in the midst of its most substantial reinforcement since the end of the Cold War, with preparations to double its quick-reaction force to 30,000 troops.
On Thursday, Stoltenberg also announced that Turkey had agreed to play a leading role in NATO's new "spearhead force," which will eventually include 5,000 troops capable of mobilizing within 48 hours.
Still, allies in the east — especially the tiny Baltic states that were once part of the Soviet Union — remain uneasy in the wake of Russia's intervention in Ukraine.
Estonia, Lithuania and Latvia are hoping NATO will agree to mobilize a brigade-size ground force similar in design to NATO's old Berlin Brigade, which was set up in the early days of the Cold War.
Lt. Gen. Riho Terras, commander of Estonian defense forces, told media outlets Wednesday that the region needed more reinforcements to demonstrate alliance resolve in the face of a more assertive Russia.
"Something similar to the Berlin Brigade would be very useful," Terras told The Times of London. "Every Baltic state would have a battalion — say, one battalion in Poland and one in each of the Baltic states."
Terras, who was speaking during the conclusion of a major NATO war game in Estonia, said he was hopeful NATO would meet the request.
"It is up to the allies to decide, but I have a good feeling that it could happen, yes," he told London's Independent.
A formal request is expected to be submitted to NATO Supreme Allied Command leader Gen. Philip Breedlove by the end of the week.
Breedlove, during a Wednesday interview with CNN, said he had yet to see the letter from Baltic military leaders. However, any such request from a NATO ally would be given serious consideration, he said.
Since Russia's annexation of Ukraine's Crimea peninsula in March 2014, allies in eastern Europe have made similar appeals for a more permanent NATO military presence. Poland, for example, has said it would like a U.S. Army brigade to be permanently stationed in the country.
Germany, however, has resisted permanently stationing alliance forces in the Baltics or Poland, saying such a move would violate a decades-old understanding with Russia that NATO would refrain from such reinforcements.
Stoltenberg emphasized that NATO continues to take other measures aimed at reassuring allies and deterring aggression.
"We have increased air policing, we have increased our naval presence in the Baltic Sea and we have, on a rotational basis, exercises with more military presence on the ground," he said.
NATO's beefed-up quick-reaction force also will make it easier to "reinforce if needed the defenses of the Baltic states," he said.
NATO is also moving forward with efforts to strengthen its cyber and intelligence-gathering capabilities, Stoltenberg said. Allies must become more adept at countering Russian "disinformation" campaigns, the NATO chief said, referring to Russian-sponsored propaganda efforts that the alliance says misrepresents the conflict in Ukraine and Moscow's role in supporting separatist fighters.
On Thursday, the U.K. agreed to contribute to a new NATO trust fund that will focus on strategic communication and counterpropaganda efforts, Stoltenberg said.
"Our best weapon against disinformation is information," he said.
---
---
---
---