NATO rejects Lukashenko claim it's positioning forces near Belarus borders
by
Slobodan Lekic
August 17, 2020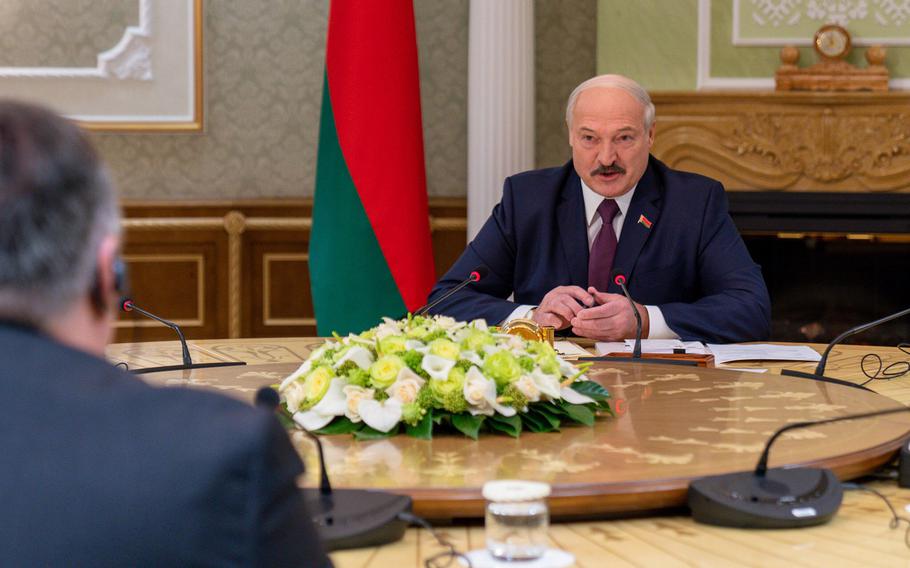 NATO has rejected accusations by embattled Belarusian President Alexander Lukashenko that it was deploying forces to that country's western frontiers, but said it was keeping a close eye on events there.
"NATO does not pose a threat to Belarus and has no military buildup in the region," Secretary-General Jens Stoltenberg said in a statement Monday as huge public protests continued to roil Belarus following Lukashenko's claim that he soundly won reelection in the Aug. 9 presidential elections.
"We remain vigilant, strictly defensive, and ready to deter any aggression against NATO allies," Stoltenberg said. "We support a sovereign and independent Belarus."
Lukashenko claimed Sunday that NATO forces were 15 minutes from Belarus' western borders with Poland and Lithuania.
"NATO troops are at our gates. Lithuania, Latvia, Poland and … Ukraine are ordering us to hold new elections," he told supporters at a rally in the capital city of Minsk, according to Reuters news agency.
He warned Belarusians that their country would "die as a state" if new polls were held, Reuters also reported.
Official results show Lukashenko won 80.1% of the vote while opposition candidate Sviatlana Tsikhanouskaya garnered just 10.1%.
Tsikhanouskaya was detained for seven hours after lodging a complaint over the election result and left for Lithuania as part of a deal to secure the release of her campaign manager, BBC News reported.
Large groups of protesters took to the streets throughout Belarus on Sunday, including in Minsk, calling for the country's leader of 26 years to leave. Opposition leaders have called for a wave of strikes following reports that security forces tortured detained demonstrators and videos of police violence shared on social media.
Lukashenko, who has been in power since 1994 and has been dubbed Europe's last dictator, told factory workers in Minsk on Monday he is "ready to share presidential authority" through constitutional reforms but would not bow to pressure from protesters, the Belarusian state information agency Belta reported. Many of the factory workers shouted "Leave" and heckled him at the event, videos posted on social media showed.
U.S. Secretary of State Mike Pompeo denounced the elections as "not free and fair" in a statement released a day after the polls.
Citing intimidation tactics, ballot restrictions against opposition candidates, detentions of peaceful protesters and journalists, and independent observers being banned from polling stations, Pompeo said, "Free and fair elections, genuinely contested, are the basis for the authority and legitimacy of all governments."
Stoltenberg also called for the rights of Belarusians to be respected, "including freedom of speech and the right to peaceful protest."
"NATO Allies are watching developments in Belarus closely," he said.
Lukashenko began accusing the U.S. and NATO of interference even before the election, as opposition to his decades of rule grew.
"Mass media are keeping us on our toes speculating that the Americans, NATO want to invade us," Belta quoted Lukashenko as saying. "Some people with American passports were detained; they were married to American women working in the Department of State."
Belarus' historically close ties to Moscow have been strained in recent years, as Lukashenko has at times sought greater cooperation with the West. Belarus' top military official told the Nasha Niva newspaper at the beginning of the year that it was open to joint exercises with NATO.
The alliance has four battalion-size multinational battlegroups deployed to Estonia, Latvia, Lithuania and Poland as part of its forward presence in eastern Europe. The battlegroups, led by the United Kingdom, Canada, Germany and the United States, were formed in response to the Kremlin's annexation of Ukraine's Crimean Peninsula in 2014 and the ongoing conflict in Ukraine's eastern provinces.
Belarus' armed forces comprise around 45,000 active troops — 29,000 in the army and 16,000 in the air force and air defense units, according to the 2020 CIA World Factbook.