Military working dogs are given a final send-off at Ramstein
by
Jennifer H. Svan
September 20, 2019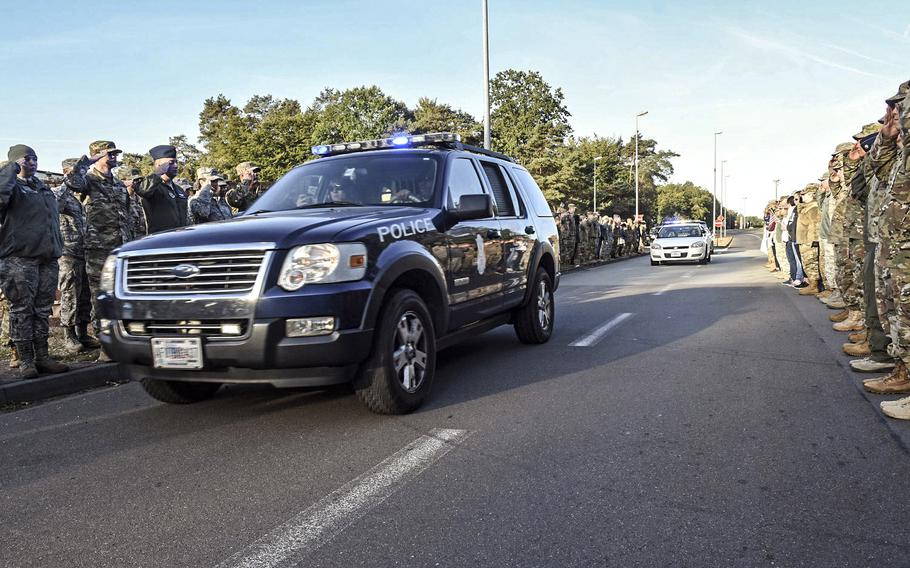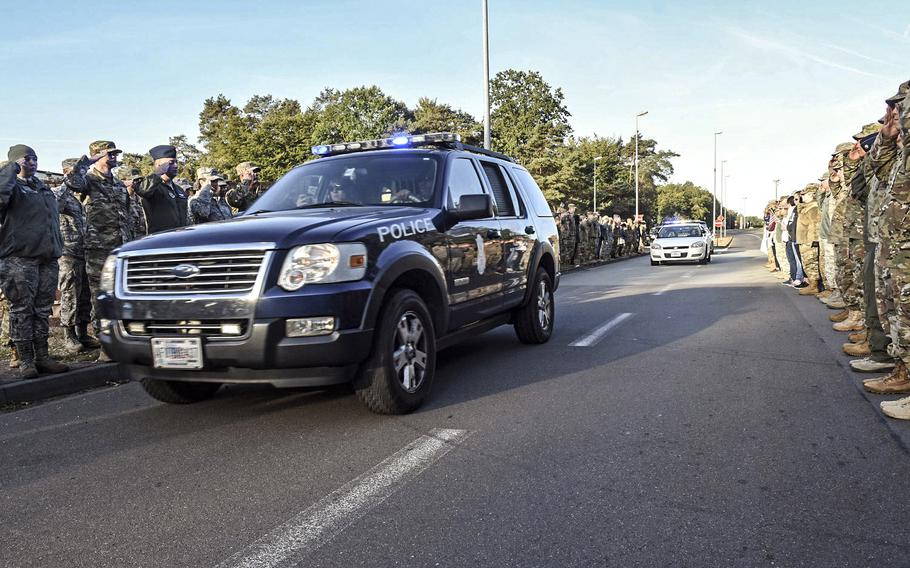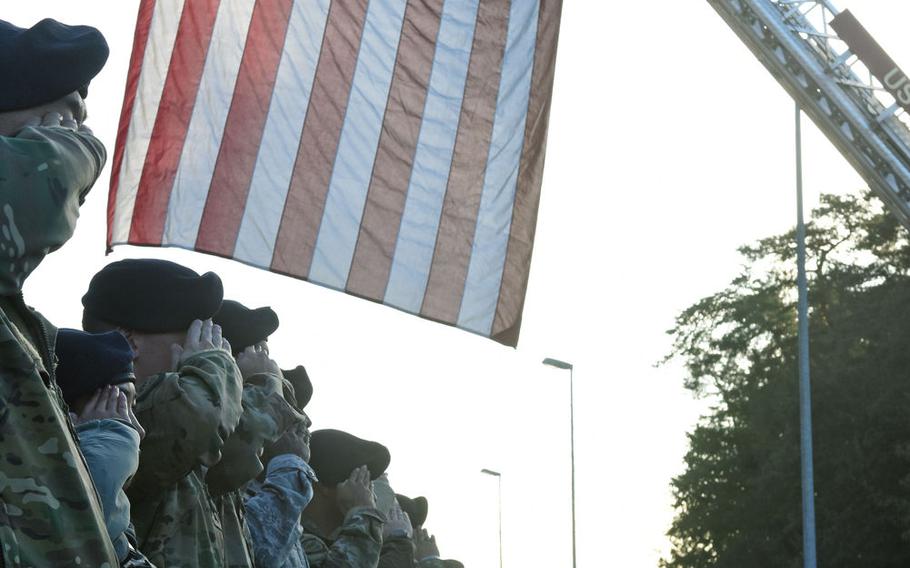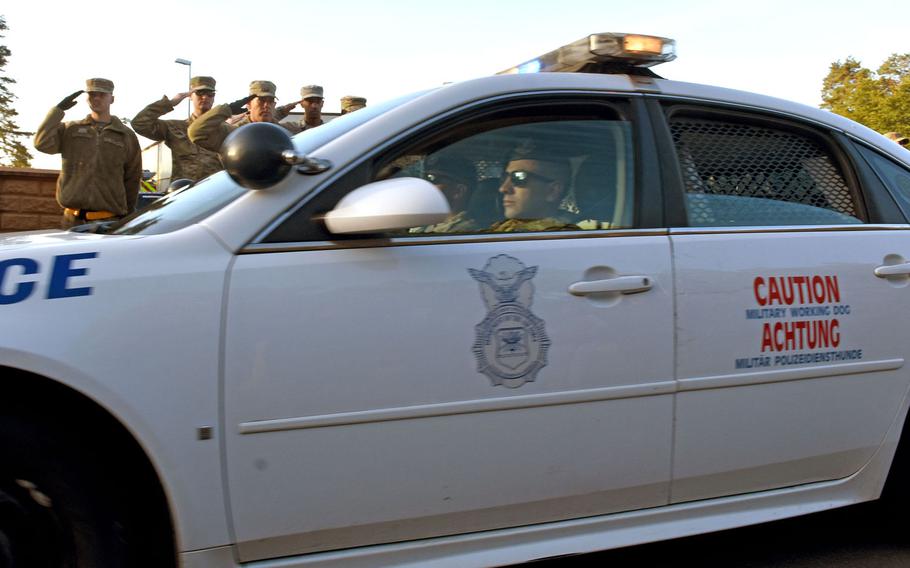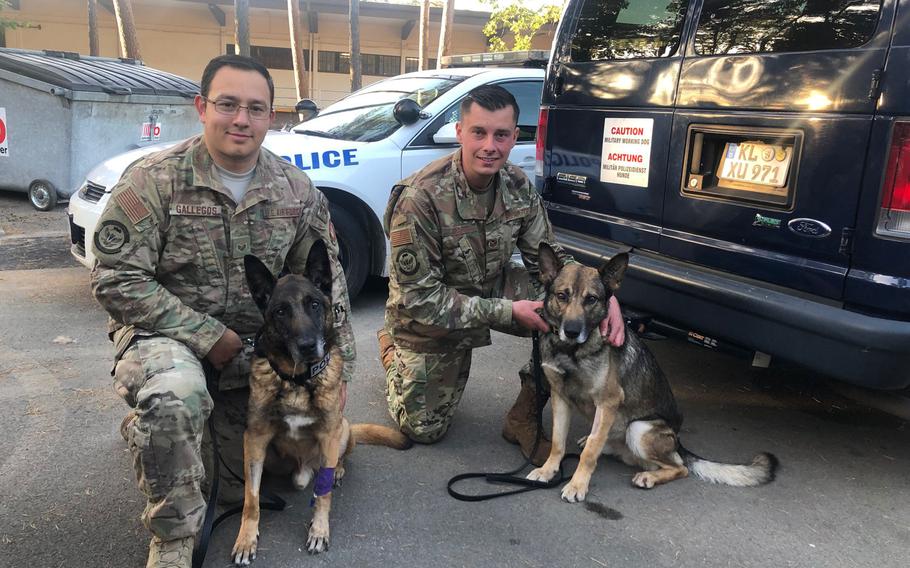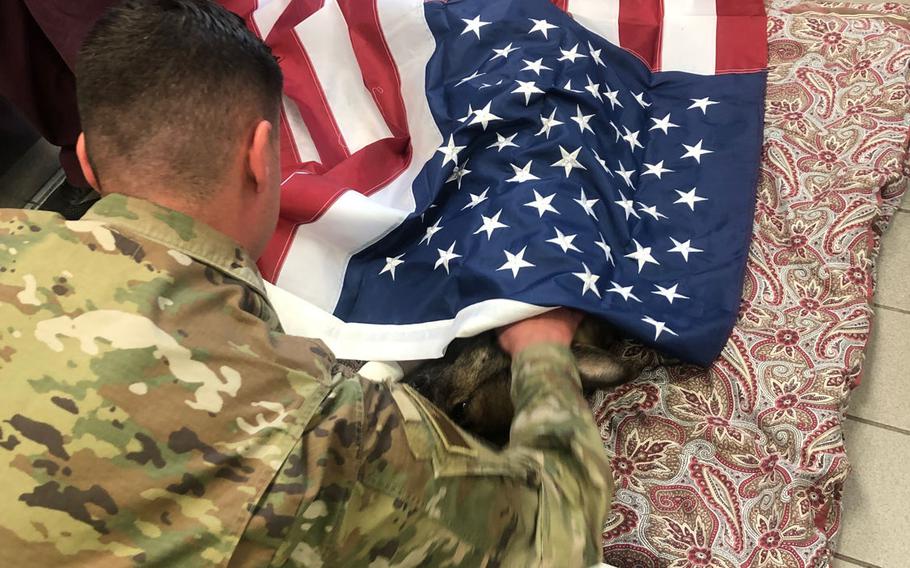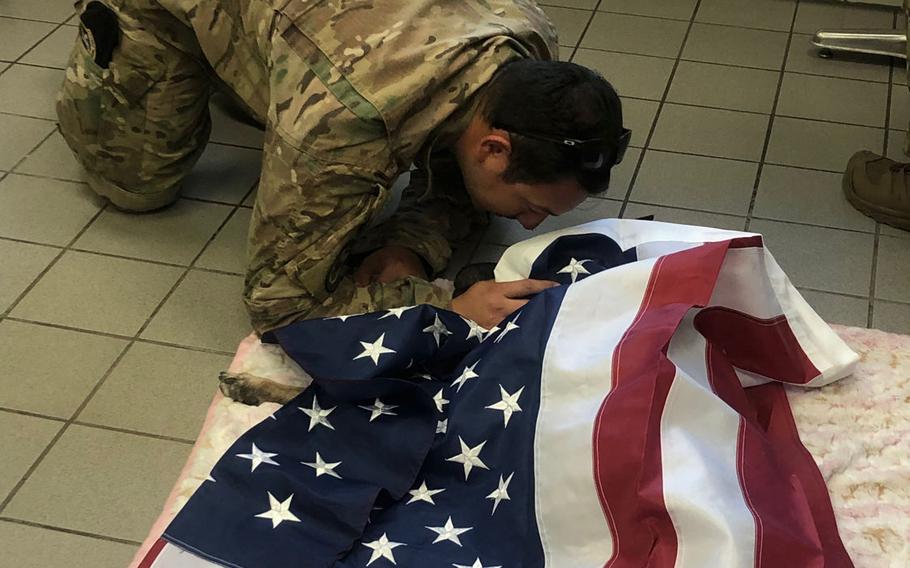 RAMSTEIN AIR BASE, Germany — Hundreds of personnel lined the streets of Ramstein Air Base Friday to give a salute to two military working dogs as they left base, secure in their kennels in the back of a van, for their last ride.
"Ramstein to all post and patrols, military working dog Diesel and military working dog Sky have answered the final call," said a message broadcast over the 86th Security Forces Squadron radio, as the dogs and their handlers passed by.
"You will be remembered for your dedication to service and your selfless sacrifice … God speed boys."
Staff Sgt. Andrew T. Kraft was driving one of the vans. Staff Sgt. Antonio Gallegos was a passenger.
Sky and Diesel were their dogs.
The military working dog handlers had learned this week that the animals, both Belgian Malinois assigned to the 86th Security Forces Squadron as patrol explosive detection dogs, would be euthanized on Friday.
Both had inoperable terminal cancer.
Sky, 5, was considered the kennel's "goofball," Kraft said.
"He had big bug eyes," he said, of the dog he was with for two years. "Some people said he looked like the squirrel from Ice Age (the movie). My personal favorite (comparison) is the hyena from Lion King – the bug-eyed one."
Diesel, 10, was known as the kennel's "cranky old man," Gallegos said.
Gallegos, 26, began working with Diesel in January. He was warned Diesel was aggressive, "to be very careful with him, that he could snap at you at any second."
But with Gallegos, Diesel "was the sweetest dog from the second I got him. Very obedient … the best dog I've ever had the privilege to call my partner and my friend," he said.
Diesel's cancer was discovered last month. Tests were run after Gallegos felt a lump under his chin and the vet found another lump in one of his paws.
An ultrasound showed Diesel had cancer on his liver and in his lungs.
His condition worsened quickly, and on Thursday, the decision was made to put him down.
"The vets didn't like how he … was barely eating," Gallegos said. When they listened to his lungs, they could hear he was having trouble breathing.
The end came suddenly for Sky, too.
On Tuesday, he became sick while working at a search area, said Kraft, who took Sky to the vet to have tests run.
"I asked the vets, 'What was the word?'" Kraft said, his voice quivering. "They said, 'It's not good.' They said he's not going to make it past the weekend."
The tests had found cancer in Sky's liver and spleen.
The airmen spoiled Sky and Diesel one last time before their final farewell, spending about $60 at the commissary Thursday on T-bone and ribeye steaks, Cheez Whiz, and peanut butter for the dogs. They each took a room at the kennel and slept with their dogs in bunk beds.
The veterinarians and their staff at the Army veterinarian clinic on Vogelweh were waiting for them when they arrived Friday morning.
Gallegos was holding Diesel's paw when the two dogs were euthanized – at the same time, in the same room, Kraft said.
American flags were draped over Sky and Diesel after they breathed their final breaths.
"It was way too many tears," Gallegos said. "I thought I got all my crying out last night."
The large crowd that turned out Friday to salute Sky and Diesel as they left Ramstein one last time "honored them as fallen heroes, just as if they were human," he said through tears.
svan.jennifer@stripes.com Twitter: @stripesktown