Mildenhall refuelers return to Britain, but mission continues
---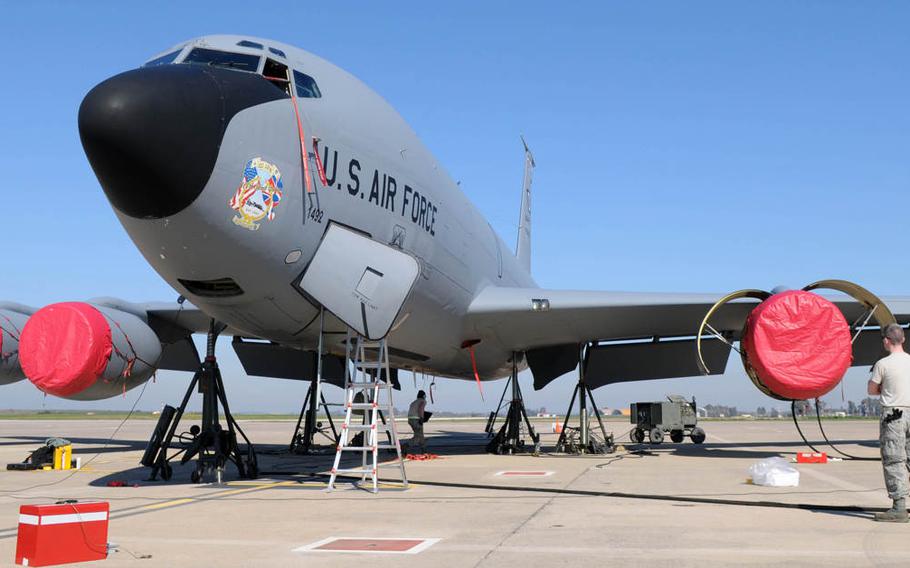 KAISERSLAUTERN, Germany — The 351st Air Refueling Squadron is continuing to support French operations in North Africa, despite the unit's recent return to England after 27 months in Spain.
The squadron completed refueling operations from Morón, Spain, on May 10, and all of its personnel are now back at RAF Mildenhall, said Maj. Steve Priddy, the squadron commander.
"After 27 months of being forward-deployed somewhere, it's a big win for us to be able to bring everybody home and have more time with their families and still be able to provide the support that we are," Priddy said Monday.
About 50 operators and maintainers were deployed to Morón at any given time, Priddy said.
He said the return to Mildenhall was prompted by upcoming runway repairs at Morón. But that's still a way off, with the aging airstrip scheduled to close for about three months in the summer of 2016, an Air Force spokesman said.
Officials with U.S. Air Forces in Europe–Air Forces Africa said the plan all along was to bring the squadron back. What began as a quick-reaction deployment to Morón to support French military operations in Mali gradually turned into a more enduring rotational deployment.
Despite the longer sorties to Africa from England, it's more cost effective for the squadron to operate from Mildenhall, cutting out the need for temporary duty assignment pay and costs associated with maintaining extra equipment and infrastructure, said Master Sgt. Jess Harvey, a spokesman for USAFE-AFAFRICA.
The squadron, with its KC-135 Stratotankers, will continue to provide air refueling to French fighter-bombers conducting operations in North Africa. When the squadron's mission first began, its aerial tankers enabled French air force aircraft to support ground forces in Mali fighting Islamic extremists. That support was sorely needed because of the distances involved and France's more limited air-refueling capacity.
The French last summer expanded their counterterrorism operations in North Africa to also cover Mauritania, Niger, Chad and Burkina Faso.
In August, President Obama announced $10 million in funding to support what the French are now calling Operation Barkhane.
Priddy said refueling sorties from Mildenhall are about four to five hours longer in duration than they were from Morón. The tankers need to land in Spain on the return trip from Africa to refuel.
"Having all of our folks home gives us greater flexibility not only to support the French but also the rest of our NATO partners here in Europe, as well," he said.
From the end of January 2013 to March 13, 2015, the squadron has flown 591 sorties, refueled 2,571 French fighter aircraft and provided about 24 million pounds of fuel, Priddy said.
---
---
---
---