ANALYSIS
Mattis leaves vague what he means by saying US may 'moderate' NATO support
---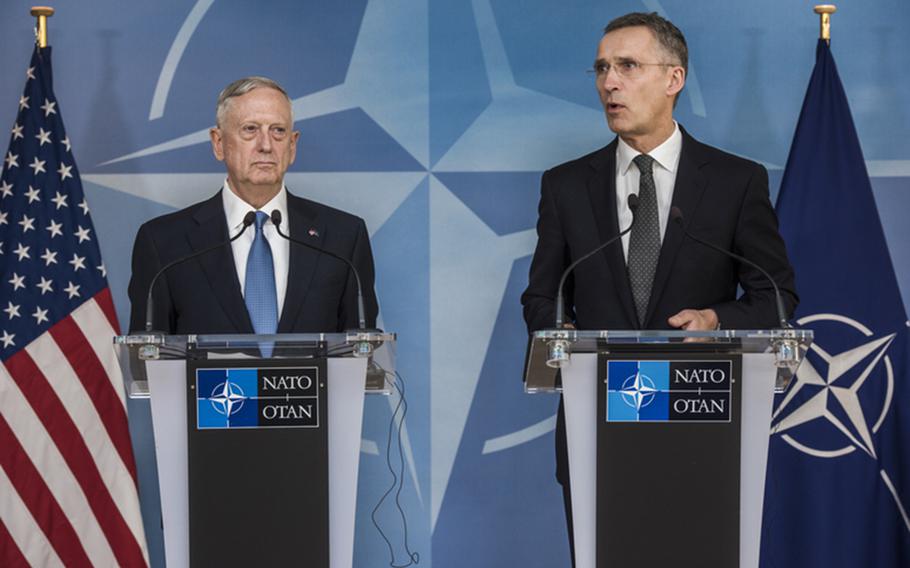 BRUSSELS — Defense Secretary Jim Mattis declined to elaborate Thursday on his comment that the U.S. could "moderate" its support for NATO if allies didn't pay more for their defense, saying he expected members of the 28-nation pact to respond to U.S. concerns about military burden-sharing.
"Sometimes you say the things you don't want to have happen so that you head them off," Mattis said at the end of two days of talks with allies in Brussels.
Mattis created a stir at NATO headquarters Wednesday when he delivered one of the sharpest U.S. messages to allies in recent years, warning that patience had run out after years of lackluster defense spending from European allies.
"America will meet its responsibilities, but if your nations do not want to see America moderate its commitment to this alliance, each of your capitals needs to show support for our common defense," he said during a meeting of NATO's defense ministers.
Mattis' cryptic warning prompted fears that the U.S. might no longer stand by allies if they came under attack, signaling a possible weakening of NATO's Article 5 policy that an attack on one member requires a response from all.
Mattis' remarks were not so far removed from those made by former Defense Secretary Robert Gates, who told the alliance in 2011 that there was a "dwindling appetite" in the U.S. to bear a heavy defense burden in Europe.
But doubts about President Donald Trump's commitment to the alliance have put new urgency into the issue of European defense spending.
During a brief news conference on Friday at the close of the ministerial meeting, Mattis, when pressed by reporters, would not elaborate on how Washington could limit its support for NATO. Instead, he emphasized that American backing for Article 5 remained intact.
"The U.S. commitment to Article 5 and our mutual defense is rock solid," he said, adding that he was optimistic allies would meet the challenge of dedicating more resources to defense.
The U.S., along with Britain, Estonia, Poland and Greece, are the only alliance members who spend at least 2 percent of gross domestic product on defense, which is NATO's benchmark.
Many countries fall far short of 2 percent levels, including Germany, which dedicates about 1.2 percent of GDP to defense. Allies who have said they are willing to do more include German Defense Minister Ursula von der Leyen.
Still, the U.S. directive could face challenges inside parliaments in Europe. In the case of Germany, which is perhaps under the most pressure from the U.S. as Europe's economic and political powerhouse, there has been recognition that more investment in its military is needed. During the past two years, Berlin has upped spending gradually. What isn't clear is whether Berlin has the political appetite to move toward the 2 percent benchmark, which Washington has underlined as critical, especially with national elections in September.
Parliamentarian Juergen Trittin, a prominent member of Germany's left-leaning Green Party, described Mattis' ultimatum as "blackmail."
"Until now, the U.S. has always been a part of reassurance. Now they prove more and more to become a factor of instability," he said in an interview with German media.
Such comments demonstrate that while NATO defense ministers may be on board with U.S. demands, they need to sell the idea to the voters.
Mattis said allies must establish a clear road map toward 2 percent spending levels — including financial milestones — sometime this year.
In a separate matter, Mattis said he was not certain whether the U.S. needed to send more ground troops into Syria, which CNN reported was under consideration.
"I don't know. I think you'd have to ask that question from some others to get a full answer," he said.
In Brussels, Mattis met with members of the U.S.-led coalition fighting the Islamic State group in Syria and Iraq. He said he needed to consult more with allies and military leaders before reaching a determination on what more may be needed in the fight.
"We are united in this fight to defeat ISIS," Mattis said at the start of a closed-door meeting with coalition members. "This is not something that will be over with quickly, but we certainly intend to accelerate this fight."
Mattis' meetings Thursday in Brussels came on the same day Gen. Joseph Dunford, chairman of the Joint Chiefs of Staff, was to meet with Russia's top military officer, Gen. Valery Gerasimov. That meeting in Azerbaijan was the first such encounter between the two countries' top officers since Russia's 2014 intervention in Ukraine.
A likely topic was the conflict in Syria, where Russian forces have stabilized the regime of Bashar Assad. President Donald Trump has said he hopes the U.S. can collaborate with Russia to root out the Islamic State group, which is entrenched in Syria.
Mattis said it is too early to consider coordinating with the Russians.
"The point about Russia is they have to live by international laws just like you expect all mature nations on this planet to do," he said. "We are not in a position to collaborate now on a military level."
vandiver.john@stripes.com Twitter: @john_vandiver
---
---
---
---