Marines bring Ospreys to annual Saber Junction exercise in Germany
by
Immanuel Johnson
August 12, 2020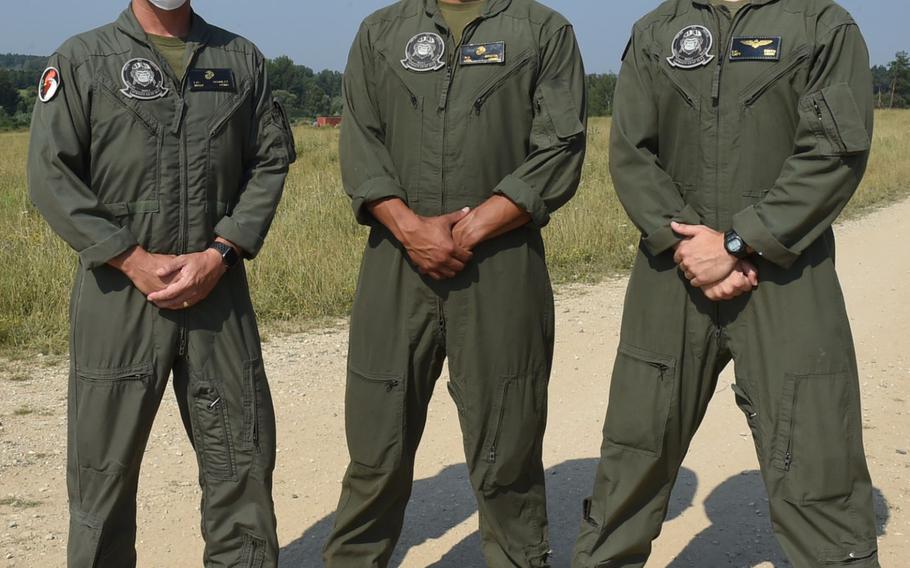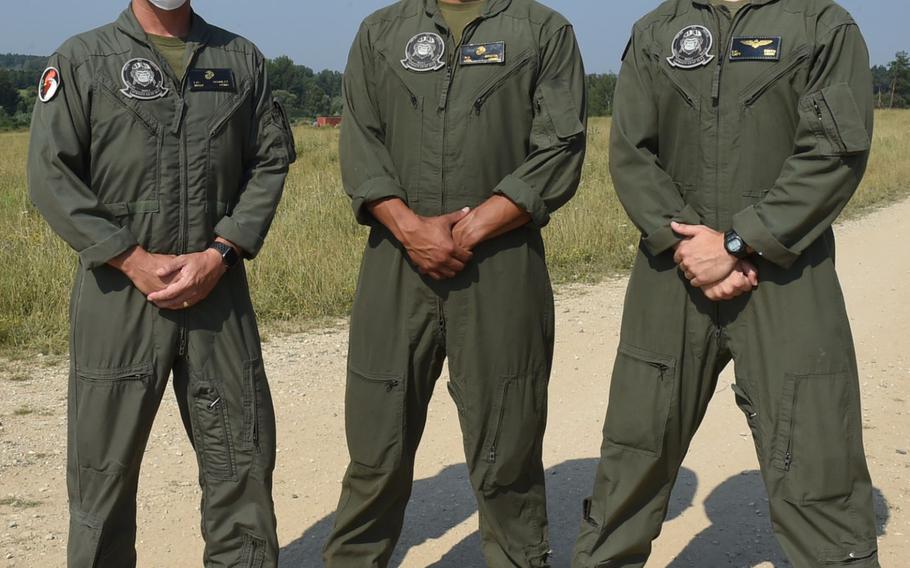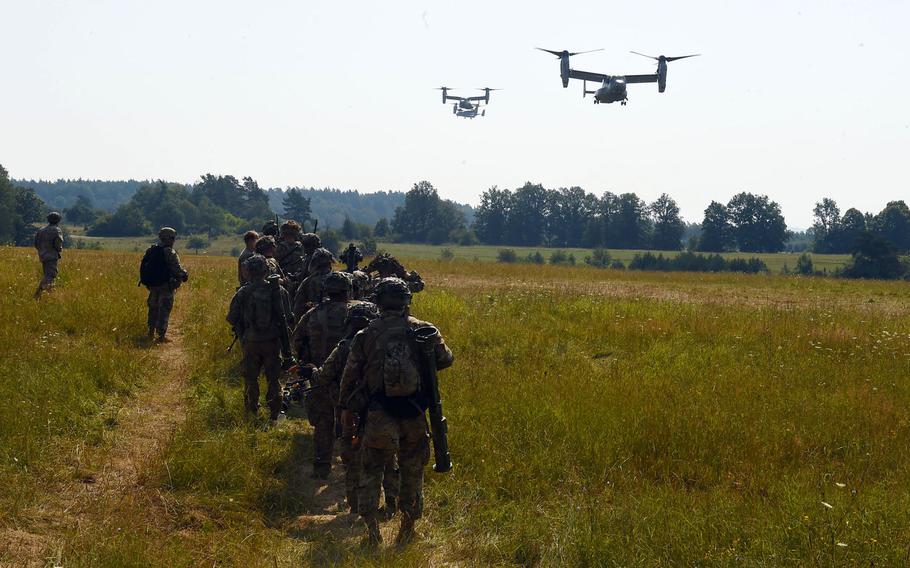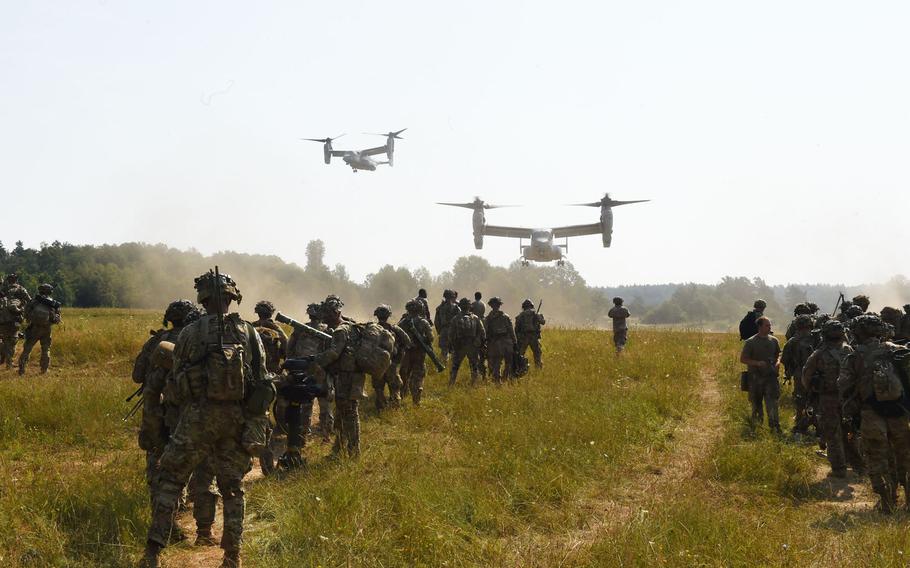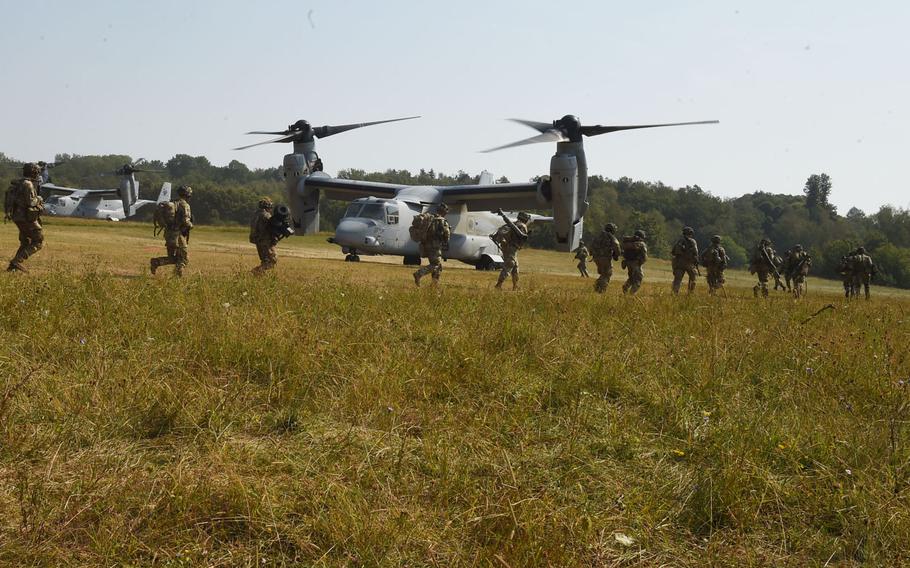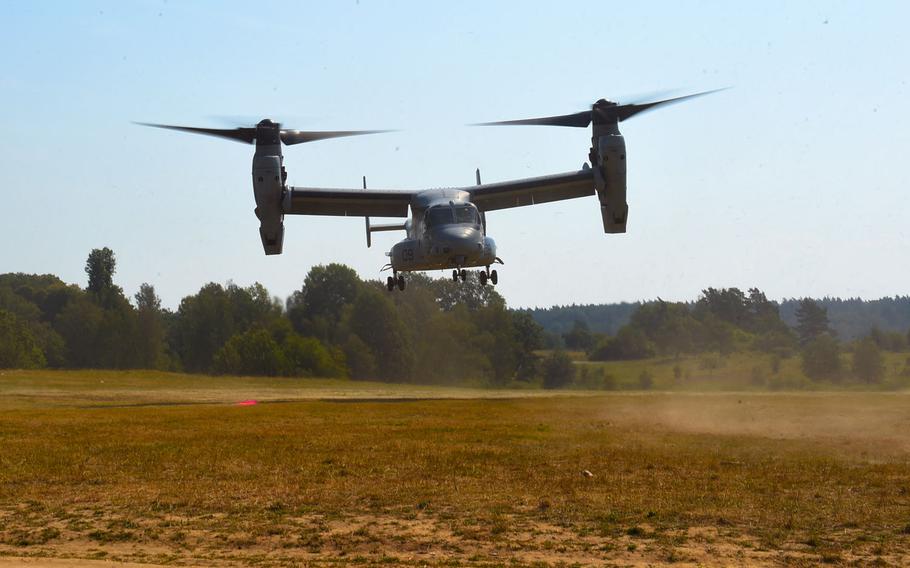 GRAFENWOEHR, Germany — U.S. Marines are showcasing the Corps' aviation strengths as they take part in the annual Army-led Saber Junction exercise, being held most of this month in Bavaria.
The Special Purpose Marine Air-Ground Task Force-Crisis Response-Africa 20.2 flew at least three MV-22 Ospreys more than 1,200 miles from Moron in Spain to Grafenwoehr training area for the exercise, which began on Aug. 3 and runs until the end of the month.
The Marines are thought to be taking part in Saber Junction for the first time, said Maj. Christopher Bradley, spokesman for the 173rd Airborne Brigade, which has two battalions at Grafenwoehr.
"We are here to conduct joint training with the Army that will highlight our aviation assets and afford us the opportunity to train," said Marine Osprey pilot Capt. Elijah Smith.
The Osprey can take off and land vertically and has the range of an airplane when airborne, he said.
Training with Marines and Ospreys allows the Army to "manage infrastructure in a different way and to respond in contingency operations," said Capt. Ryan Lee, Company Commander for the 173rd Airborne Brigade's Battle Company.
"We don't have any rotary wing aircraft organic to the 173rd," said Lee. "These MV-22s can go faster, farther and have the same ability to use helicopter landing zones which gives us more options in terms of building combat power."
The exercise, which this year involves some 4,000 troops from nine countries, got underway days after Defense Secretary Mark Esper outlined which bases in Germany U.S. troops would be withdrawn from, where they would go, and how many troops would be affected by a reduction in the number of forces ordered by President Donald Trump.
Grafenwoehr and Hohenfels, the other training area hosting Saber Junction, were not among the military installations slated to be closed.
About half the troops who will leave Germany will return to the U.S., while the rest will be redeployed elsewhere in Europe, Esper said.
The realignment would help to deter Russian aggression in Europe, strengthen NATO, reassure allies and improve flexibility of military forces in the region, he said.
In addition to the U.S., the troops participating in this year's Saber Junction are from Albania, Georgia, Latvia, Lithuania, Moldova, North Macedonia, Romania and Ukraine.
Saber Junction is set to end on Aug. 27.
johnson.immanuel@stripes.com Twitter: @Manny_Stripes