Major US military units to leave Germany as part of large drawdown to begin within weeks, Esper says
by
Corey Dickstein
July 29, 2020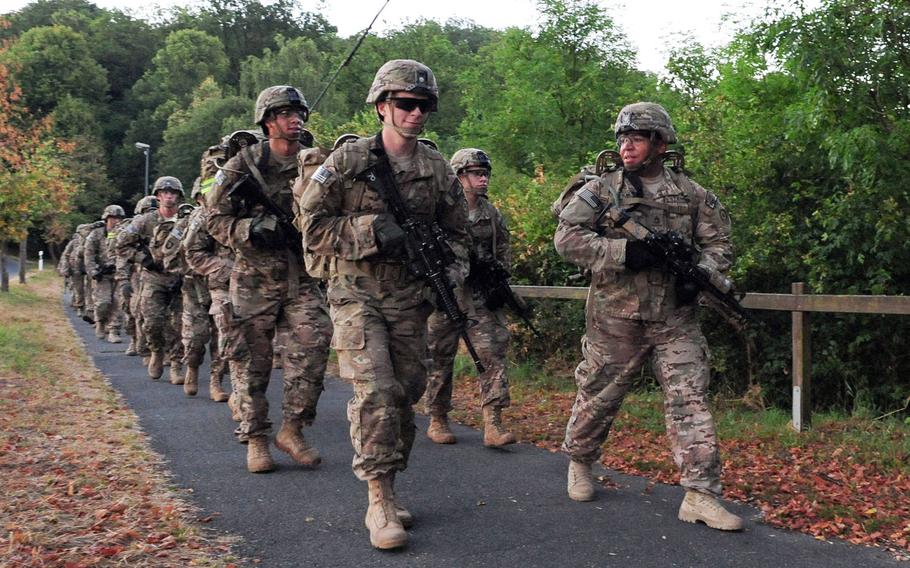 WASHINGTON — The Pentagon will remove nearly 12,000 troops from Germany, sending thousands of service members home to the United States and shifting others to different locations in Europe, Defense Secretary Mark Esper announced Wednesday.
The plan would fulfill President Donald Trump's demands to remove thousands of troops from Germany, which he has long derided as delinquent on its defense spending obligations within NATO. The announcement also comes after a monthslong review of American force strength in Europe, where some troops are permanently stationed and others deploy on rotational tours to train alongside NATO allies in an effort to deter Russian aggression on the continent.
"It is important to note that in NATO's 71-year history, the size, composition and disposition of U.S. forces in Europe has changed many times," Esper said during a Pentagon news briefing. "As we've entered a new era of great-power competition we are now at another … inflection point in NATO's history. I am confident the alliance will be all the better and stronger for it."
The plan would move about 5,600 American troops now in Germany to other NATO countries, largely Belgium and Italy. It would send another roughly 6,400 troops to new permanent stations in the United States. Esper did not identify U.S. bases that could receive an influx in troops.
The moves would leave about 24,000 troops in Germany, he said. It would also include plans to begin heel-to-toe rotations of Army Stryker brigades into Eastern Europe.
The moves will cost billions of dollars "over time," Esper said, adding the Pentagon had yet to produce precise a cost analysis of the plans.
Some forces could be moved "within weeks," he said, without specifying which units could be first to move. Other units will be moved after long-term planning, which Esper acknowledged was likely to "change to some degree" over time.
He pledged transparency through the process and promised service members and their families would receive notification well in advance of moves.
Units identified to moveThe moves will impact tactical units and major headquarters, including U.S. European Command and potentially U.S. Africa Command.
The Army's 2nd Cavalry Regiment in Vilseck, which is the only brigade-sized ground unit left in Germany, will return to the United States, Esper said. The regiment has about 4,500 soldiers and is the largest unit impacted by the changes.
The regiment has played a key role in enhancing the military's efforts along NATO's eastern flank, regularly rotating squadrons 50 miles from the Russian military exclave of Kaliningrad.
Wherever 2nd Cavalry Regiment soldiers end up being stationed in the United States, they can still expect to spend significant time in Europe, Esper said. They will be among the brigades regularly deployed to Eastern Europe to train with NATO allies with an eye toward deterring Russia. The rotational brigades will largely train in the Black Sea region, where the U.S. Army has been building up in Romania for several years and already has a steady presence of rotational forces at Mihail Kogalniceanu Air Base.
The Pentagon also will move an Air Force F-16 unit, the 480th Fighter Squadron, from Spangdahlem Air Base to Aviano Air Base in Italy.
EUCOM, which oversees all U.S. military efforts on the continent, will move its 600 troops and 300 civilians from its Stuttgart headquarters to a location in Mons, Belgium. There it will be located with NATO's military command, Air Force Gen. Tod Wolters, EUCOM's commander, said Wednesday.
Special Operations Command-Europe, now in Stuttgart, also will move to Mons as part of the realignment. It was not immediately clear if the move will also affect special operations tactical units in Stuttgart, where there is a contingent of Green Berets and Navy SEALs. Wolters said other smaller, unnamed units also would be shifted to Belgium. Those included three "brigade-sized" headquarters, an Army air defense artillery battalion and an engineering battalion.
AFRICOM and Special Operations Command-Africa also could be moved to another location from Stuttgart, Wolters said. A decision on those moves has not been finalized.
Another decision that Pentagon leaders reached as a result of the review was to leave some 2,500 Air Force troops in the United Kingdom instead of moving them to Germany as had long been planned.
The 100th Refueling Wing at RAF Mildenhall in Suffolk had been due to move to Ramstein Air Base in Germany in 2024, and the 352nd Special Operations Wing, which flies CV-22 Ospreys, was to go to Spangdahlem. Those moves already had been delayed over negotiations with Germany.
As part of its shifting of troops in Europe, the Pentagon also is exploring U.S. presence in Poland, where it regularly has rotated troops through for training in recent years. The Pentagon said it will rotate elements of the Army's newly reestablished V Corps in Poland to control Army and partner forces training across Europe.
Esper said he had determined removing the troops from Germany would accomplish several U.S. goals: enhancing deterrence of Russia, strengthening NATO, reassuring allies in Europe and improving flexibility of military forces in the region.
Esper said the review of American forces in Europe was sped up after Trump ordered the removal of U.S. troops from Germany last month. Other reviews of troops in regions across the globe are ongoing and could result in other changes in force postures around the world, he said.
Varying reasons for movesEsper and other top military leaders said Wednesday that the decision to move forces in Europe was based on strategic objectives and strengthening NATO relationships. But at the White House, Trump almost simultaneously offered his own view: It was meant to punish Germany.
"We're reducing the force because they're not paying their bills," Trump said Wednesday of Germany. "It's very simple, they're delinquent."
The president has long insisted Germany owes NATO billions of dollars, a misrepresentation of how funding for the alliance works. He repeated the claim Wednesday.
NATO nations contribute each year to the alliance's roughly $2.5 billion annual budget, with the United States and Germany each to contribute about 16% of that budget this year. But Trump has targeted allies for failing to spend 2% of their gross domestic product on their own defenses. In 2014, NATO members agreed to reach that benchmark by 2024, though the agreement laid out no penalties for failing to reach that mark.
Germany in fiscal year 2019 spent about 1.36% of its GDP on defense, and German Chancellor Angela Merkel said her nation would reach that 2% target by the early 2030s, drawing Trump's ire.
Esper also urged Germany to ramp up defense spending.
"I think Germany is the wealthiest country in Europe," Esper said Wednesday. "Germany can and should pay more to its defense. It can and should meet its 2% standard. And it can go beyond that."
Only nine of 30 NATO nations spend 2% GDP on defense, according to the alliance. Neither Italy nor Belgium, where troops will move from Germany, have reached that benchmark.
The United States far outpaces its allies in defense spending, spending about 3.4% of its 2019 GDP on defense. But America also spends significantly more money on its military than any other nation in the world.
The Pentagon's plan could face challenges from Congress, where Republican and Democratic lawmakers have expressed concerns. The current version of the House-passed 2021 National Defense Authorization Act would forbid the Pentagon from moving troops out of Germany without certifying six months in advance that the relocation would not impact national security. The Senate's version of the bill, which sets annual Pentagon spending and policy requirements, does not include such a measure. The bills will be rectified of their differences in the coming months before they are voted on by both chambers.
Among those expressing concerns about the plan in recent days are former top military leaders who commanded in Europe, including retired Adm. James Stavridis, a former EUCOM commander, and retired Lt. Gen. Ben Hodges, who led U.S. Army-Europe. They have criticized the idea as a benefit for Russia.
Another former top U.S. Army-Europe commander, retired Lt. Gen. Mark Hertling took to Twitter on Wednesday to implore Congress to "stop it."
"The Headquarters in Stuttgart — both EUCOM and AFRICOM — will take billions of dollars to move, and will disrupt those [headquarters] in their operation," he tweeted. "AFRICOM location is 'to be determined' because there is no valid answer [and] consolidating EUCOM [with NATO] in Belgium will be challenging."
Stars and Stripes reporter John Vandiver contributed to this report.
dickstein.corey@stripes.com Twitter: @CDicksteinDC