'It makes it feel like you're in the military again': Haircuts are back at Ramstein
by
Jennifer H. Svan
May 4, 2020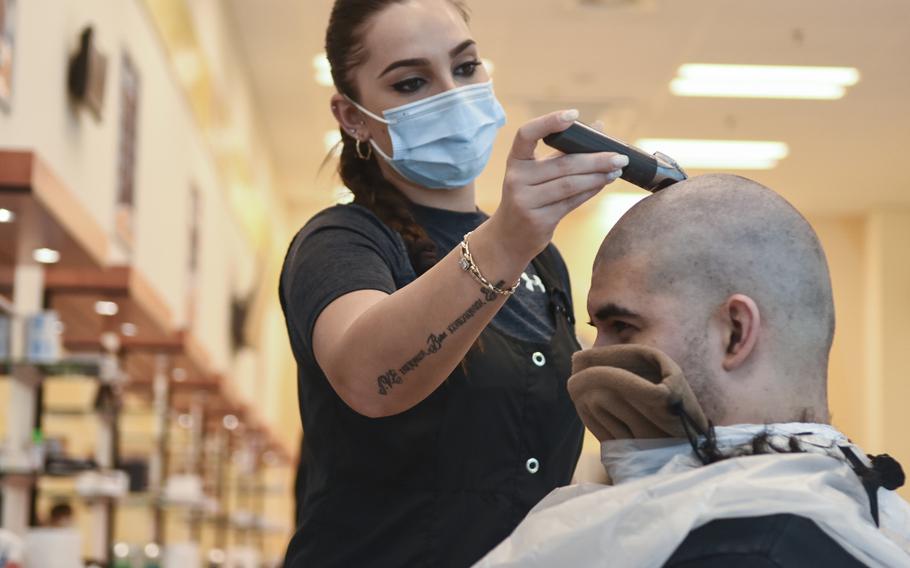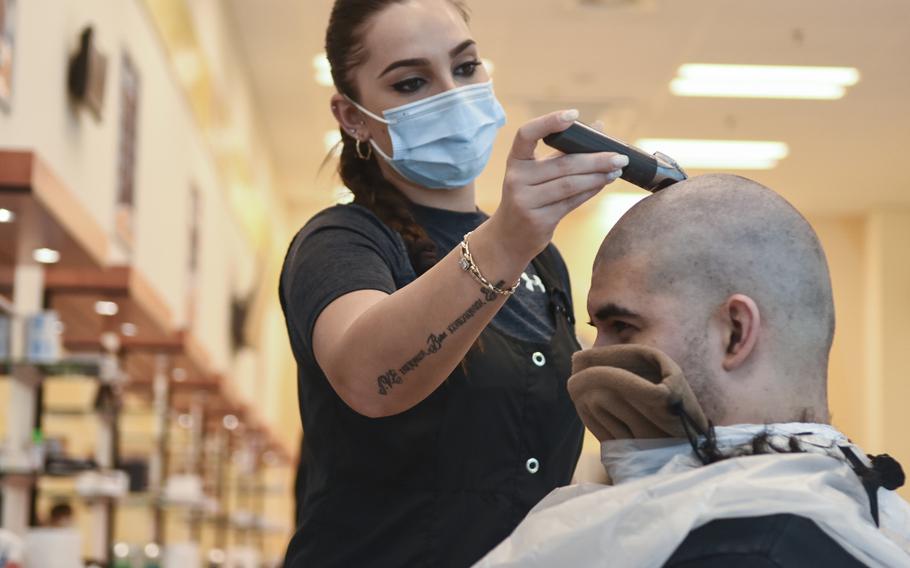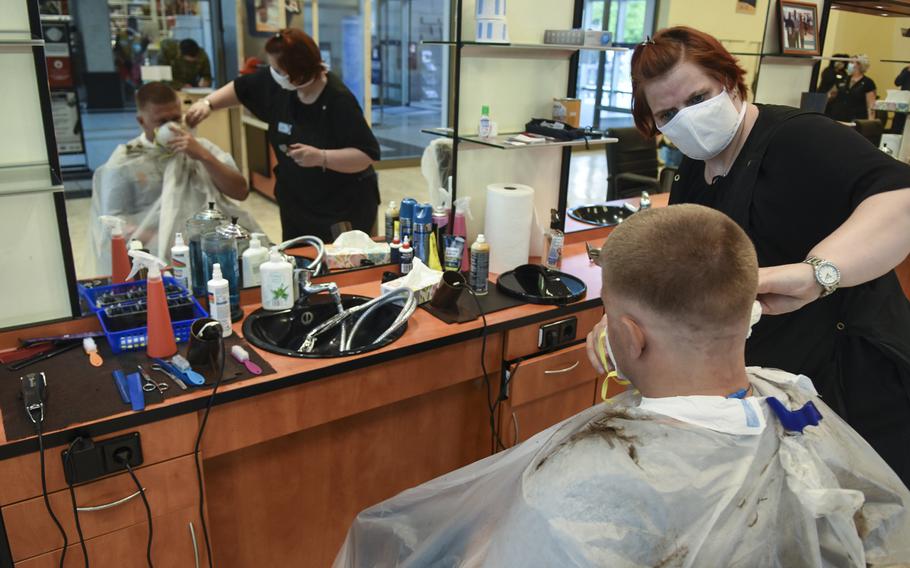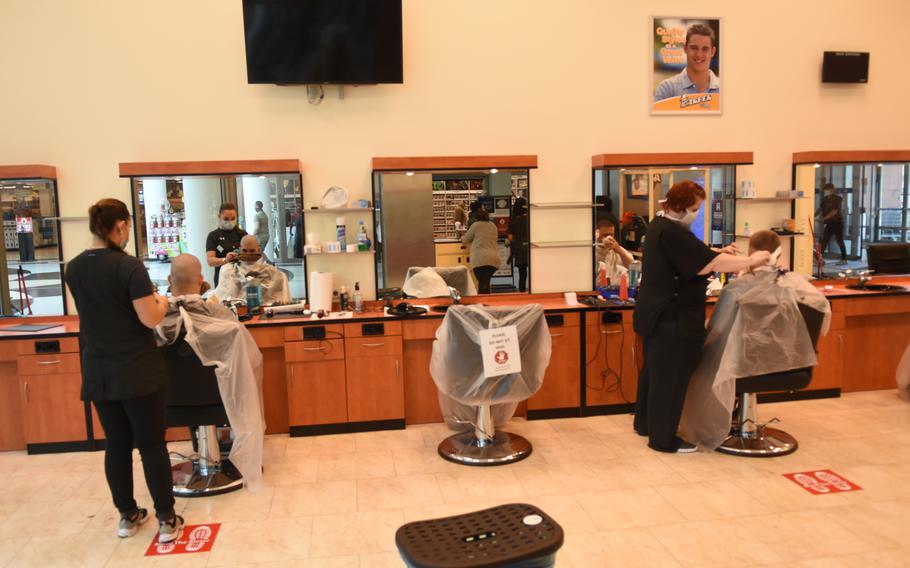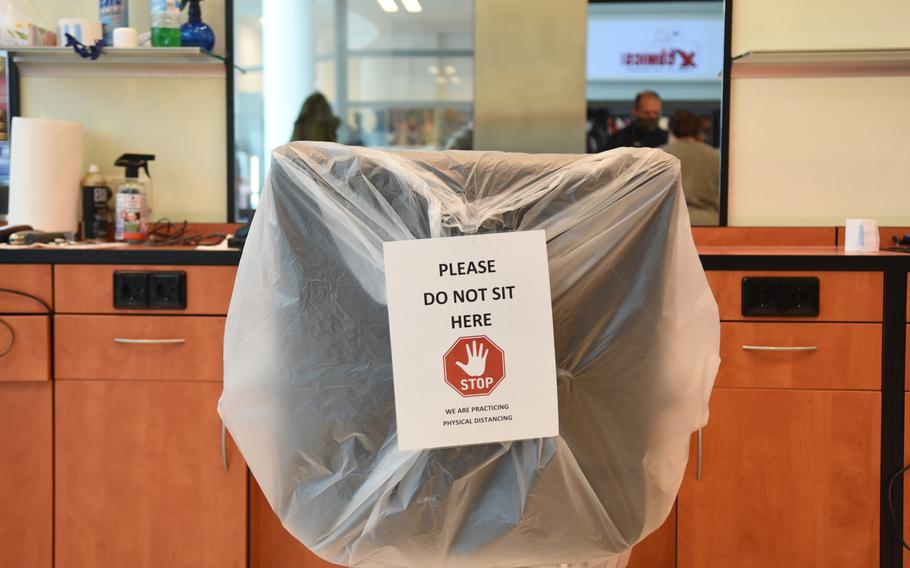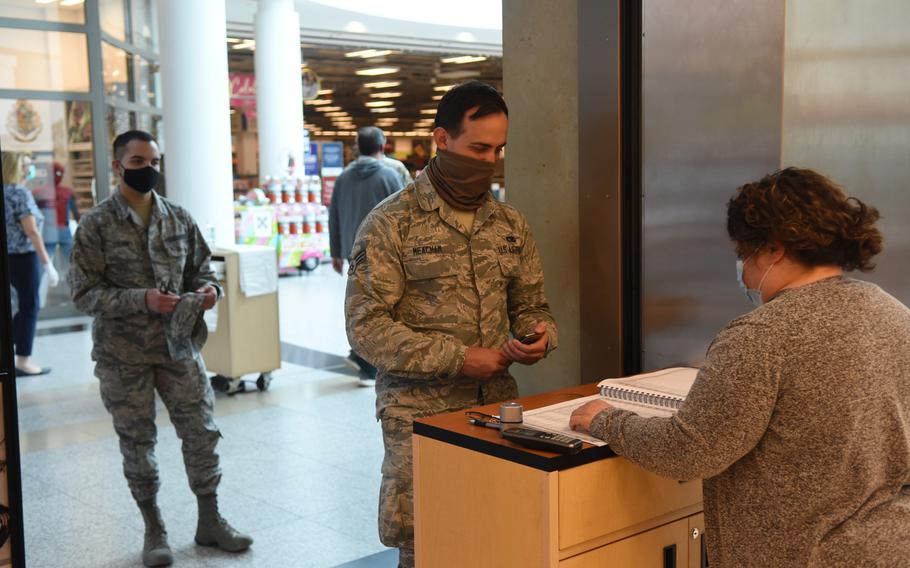 Stars and Stripes is making stories on the coronavirus pandemic available free of charge. See other free reports here. Sign up for our daily coronavirus newsletter here. Please support our journalism with a subscription.
RAMSTEIN AIR BASE, Germany – For the first time in six weeks, airmen were able to do something they once took for granted: get a haircut.
On Monday, the barbershop at the Kaiserslautern Military Community Center welcomed its first customers since closing in mid-March due to the coronavirus pandemic.
Air Force leaders at Ramstein authorized the base barbershops and beauty salon to open after Germany said its hairdressers and barbers could reopen Monday, as part of a plan to gradually lift the country's lockdown.
U.S. military bases in Germany are also reopening services and facilities in phases, but what base personnel can expect to see available varies by location and even by military service.
While Air Force personnel at Ramstein can get a haircut with an appointment at the base mall, soldiers largely remain restricted.
"In general, no, Soldiers should not travel to Ramstein to use the barber shop," U.S. Army Europe said in a statement Monday, following a Stars and Stripes query.
USAREUR said senior officers and garrison commanders "will determine when and under what conditions or mitigating measures barber shops will reopen on Army installations," noting that personnel should expect "we will lag behind the host nation for up to two weeks to gauge the impact on infection rate as we reopen services."
Hairdressers in Germany were ordered to close March 23 and U.S. military bases in Germany shut down their barbershops and other nonessential facilities around the same time.
Spangdahlem plans to open its barbershops May 18, a base official said Monday.
Strict protective measures are in place at the KMCC barbershop, where every other barber chair must be empty, and both customer and stylist have to wear face masks. A shampoo prior to a haircut is now mandatory and customers must be covered in disposable plastic gowns.
Airmen on Monday said they didn't mind the extra rules. They said were just happy to have a professional working the clippers.
"It is super nice to lose about a pound of hair," said Staff Sgt. Kyle Knupp of the 721st Aircraft Maintenance Squadron at Ramstein. "It makes it feel like you're in the military again."
For Knupp and Senior Airman Jeremiah Lamb, their turn in the barber chair marked their first haircuts in about two months, they said.
"Oh, it feels great," said Lamb, deployed to Ramstein from Travis Air Force Base, Calif. "I definitely needed it."
The KMCC barbershop was booked for the day Monday with 63 appointments.
Hairdresser Kaltrina Ibrij said it was nice to finally get out of the house and come to work, though she and her co-workers were only working half-day shifts for the time being.
"It's stressful but we hope for a better day," she said. Wearing face masks and ensuring everything is disinfected takes more time, but "it's clean," she said. "It's better like this."
Base services and facilities across Germany also are slowly reopening, including the golf courses at Baumholder and Ramstein. The Woodlawn Golf Course at Ramstein has fewer tee times and allows only one person per cart, among other adjustments.
Java Cafes at Baumholder, Sembach, Landstuhl, Kleber and Rhine Ordnance Barracks opened again Monday but for takeout service only.
The Army's Baumholder and Kaiserslautern Outdoor Recreation is open again, allowing customers to rent bikes, outdoor sports gear, fishing equipment and even bouncy castles.
At least one base library announced a reopening. Patch Library at Stuttgart said it will begin accepting requests by email Tuesday, with patrons able to place orders for up to 10 items to be picked up, according to information on the Stuttgart Family and MWR website.
Stars and Stripes reporter John Vandiver contributed to this report.
svan.jennifer@stripes.com Twitter: @stripesktown
---
---
---