House lawmakers approve new NATO protections
---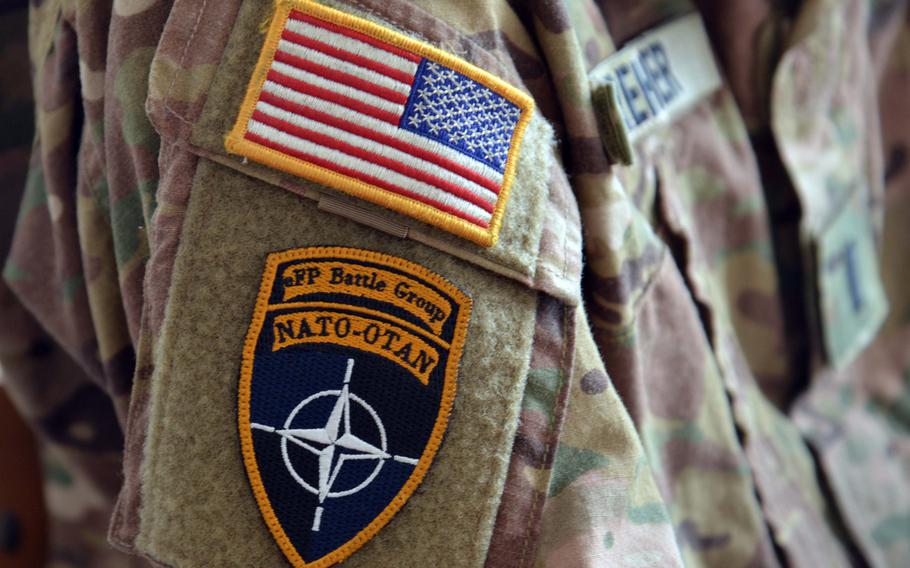 WASHINGTON — The House overwhelmingly approved legislation on Tuesday night that would trigger new protections to ensure the United States remains in NATO and thwart moves by President Donald Trump from quitting the alliance.
The lower chamber voted 357 to 22 to approve the plan, which now heads to the Senate, where similar legislation has been introduced.
The move came hours after House Majority Leader Rep. Steny Hoyer, D-Md., and Reps. Jimmy Panetta, D-Calif. and Chrissy Houlahan, D-Pa., joined other Democratic members to speak in support of the plan, saying it was a critical way to fend off ongoing threats from the Trump administration to leave the alliance.
The legislation, H.R. 676, called the NATO Support Act, makes clear that no funds will be used to withdraw the United States from the alliance.
"Being a member of NATO is not like being a member of a country club. Instead we value our NATO partners," said Panetta, the bill's lead sponsor who is a veteran Navy Reserve intelligence officer and son of former Defense Secretary, CIA Director and White House Chief of Staff Leon Panetta. "NATO is instrumental in setting us apart from Russia. We have allies that will stand by us, Russia does not."
At a time of fierce political divisions in Washington, the U.S. commitment to NATO remains one of the few issues that has bipartisan backing.
The efforts come after reports that Trump has repeatedly expressed interest to senior advisers about quitting the alliance.
The president's ambivalence about American military commitments in Europe and doubts about the utility of NATO isn't new. During a NATO summit in July, Trump caused a stir when he hectored allies about their failure to invest more in defense, and threatened the United States could "go our own way" if things didn't change. That prompted U.S. lawmakers to introduce legislation at the time seeking to block any attempt to withdraw from NATO, but the matter never came to a vote.
Houlahan, a veteran Air Force officer who is a third-generation servicemember in her family, agreed with her colleagues that it's bizarre that they have to stand up for NATO, which has helped keep peace around the world for seven decades.
"Walking away from our own commitment to this organization would be a tragic mistake," said Houlahan, a cosponsor of the measure. "Leaving NATO is helpful only to China and Russia who want to see an erosion of U.S. leadership in the world."
Other military veterans who are cosponsoring the plan include Reps. Adam Kinzinger, R-Ill., Seth Moulton, D-Mass. and Mike Gallagher, R-Wis.
Hoyer had predicted the legislation would pass with bipartisan support Tuesday.
"This bill makes it clear that the United States Congress still believes" in the NATO mission, Hoyer said. And it prevents "any shorthanded efforts to undermine NATO or unilaterally withdraw our country."
This also comes on the heels of bipartisan Senate legislation filed Thursday to prohibit Trump from quitting the NATO alliance amid fresh concerns about the president's commitment to the 70-year-old military pact. The Senate legislation, S.J.Res. 4, was also filed in the previous congressional session.
That bill, with sponsors that include Sen. Lindsey Graham, R-S.C., and Sen. Tim Kaine, D-Va., requires Trump to gain Senate approval before terminating support of NATO.
If Trump attempted to leave NATO, the bill would prohibit funding from being used to do so and would authorize congressional legal counsel to challenge the administration in court. Trump has said previously that he believes he has the authority to pull out of the alliance if he so chooses.
The Senate's renewed concerns about White House commitment to NATO, which was founded in the aftermath of World War II as a collective bulwark against Soviet expansion, comes after a series of abrupt foreign policy changes. These include Trump's call to pull forces out of Syria and downsize the military mission in Afghanistan.
Kaine, member of the Senate Foreign Relations and Armed Services committees, said last week such sudden policy changes "and [Trump's] deference to Vladimir Putin — is destroying strategic partnerships we have forged with allies across the world."
"At a time of increased Russian aggression and global threats, our alliance with NATO is more important than ever to ensure the safety of the American people," Kaine said.
There is significant popular support for NATO in the United States, where 62 percent of Americans have a favorable view of the alliance, up from 53 percent in 2016, according to a 2017 Pew Research Center poll. Still, there has been debate over the years about whether the U.S. military was over-committed in Europe amid questions about NATO's relevance after the end of the Cold War.
During former President Barack Obama's administration, numerous Republican and Democratic lawmakers expressed interest in reducing troop numbers in Europe as a way to save money and give a boost to American garrison towns. Such debates in Washington largely ended after Russia's military intervention in Ukraine in 2014 along with concerns about Moscow's meddling in U.S. and European elections.
Stars and Stripes staff writer John Vandiver contributed to this story.
grisales.claudia@stripes.com Twitter: @cgrisales
---
---
---
---