Hekmati says support from fellow Marines sustained him through Iran captivity
---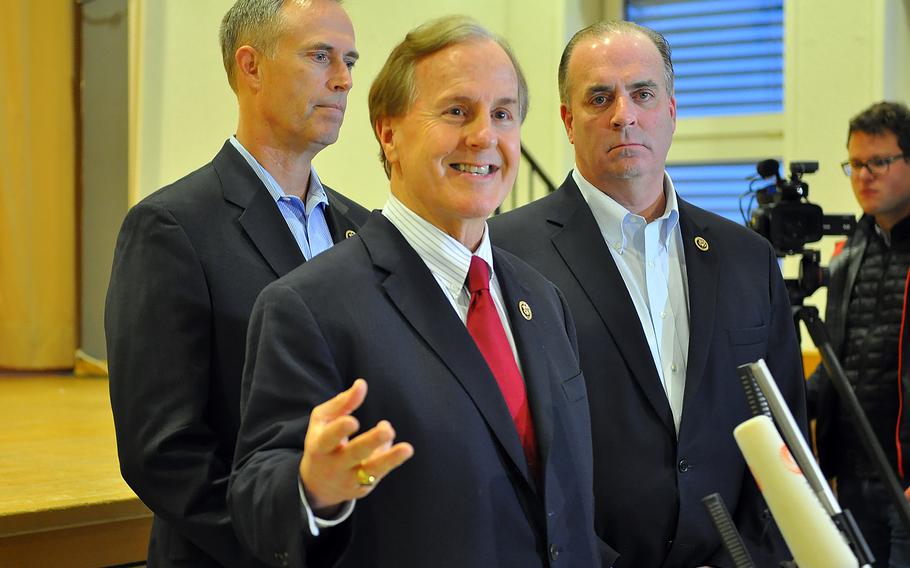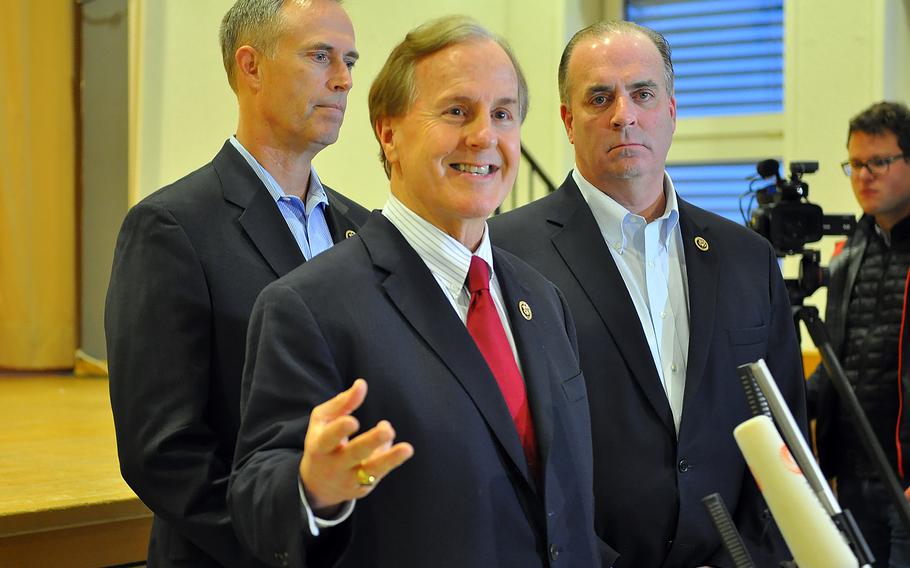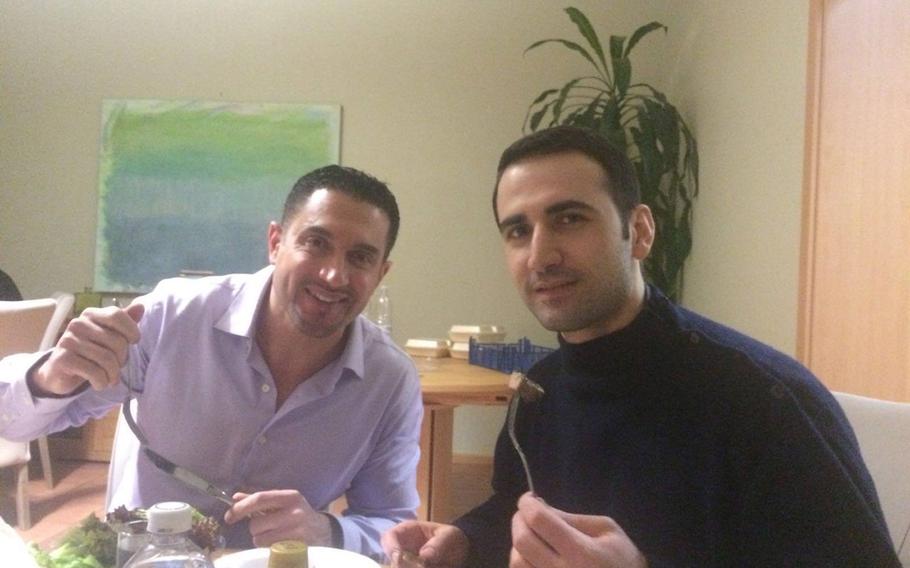 KAISERSLAUTERN, Germany — Former U.S. Marine Amir Hekmati said Tuesday that knowing he had the support of his fellow Marines helped sustain him through more than four years of captivity in an Iranian prison.
"I didn't want to let my fellow Marines down and the reputation of the Marine Corps, so I tried my best to keep my head up and withstand all the pressures that were put upon me, some of which were very inhumane and unjust," Hekmati told reporters Tuesday at an impromptu news conference outside Landstuhl Regional Medical Center, where he and two other former prisoners were transferred Sunday for evaluation after their release.
"Hearing about some of my fellow Marines supporting me, really gave me the strength to put up with over four years of some very difficult times that me and my family went through," Hekmati said.
Regaining his freedom was "like being born again," said Hekmati, who was held for 4 ½ years in Iran. He was held the longest of four Iranian-Americans who were released by Iran this weekend after a historic nuclear agreement that will bring billions of dollars in sanctions relief to the Islamic republic took effect. The U.S. agreed to release seven Iranians in exchange for the release of the four.
Hekmati, 32, of Flint, Mich.; Christian pastor Saeed Abedini, 35, of Boise, Idaho; and Washington Post reporter Jason Rezaian, 39, of Marin County, Calif., arrived in Germany on Sunday after departing Iran early the same morning on a Swiss plane and a stopover in Geneva. They are currently being evaluated at Landstuhl, the largest U.S. military hospital overseas.
A fourth American released in the deal, Nosratollah Khosravi-Roodsari, chose to remain in Iran, U.S. officials said.
Hekmati said he was concerned the Iranians could make last-minute demands that would thwart the deal for their release. The men waited nearly 2 ½ days before they were allowed to board a Swiss plane that took them out of Iran.
"That's when we knew we were leaving," Hekmati said. "As soon as we got out of Iranian air space, champagne bottles were popped."
Hekmati spent much of his imprisonment in solitary confinement, Rep. Dan Kildee, D-Mich., who had campaigned for Hekmati's release, said at a news conference at Landstuhl Monday. Kildee, along with Reps. Jared Huffman, D-Calif., and Robert Pittenger, R-N.C., came to visit the men upon their release.
"Re-entering into the world as a free person will take more than just a deep breath," Kildee said. "It will take a little bit of help. It starts here (but) it will go on for a long time."
Asked Tuesday how he felt, Hekmati said: "I am well and I'm only going to get better, I hope. This has really been an exceptional time for me."
Kildee said Hekmati would be going home soon, that it was a "matter of days."
Hekmati and the two other freed prisoners at Landstuhl are voluntarily undergoing a battery of medical tests and psychological evaluations, a process that can take five to 10 days. None of the men are reported to be suffering any acute medical conditions, Kildee and the other congressmen said Monday.
Kildee hailed the agreement that led to the prisoner release as "a victory for diplomacy."
But Pittenger said he was concerned that the U.S. agreed to let go "criminals" who broke U.S. law, and worried that such a swap could jeopardize the safety of Americans traveling in some foreign countries. However, he said of Iran's release of the four, "We do rejoice in this moment."
Hekmati said he had resigned himself to spending 10 years in prison and the release was a surprise.
"I just feel truly blessed to see my government do so much for me and the other Americans," he said.
Though long an advocate for Hekmati's release, Kildee had never met Hekmati until Monday.
Kildee said Tuesday he received a message from Hekmati's older sister, Sarah, during Monday's press event with his fellow representatives, asking the congressman to join the family in its reunion with Hekmati. Also present were Hekmati's twin sister, Leila, and Sarah Hekmati's husband, Ramy Kurdi.
Kildee ate dinner with Hekmati and his family at a facility inside the hospital, a meeting that went late into the evening, Kildee said. Hekmati ate his first steak in years, Kildee said. "He really enjoyed it."
"To actually meet him and see what sort of gentle and kind person he is," Kildee said, "I just told him how proud I was of him, that he endured this ordeal with incredible dignity. He did honor to his country. I just thanked him for that."
Hekmati was an infantry rifleman, cultural adviser and Arabic and Persian linguist in the Marine Corps, where he served from 2001 to 2005, according to the freeamir.org website. He was arrested in Iran in August 2011 while visiting his grandmother and accused of espionage. Of the four prisoners released over the weekend, Hekmati was imprisoned the longest. A fifth American detainee, student Matthew Trevithick, was released separately and has already returned to the United States.
Kildee launched a Free Amir campaign, engaging in private negotiations with the Swiss and Iranian governments — Switzerland represents U.S. interests with Iran — and working with former Secretary of State Madeleine Albright, according to the Detroit Free Press.
Albright rang Kildee on Monday during dinner. "I just handed the phone to Amir," Kildee said. "He was just really surprised. I think it helped him understand exactly how significant his story had become."
---
---
---
---