Germany thanks outgoing US missile defense commander with rare award
by
Jennifer H. Svan
August 7, 2019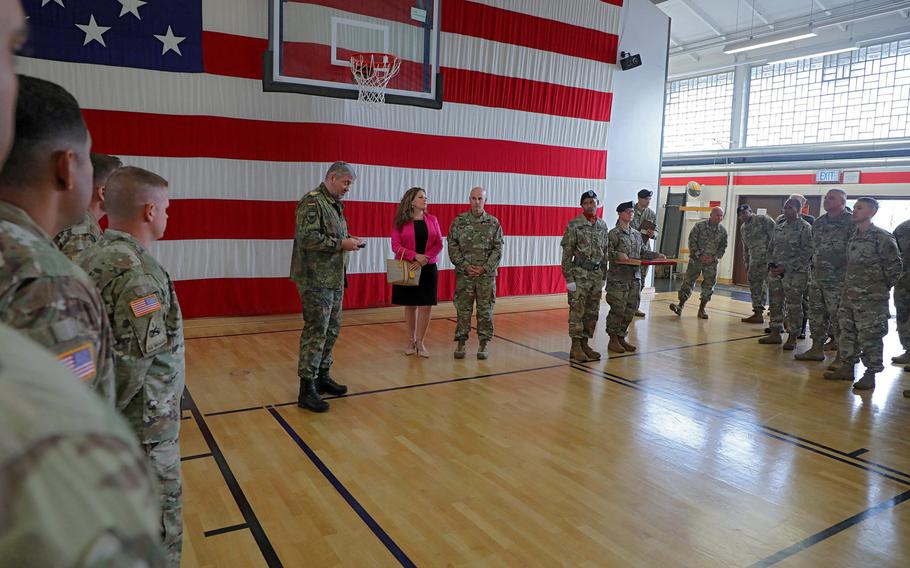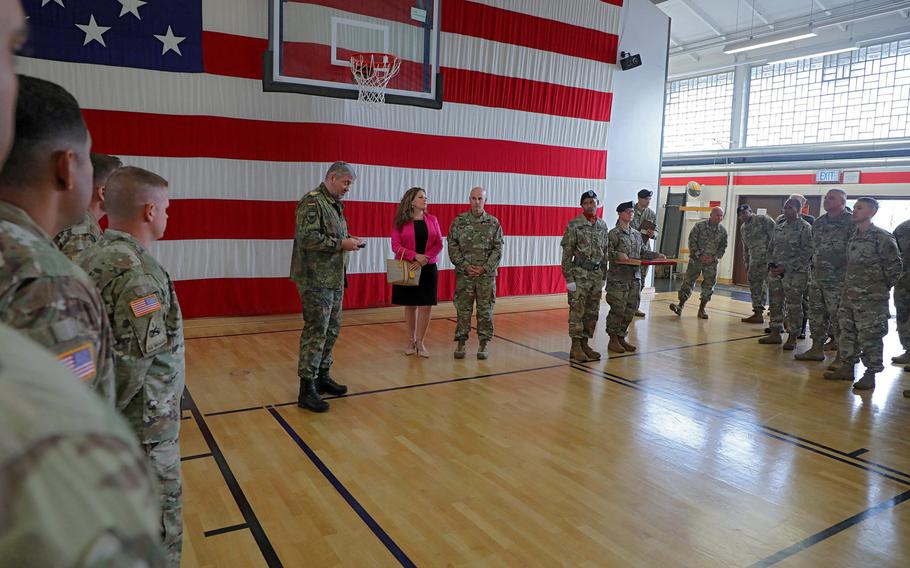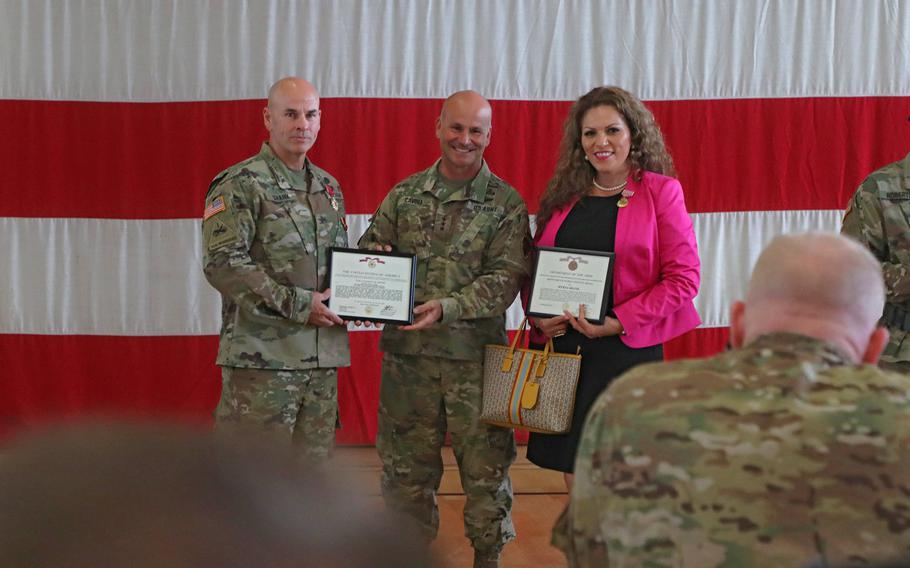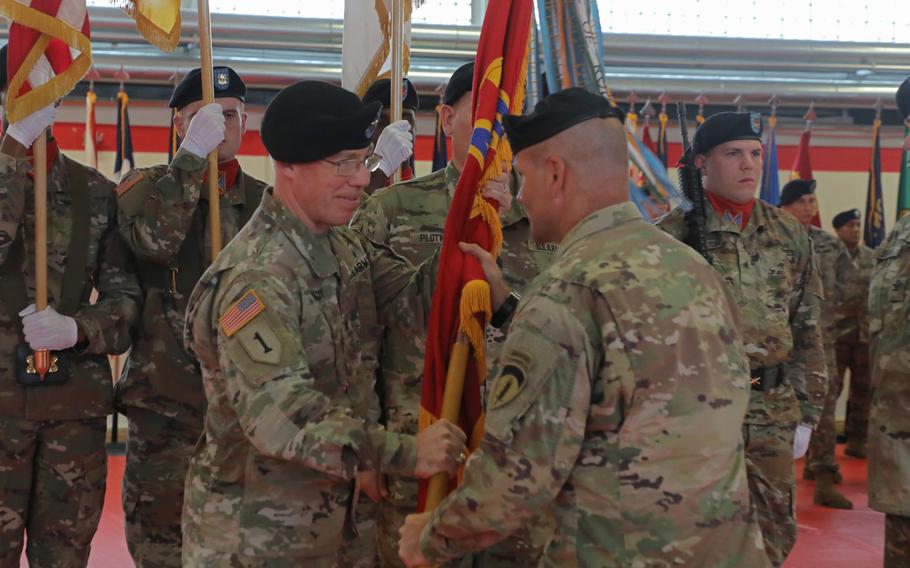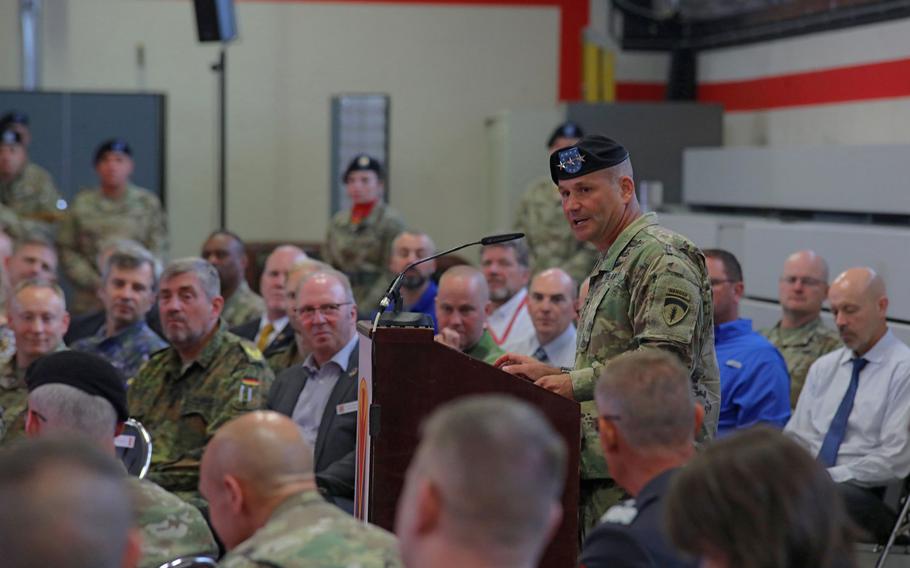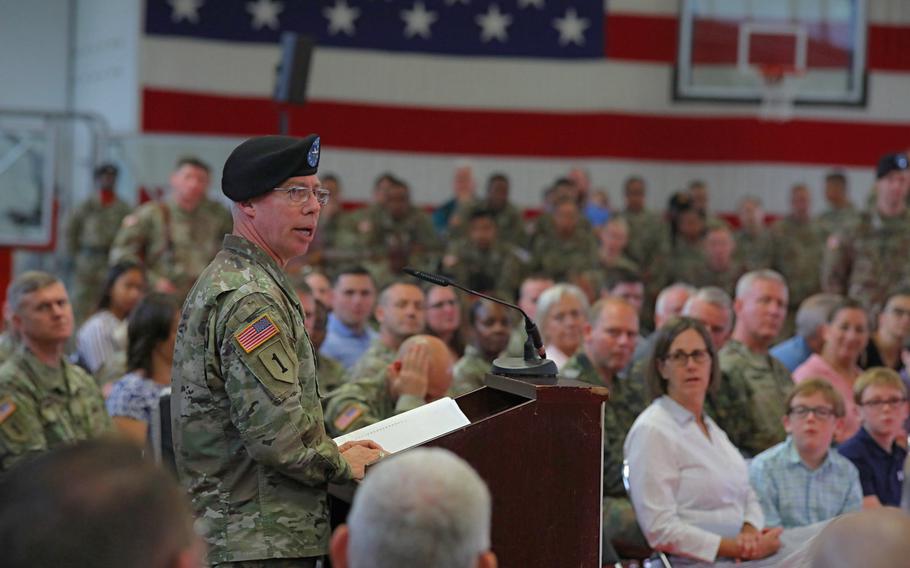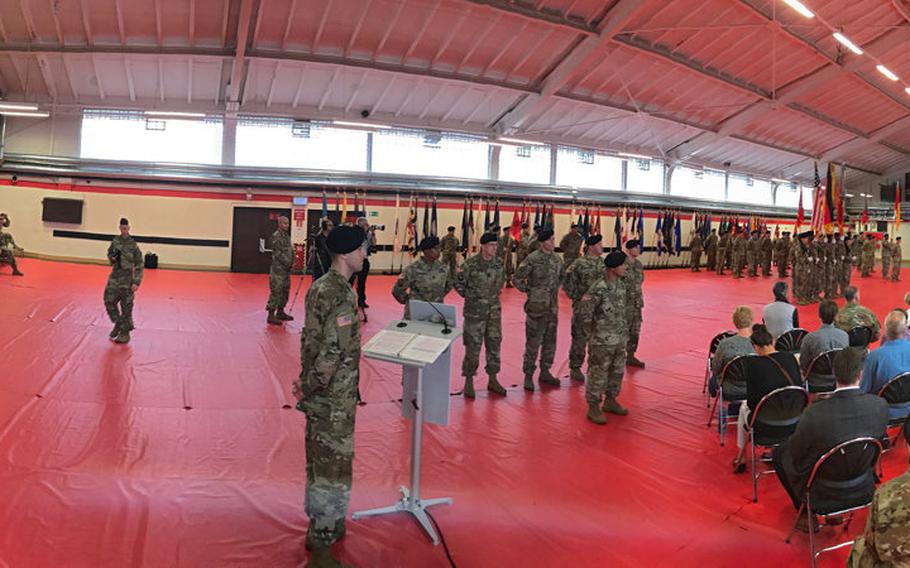 KAISERSLAUTERN, Germany — The outgoing commander of the 10th Army Air and Missile Defense Command, Col. David E. Shank, received a rare German military honor prior to handing over command of the AAMDC to Brig. Gen. Gregory J. Brady.
At the start of the change-of-command ceremony, held at Kleber Kaserne in Kaiserslautern, senior German military leaders awarded Shank the Silver German Armed Forces Cross of Honor, which recognizes soldiers who have made an outstanding contribution to international partnership and cooperation. The Cross of Honor is not often given to U.S. servicemembers, noted German Brig. Gen. Michael Hogrebe, as he presented the medal to Shank.
"In my 35 years of service, this is the first time I've witnessed it," said Hogrebe, who commands Germany's ground-based forces.
Former Minister of Defense Ursula von der Leyen had to approve the award, Hogrebe said.
For several decades, Hogrebe said, as air defense units in Europe were reduced, air and missile defense exercises stopped. But under Shank's leadership, NATO-integrated air and missile defense within Germany and Europe were strengthened, culminating in a combined exercise involving the live firing of several weapon systems, he said.
"It's been a heck of a ride, a great two years," said Shank, who was also awarded the U.S. Legion of Merit medal, which recognizes meritorious conduct in the performance of outstanding services and achievements.
Shank will next serve as the deputy commandant at the Air Defense Artillery School in Fort Sill, Oklahoma.
The change-of-command saw Brady returning to the 10th AAMDC, which he led for two years, starting in 2013. The rare chance in the Army to command the same unit twice — from the stature of two different ranks — reflects the growing importance of the missile defense mission in Europe.
Transitioning the 10th AAMDC to a one-star level command "supports the increase in air and missile defense forces and capabilities in U.S. Army Europe," the Army said, a growth that has seen the command double in size.
Much of that increase has come since 2014, when relations between Russia and the West deteriorated after Moscow's takeover of Crimea.
Last year, the Army activated the first short-range air defense unit to be stationed in Germany since the end of the Cold War drawdown. The 5th Battalion, 4th Air Defense Artillery Regiment replaced "heel-to-toe rotations of National Guard Avenger Battalions," said USAREUR Commander Lt. Gen. Christopher G. Cavoli.
The Ansbach-based unit "opened the door" to deploy an artillery brigade headquarters to Europe, Cavoli said, which "has been a game-changer in this theater," he said.
It's given "us the ability to integrate our tactical short-range air defense with our allies," he said, during the ceremony at the Kleber Kaserne gym.
Brady's return to Germany follows a turn at White Sands Missile Range, New Mexico, as the installation commander.
"I've been here before," he said, noting that his photo hangs "about three or four down" alongside those of other past commanders on the wall of AAMD headquarters at Rhine Ordnance Barracks.
"I'll be reminded daily of how much younger I looked then," he quipped.
svan.jennifer@stripes.com Twitter: @stripesktown