Germany-based Strykers will deploy to Zabul, rather than aid Kandahar campaign
by
Seth Robson
June 7, 2010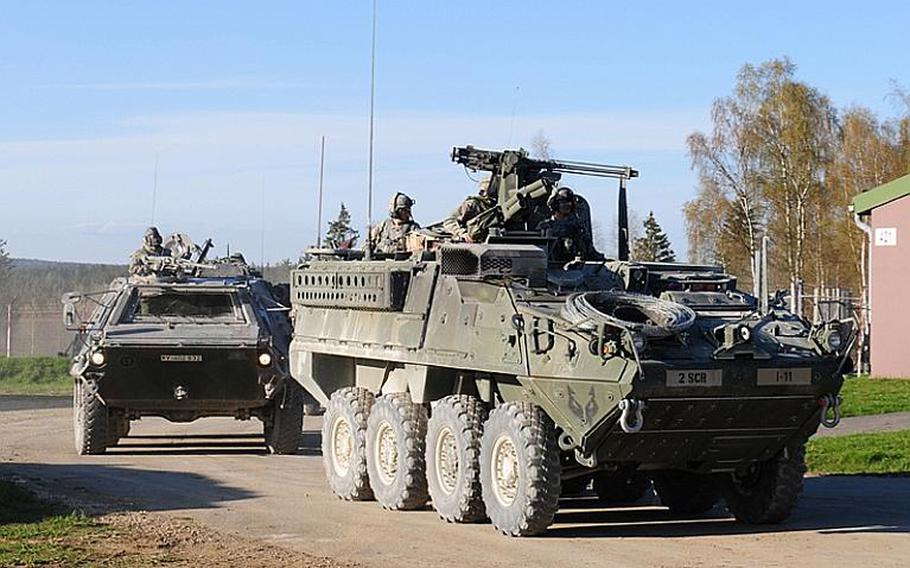 GRAFENWÖHR, Germany — The Afghanistan-bound 2nd Stryker Cavalry Regiment will head to Zabul province, not Kandahar as previously planned, when it deploys later this month.
Originally, the Stryker unit — based in Vilseck, Germany — was scheduled to place its headquarters at Kandahar Airfield. But now, the unit headquarters will set up shop in Zabul, a mountainous region sandwiched between Kandahar Province and the Pakistan border, according to Sgt. 1st Class Teresa Coble of Regional Command South's Kandahar Media Support Center.
The 2nd Cav will replace the 2nd Infantry Division's 5th Stryker Brigade, which has been focused on route security west of Kandahar City and in Helmand Province, according to 5th Stryker public affairs officer Capt. Adam Weece.
Weece said the 5th Strykers have begun moving units to Zabul, adding that the move is, "all about the reallocation of troops in support of ongoing operations in the region, specifically the Hamkari process."
"Hamkari Baraye Kandahar," which translates as "Cooperation for Kandahar," is how the Army describes upcoming efforts to root out the Taliban and support Afghan government in Afghanistan's second-largest city.
Squadron Leader Paul Scott, a British public affairs officer for the International Security Assistance Force, would not discuss where the 2nd Cav's squadrons would be located until all of its troops were deployed. He did say, however, that "2SCR will continue to promote freedom of movement," which is Army lingo for securing the roads.Zabul province traditionally has been a transit area for the Taliban fighters and weapons.
Other American units in Zabul include a Provincial Reconstruction Team and a company of soldiers from 1st Battalion, 4th Infantry Regiment out of Hohenfels, Germany, under a Romanian battle group, Coble said.
Afghan forces operating in Zabul include an Afghan National Army brigade, an Afghan National Police provincial headquarters and numerous support elements, she said.
"They are spread out across the province and focused on developing the capabilities of the Afghan National Security Forces and increasing security in the area, all operating under a combined Romanian-American brigade level headquarters," she said.
---
---
---
---