Germany-based Stryker brigade gets provisional OK for more firepower
---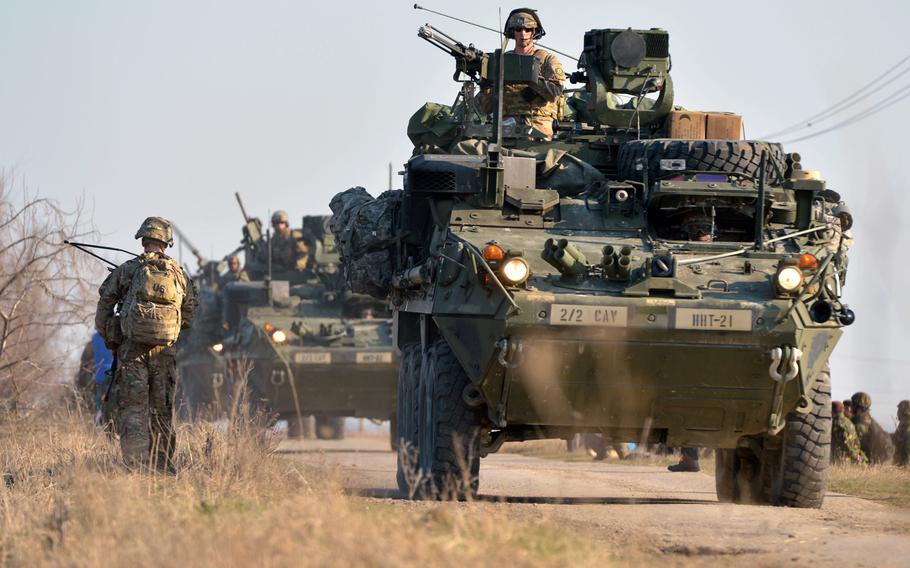 STUTTGART, Germany — The 2nd Cavalry Regiment has received initial approval for more powerful guns to mount on the unit's Stryker vehicles, a move that comes after the Vilsek-based unit said it needed higher firepower, U.S. Army Europe said.
The Army reviewed a recent request from the regiment and "validated the high-priority need" for a 30 mm weapons system, which would give more direct-fire support for dismounted infantrymen "when engaging like units," USAREUR said in a statement.
Determining what is a high priority is up to the commander on the ground, USAREUR said.
USAREUR did not explain why the new guns were needed, but the request comes at a time of increased tension in Europe since Russia's takeover of Ukraine's Crimea peninsula last year.
The 2nd Cavalry, which has some of the Army's oldest Strykers still in operation, has asked that 81 of the vehicles be fitted with 30 mm automatic cannons, according to the news website Breaking Defense, which cited an April 22 Army memo. The upgrade would more than double the caliber of the 12.7 mm machine guns currently mounted on the Strykers, the website said.
For several years now, the Army has been examining how to mount Strykers with more lethal weapons systems. The service says the 30 mm system can strike with precision more than 2,000 meters away and can use ammunition from several sources, including from Apache helicopters.
The 2nd Cavalry's request must now move through additional planning and assessment phases before being fielded, the Army said in the memo obtained by Breaking Defense.
Since the start of the Ukraine crisis, the U.S. has launched several exercises in an operation called Atlantic Resolve, which is focused mainly on reassuring allies in the Baltics and Poland.
The 2nd Cavalry Regiment, which is one of two remaining Army brigades in Europe, has been heavily involved in those initiatives.
In March, the unit conducted a training exercise in the Baltics that ended with a 1,100-mile convoy back to their home station in Germany. That exercise, dubbed Dragoon Ride, was intended as a high-profile demonstration of the U.S. military's presence in Europe.
---
---
---
---