Germans honor American GI who helped nab hit-and-run suspects
by
Mark Patton
June 13, 2011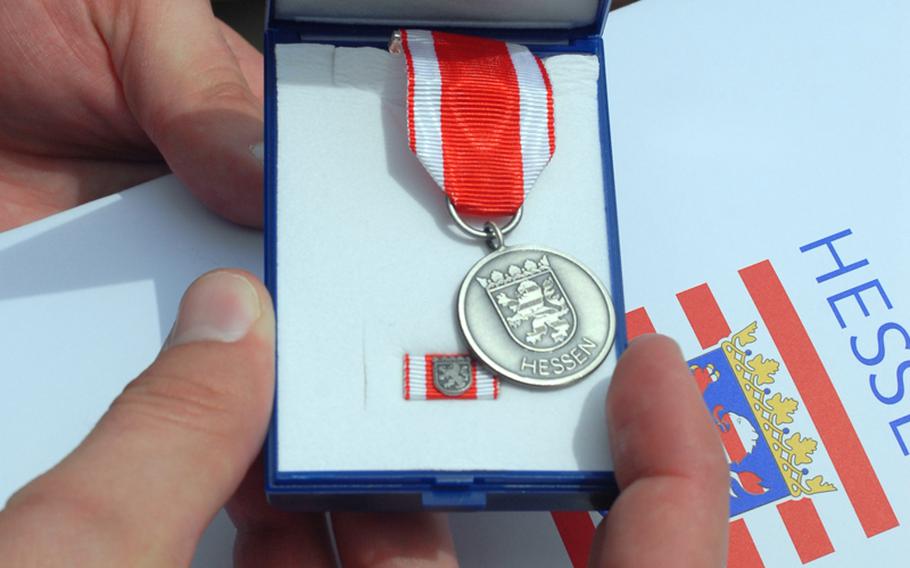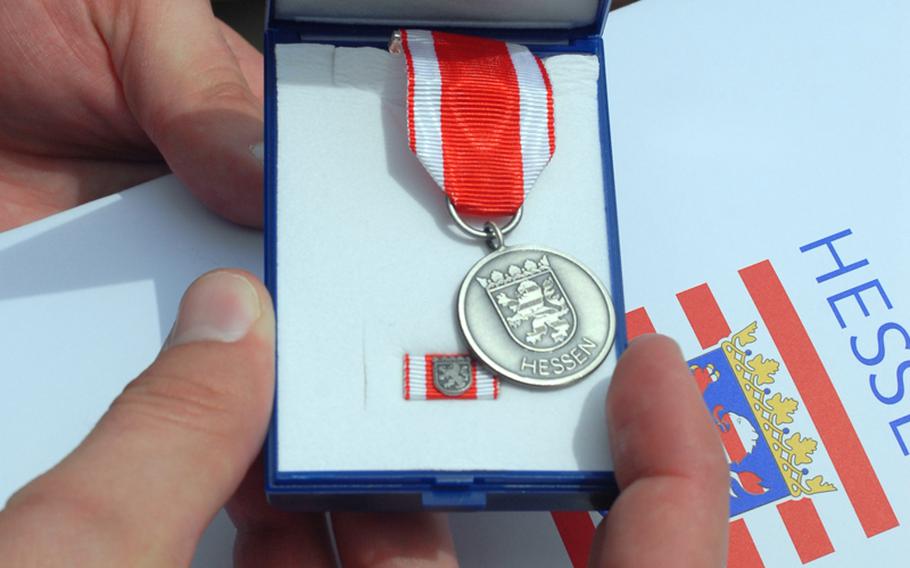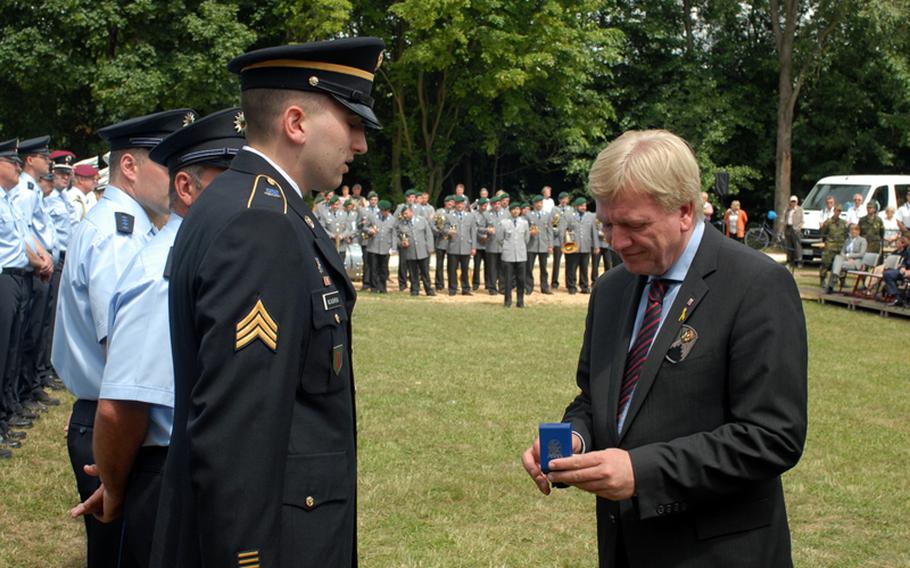 OBERURSEL, Germany - In front of hundreds of spectators at the Hessentag festival in this small town near Frankfurt, a grateful German government honored Sgt. John McCaughrean and two fellow soldiers for coming to the aid of victims of a serious car accident, and helping to nab two men who fled the scene.
McCaughrean accepted the Hessen Medal for Civil Courage from the Hessen Minister President, Volker Bouffier. Also receiving the award, but absent from Monday's ceremony due to a permanent change of station move and leave, respectively, were Spc. Ryan Vaughn and Warrant Officer Mark Kreuger.
While driving to Hohenfels on a Sunday morning to drop off Krueger, the three soldiers spotted a Volkswagen on its side and a Mercedes stationwagon sitting in the middle of the Autobahn 3 near Frankfurt among crash debris. McCaughrean told Vaughn to pull over.
Both McCaughrean and Vaughn are trained under the Army's Combat Lifesaver Course. After determining that an elderly lady hurt in the crash was being looked after by a German doctor, who also witnessed the accident, the pair rushed to the Mercedes to see if they could offer medical aid to the 26-year-old driver and his 18-year-old brother.
"You could smell the alcohol coming off of them," McCaughrean said.
But when McCaughrean rushed back to the van to get his medical supply kit, the driver and passenger of the Mercedes had fled on foot, crossing over the autobahn and hopping a fence into the surrounding woods.
McCaughrean and Vaughn gave chase.
"Thank God I do PT every morning," McCaughrean said.
As the suspects tired trying to escape, the two soldiers were able to hold them and flag German police, who arrested the pair on the spot.
"To me, it felt like half an hour, although it was two-and-a-half hours, [but] time never really mattered," McCaughrean said.
According to a police spokesperson, they are waiting to hear back from the prosecutor's office on the charges the two men will face.
McCaughrean said he's "just ready to go back to work" and there's no danger of the recognition going to his head. He's also been put in for an Army Achievement Medal by his unit for his actions on the Autobahn.
"I'm just an ordinary guy, who does his job and gets chewed (out) once in a while," he said.
Just in case, though, his wife, Elyshia, is ready to keep him down to Earth.
"Every time I go home and say something about it, she says 'Shut up, you're not that great,' " McCaughrean said.
Stars and Stripes reporter Marcus Kloeckner contributed to this report.