VIDEO, PHOTOS
Georgian police in standoff with armed men near South Ossetia
---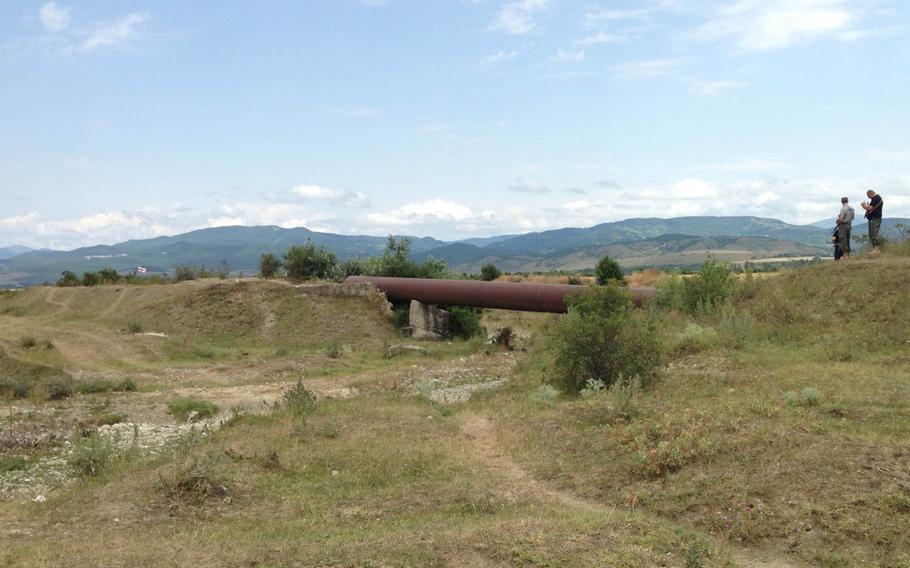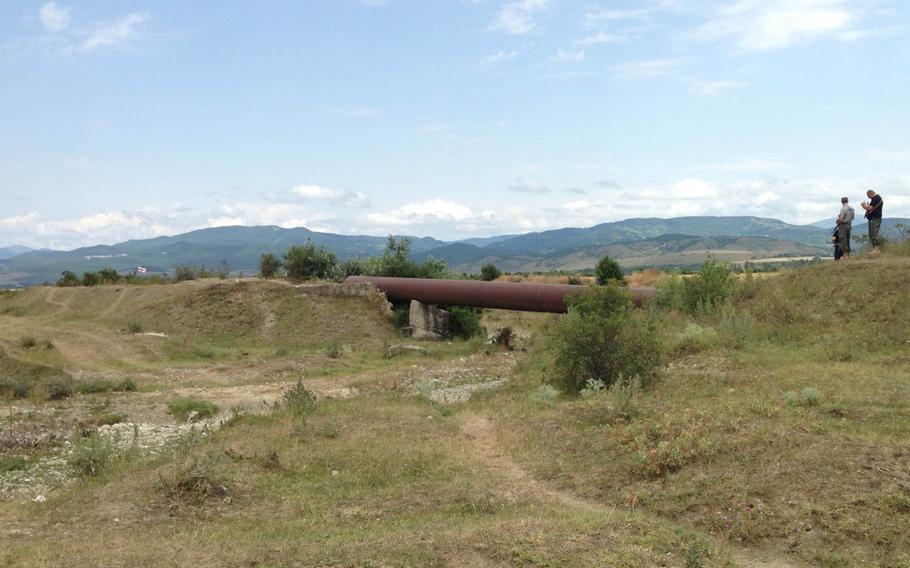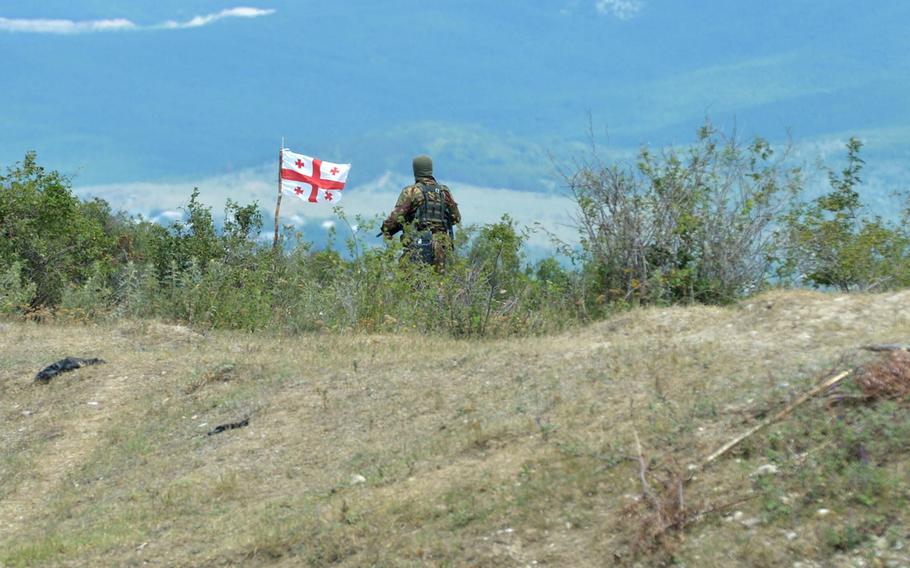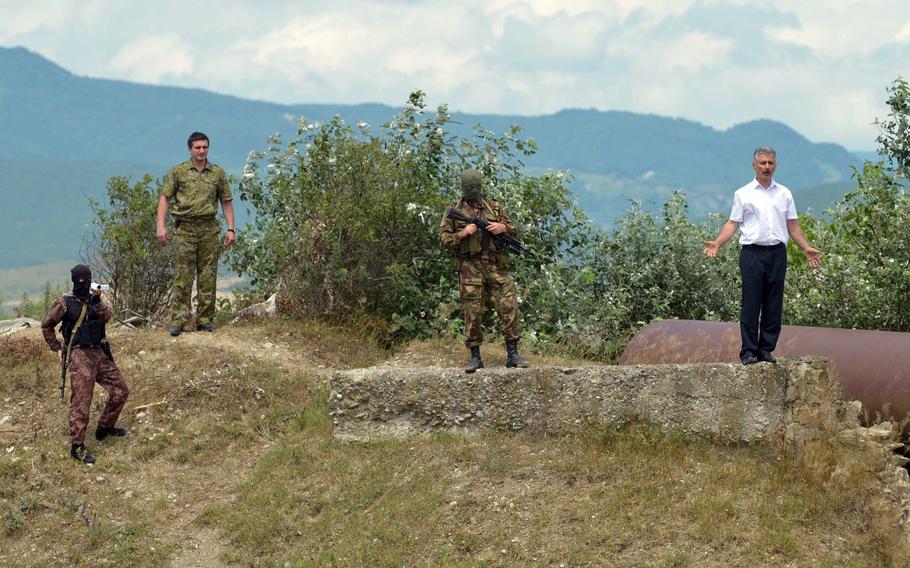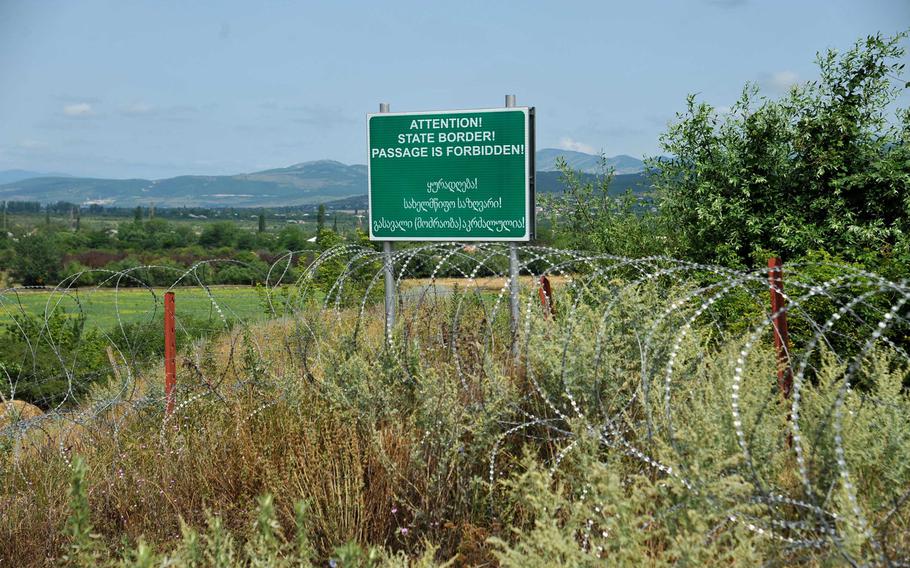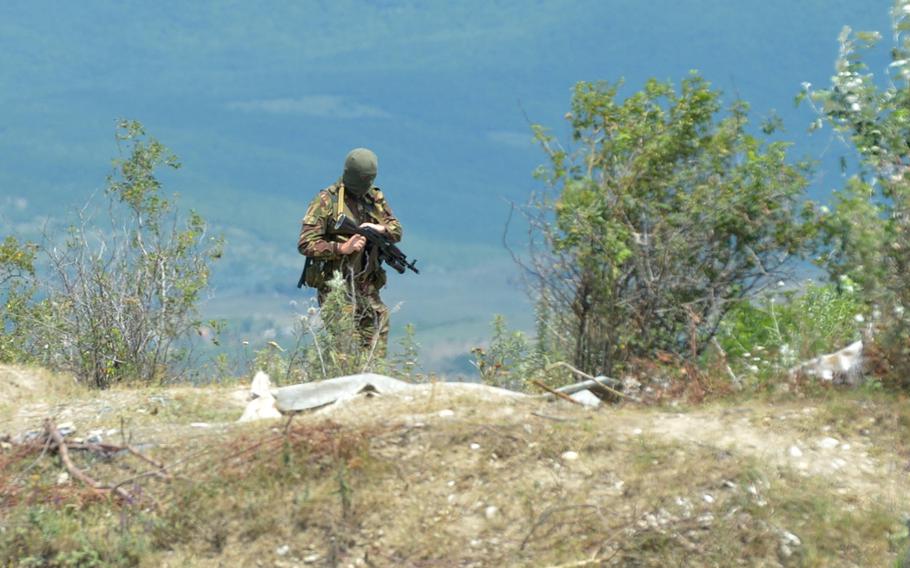 KHURVALETI, Georgia — A small group of civilians and armed, masked men in uniform crossed on Thursday into Georgia from South Ossetia and removed a Georgian flag, the latest move in a tug-of-war over the boundary with the Russian-backed separatist enclave.
The incident came as NATO troops were conducting exercises with Georgian forces at a training area near Tbilisi, the capital, aimed at testing the alliance's rapid-response mission.
Last week, Georgian officials reported that Russia had attempted to grab a mile-long slice of a critical oil export pipeline near South Ossetia by placing markers that extended the enclave's administrative boundary.
On Tuesday, a sign posted in this village about 40 miles northwest of Tbilisi was torn down and replaced the following day with a Georgian flag.
Early Thursday morning, a group of uniformed men crossed over the boundary near the flag. Some were armed while others carried video cameras. Some wore masks.
Georgian police shouted at the uniformed men, urging calm. As the Georgians cautiously approached the berm where the men were positioned, a uniformed man shouted back, "Stop. Stop," and said that an official would soon arrive to explain the group's intentions. Georgian police asserted that at least two of the troops were Russian, citing their speech.
After a while, a man in civilian clothes arrived in a van, accompanied by a handful of uniformed men, and took down the flag.
He identified himself to reporters as Robert Gasaev, deputy chief of the South Ossetia border control, and maintained he was on South Ossetia territory and was there to replace the sign. He warned journalists not to approach closer.
Georgian police did not challenge the action.
When Gasaev left the scene, several of the men in uniform departed with him. It was unclear whether others remained hidden to guard the territory. Georgian police did not attempt to investigate the scene, apparently fearful of a potential escalation.
Georgia fought a brief war with Russia over South Ossetia in 2008, and Russian troops, which had been there as peacekeepers, remain there to this day.
On Wednesday, the European Union expressed concern over the latest incident, cautioning that "steps that could be perceived as provocative must be avoided, as must any action that is detrimental to ongoing efforts to stabilize the situation."
A European Union monitoring mission was expected to hold meetings in Georgia next week with Russian, South Ossetian and Georgian officials about the border dispute.
In Brussels, a NATO official said that the alliance had "condemned the building of fences and other obstacles along the administrative boundary lines."
For Georgians who live near the area of dispute, the boundary line is a source of emotional and economic hardship.
A mile from the standoff, villagers expressed frustration with the lack of progress in reconciling the differences between Georgia and Russia. Without access to South Ossetia, Georgians are cut off from marketplaces for their produce as well as family and friends.
One man, sympathetic toward Russia, said raising a Georgian flag at the disputed boundary was an unnecessary provocation.
"If there were a referendum, I think you would see more people would want to become closer with Russia. How did the West help us? They didn't," said another who declined to be identified.
Another man countered that the Georgian flag was on Georgian territory and belonged where it was.
"I am pro-West. We have to integrate with Europe," said Temur Khuroshovili, a 57-year-old former police officer and farmer.
For years, Georgia has had hopes of eventually achieving membership in the European Union and NATO. To improve its standing it has been a regular troop contributor to the war in Afghanistan and will also be a part of NATO's growing response force.
Still, there are few signs that NATO is ready to open up membership to Georgia, with some allies concerned that it would only worsen relations with Russia. Moscow has been vehemently opposed to Georgian membership in the transatlantic military alliance.
Relations between NATO and Russia have been tenser than at any time since the Cold War after Russia's annexation early last year of Ukraine's Crimea Peninsula and its continued backing of pro-Russian separatists in eastern Ukraine.
In March of last year, uniformed men with no national insignia began moving into Crimea as a prelude to Russia's seizure of the peninsula. Russian President Vladimir Putin later acknowledged that these were Russian forces. The irregular tactics used by Russian forces there have become known as hybrid warfare.
Retired Adm. James Stavridis, who served as NATO's supreme allied commander from 2009 to 2013, warned that it was worrisome that Russia was again stirring trouble in Georgia and that the potential for escalation was high.
"This is very concerning. Seeing continued use of hybrid warfare techniques in an already volatile geopolitical standoff is a prescription for disaster," Stavridis, now dean of the Fletcher School of Law and Diplomacy at Tufts University, said in an email.
Stars and Stripes reporter Slobodan Lekic contributed to this report.
---
---
---
---