Frustration mounts at Army base in Vicenza as coronavirus continues to spread
---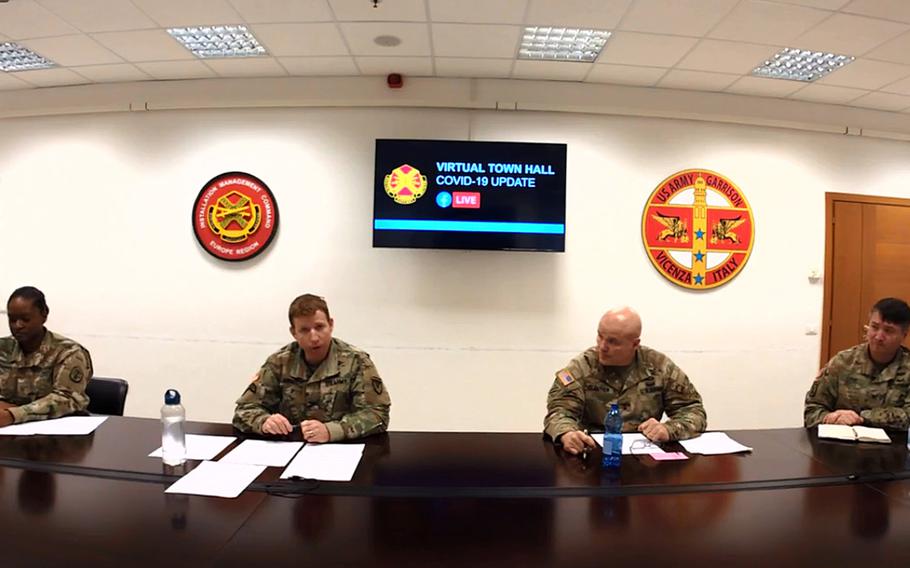 Stars and Stripes is making stories on the coronavirus pandemic available free of charge. See other free reports here. Sign up for our daily coronavirus newsletter here. Please support our journalism with a subscription.
VICENZA, Italy — The strain of the coronavirus crisis was evident at U.S. Garrison Italy's fifth virtual town hall in as many weeks, well after schools and services were closed, moves postponed and directives issued to stay inside in a country with one of the highest death rates from the virus.
Some 20% of commissary workers were out sick, garrison commander Col. Dan Vogel said, while customer demand had increased. The garrison was looking for workers.
The Red Cross was seeking volunteer nurses and other medical workers to fill in at the base clinic, Maj. Gen. Roger Cloutier said, partly to plan for any quarantined, isolated or sick health care workers.
Only a few of the fast food restaurants in the food court remained open as the number of on-base workers was reduced by 77% per an Italian decree, Vogel said.
The garrison is located in Veneto, one of Italy's hardest hit regions, with 6,442 infected by the virus and 36 killed as of Wednesday, according to regional authorities. About 10% of Italy's roughly 75,000 cases have led to deaths, Oxford University's Center for Evidence-Based Medicine said Thursday.
Sixteen people had died at San Bortolo, the local hospital, which also serves as the hospital for the garrison.
Officials said Thursday that women having babies there would no longer be allowed to have their husbands with them at all, even during delivery, which drew the ire of some commenters watching the meeting.
"So basically the (obstetrics) situation is tough luck, we aren't looking at other options for expecting mothers?? This is such a slap in the face to us," one viewer posted while watching the Facebook town hall meeting, a comment liked or other supported by 18 others. Hospitals in New York City, which has more coronavirus cases than anywhere else in the U.S., instituted the same rule.
Other viewers questioned why soldiers were still doing physical training together and disputed Vogel's assertion that the training was being done in six-person increments and with proper social distancing.
They asked for the definition of "mission essential," why soldiers were required to report to work, and why, since the barber shop was closed, U.S. Army Europe said it would not relax grooming standards.
Vogel said that USAREUR's command sergeant major had decided against a grooming standards change, while Cloutier added that it was important that discipline and standards be maintained. "Work with your chain of command and they'll get after it," he said.
There is no sole definition of mission essential, Vogel said. In his command, for instance, the boiler room crew was among the mission essential.
Cloutier said the designation was specific to each unit and that readiness through training was essential to the Army mission in Europe.
The 173rd Airborne Brigade and some U.S. Army Africa units are tasked with rapid-deployment capabilities that must not be degraded. "Training must continue," Cloutier said.
The garrison anticipated coronavirus infections and complications early on by setting up homes and barracks for quarantine and isolation. Recently, the clinic opened up a respiratory clinic that by appointment swabs people for strep throat, influenza, and if those prove negative, coronavirus.
Cloutier, who said coronavirus cases in Italy continued to increase by about 10% daily, also said that the health center was adding inpatient capacity.
So far, officials said, one soldier, a civilian and five Italian workers associated with the base have tested positive for the virus.
But a viewer pointed out that with so few tested and because people without symptoms can spread the virus, it's unclear how many people actually had it.
In one case, the garrison opened up a dining facility staffed by cooks with the 173rd Airborne Brigade to provide healthy to-go meals Wednesday.
But the next day, a soldier there exhibited flu-like symptoms, officials acknowledged. The soldier was swabbed for testing and isolated, Vogel said, a handful of close contacts quarantined, the facility closed and cleaned. "There's a whole new crew in there today," Vogel said.
---
---
---
---