Forgotten 1999 time capsule opened at Aviano Air Base
by
Norman Llamas
May 20, 2020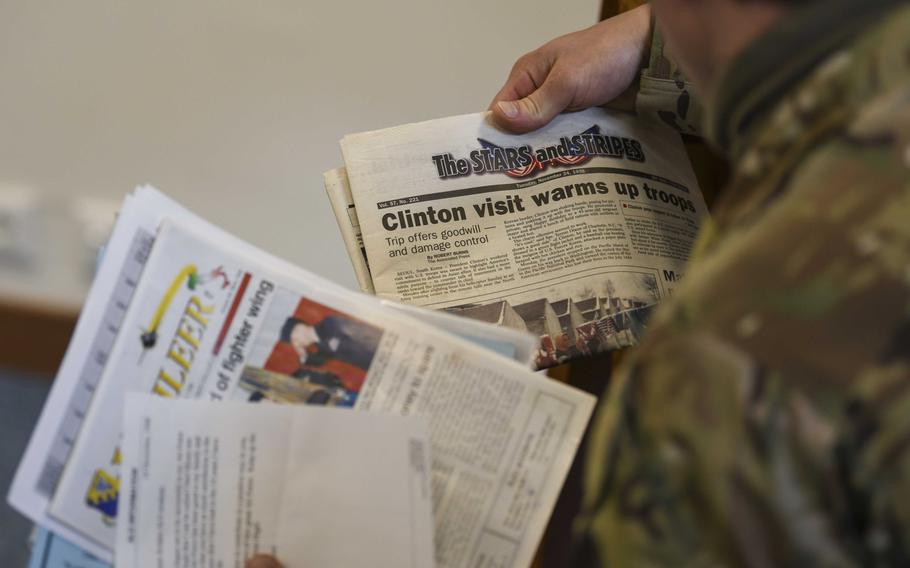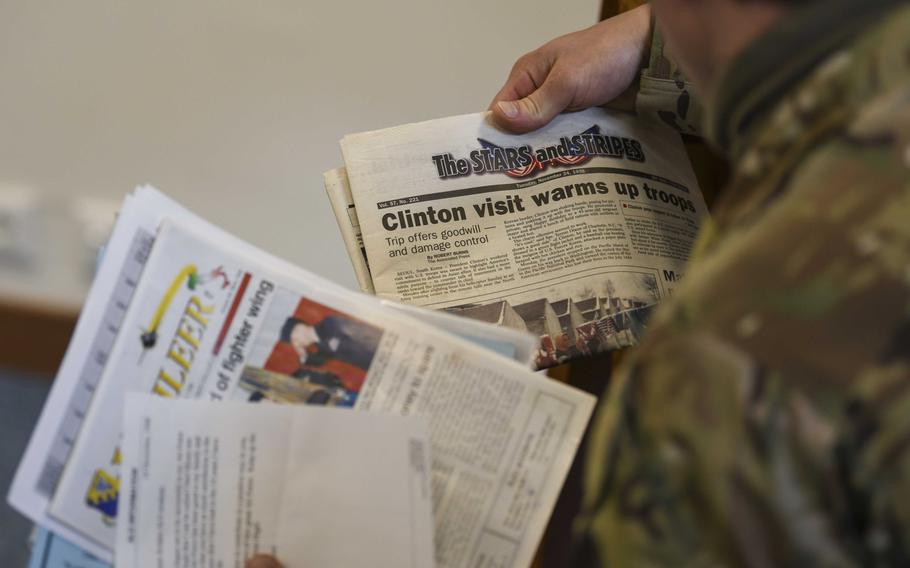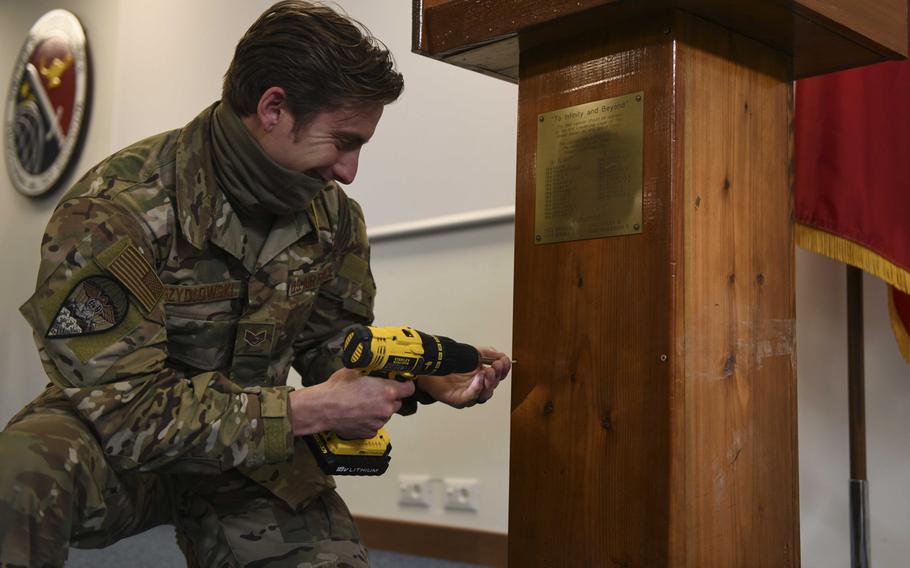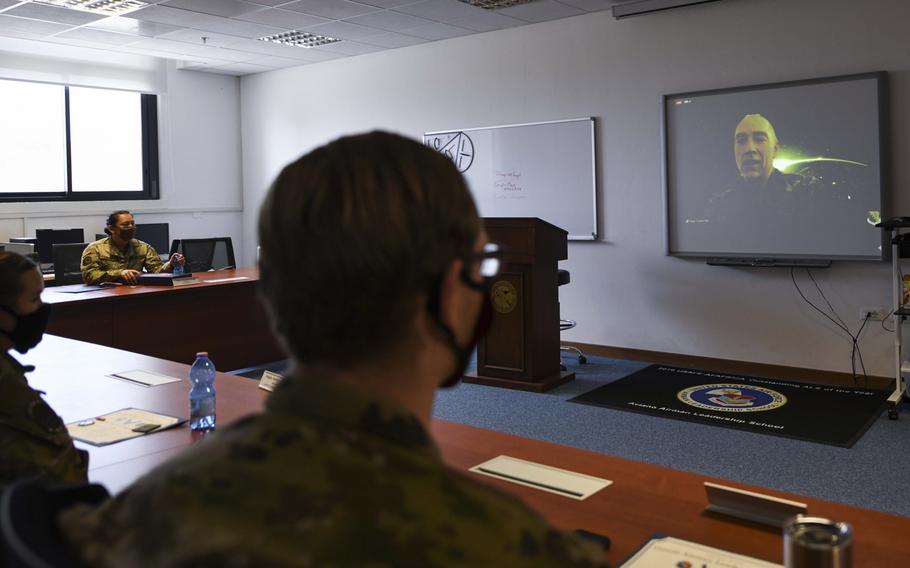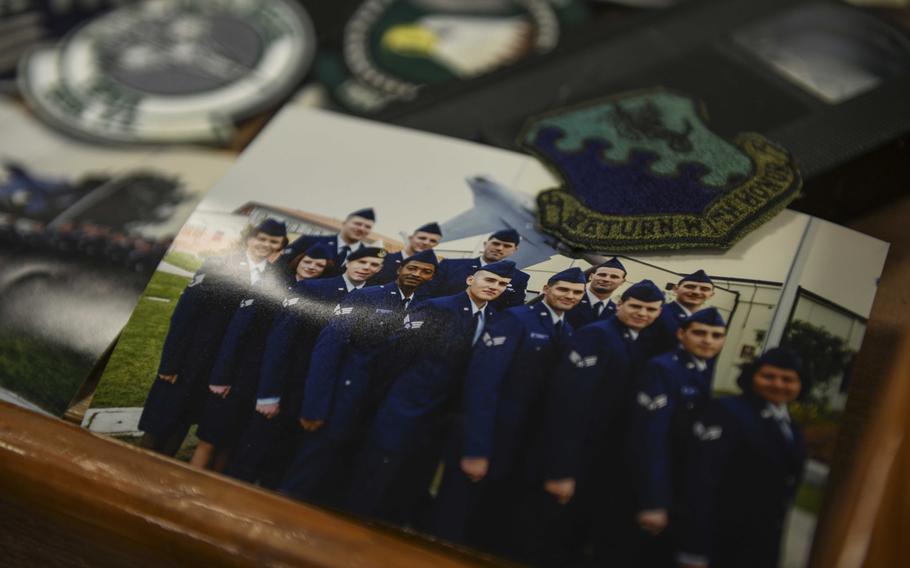 AVIANO AIR BASE, Italy — A forgotten time capsule whose contents predicted the creation of the U.S. Space Force was recently discovered inside a storage container where it was stowed away in 1999.
The "Toy Story" film quote "To infinity and beyond" was engraved on the front of a wooden speaking platform used as the time capsule by Airmen Leadership School graduating class 99-A.
A plaque, listing the names of all 23 class members, included a message asking for the capsule to be opened by the first leadership school class of the "U.S Air and Space Force."
The capsule was opened during a live video broadcast Friday, following the graduation of ALS class 20-D, and its contents were shown to viewers on Aviano Air Base's Facebook page.
"I was very surprised (when) we found it inside a large metal shipping container that was being used for forklift training," said 2nd Lt. Connor D. Heneghan, of the 31st Logistics Readiness Squadron. The capsule was found earlier this month and turned over to the school.
"If I had to guess what was inside it, I'd go with a Buzz Lightyear figurine," Heneghan said.
In December, the U.S. Space Force was established as the sixth branch of the armed forces.
Did class 99-A know something others didn't?
"When the time capsule was found, and it appeared to address the first class graduating with a Space Force, it couldn't have been better timing," said Master Sgt. Kelani T. Mendiola, commandant of the Tech. Sgt. Adam K. Ginett Airman Leadership School.
Chief Master Sgt. Roger A. Towberman, the Space Force's senior enlisted advisor, participated remotely in the event.
In contrast with the latest ALS graduating class, class 99-A didn't graduate amid a pandemic or broadcast their graduation for families and friends to be part of the celebration.
"Being here, using Zoom to communicate, in 1999, we weren't probably predicting that," Towberman said. "So, it's really a reminder of how you can't predict change, especially these days."
After an search for remaining members of ALS class 99-A, one person was located: retired Master Sgt. Kenneth E. Creamer, a contractor at Eglin Air Force Base, Fla.
"Honestly, I had forgotten about the time capsule until I was contacted through email, with the motto 'To Infinity and Beyond,'" Creamer said via email. "The fact that the US Space Force has now come about, it makes perfect sense that this class should have opened the time capsule.
"I really don't remember … what was put in the capsule. We wanted a class project that would share some of our experiences with future classes."
Creamer said that at the time he was a space systems technician assigned to Moron Air Base in Spain as a maintainer for the transportable optical system, a telescope that was part of Space Command.
"I'm not sure if any of that had anything to do with the time capsule and the dedication to the Space Force but, it seems plausible," Creamer said.
The contents of the time capsule included a copy of Stars and Stripes from Nov. 24, 1998; a videotape that won't be played until someone can find a VHS player; many sew-on rank insignia; ALS teaching materials, uniforms and letters written by class members.
About 300 airmen attend the ALS course each year at Aviano. It's designed to prepare senior airmen to supervise and lead teams to support air, space and cyberspace power, according to the ALS website.
norman.llamas@stripes.com Twitter: @normanllamas