Flyer featuring three men for Women's History Month event prompts Stuttgart garrison apology
by
John Vandiver
March 19, 2021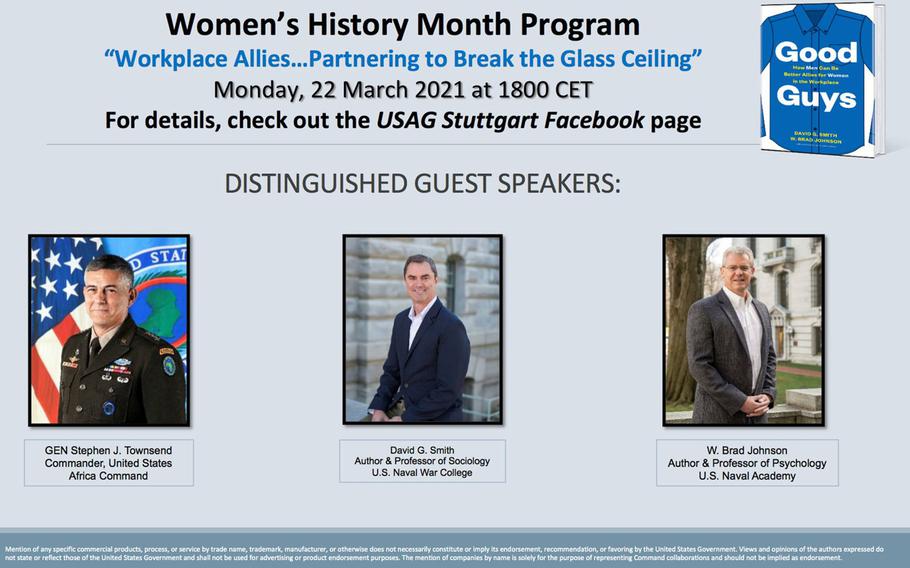 STUTTGART, Germany — The idea was to highlight how men can help make a more inclusive workplace, but relying on photos of three men to promote an Army Women's History Month event felt like a dose of "mansplaining" to some in the Stuttgart military community.
"I think it's important to acknowledge that we stumbled, right out of the gates, with our marketing of this event," Col. Jason W. Condrey, the Stuttgart garrison commander, said on Facebook. "I know there were many out there who were puzzled and frustrated that, for the garrison's observance of Women's History Month, on the flyer were three men."
On Monday, the garrison will host a virtual seminar dubbed: "Workplace Allies ... Partnering to Break the Glass Ceiling."
The guest speakers highlighted on a flyer were U.S. Africa Command's Gen. Stephen Townsend and authors Dave G. Smith and W. Brad Johnson, who wrote "Good Guys," a book on how men can support women in the workplace.
The flyer sparked anger from some who took issue with no women being pictured.
"Mansplaining how to break the glass ceiling. This is RIDICULOUS," one community member wrote on the garrison's Facebook page. Others said that the event elevates men's voices rather than women's and that the program should be nixed.
Others expressed appreciation for the topic, but said the timing was off because women should be the focal point.
The program also will feature female members of the military community, including Kate McNeely, Stuttgart's deputy garrison commander, and Col. Lynn Ray of U.S. European Command.
Ray responded to some of the community members expressing concern on the garrison Facebook page, saying that there will be "no soft questions and discussions" during the event.
"I think the comments on this page are good — it's always a positive thing to have differences of opinions … that creates more exciting interaction," Ray wrote. She urged critics to pose such questions to speakers during the event.
Condrey, who organized the seminar, said he felt it was important to deal with a topic like inclusivity within the military workplace.
"This conversation can't be one that happens without men being part of the conversation," Condrey said Wednesday on AFN Radio.
Stuttgart's Women's History Month program will stream live Wednesday at 6 p.m. and can be viewed at https://fb.me/e/3xaOe90bO.
vandiver.john@stripes.com Twitter: @john_vandiver