Flu shots might not arrive at Navy hospital in Naples until December, officials say
by
John Vandiver
September 28, 2020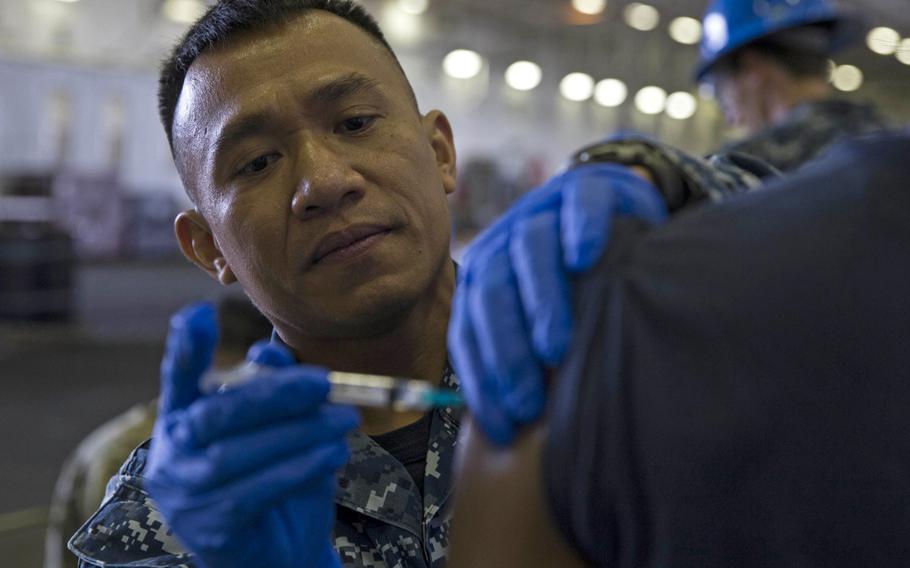 STUTTGART, Germany — U.S. Navy health officials in Naples, Italy, have said they may not be able to start an annual influenza flu vaccination campaign for the community until as late as December amid uncertainty over when they will receive the vaccine.
"At this time, the hospital does not have a definitive delivery date for its annual shipment of the influenza vaccine, however we anticipate availability by December," public health officials at U.S. Naval Hospital Naples said in a recent statement.
Flu vaccine could become available in Naples before then and a mass immunization exercise could be carried out earlier, said Christina Clarke, a spokeswoman for USNH Naples.
But the hospital is "beholden to when the shipment is on-hand and temperature-verified for safety," and there were no guarantees as to when that would happen, she said.
Getting a flu vaccine "is more important than ever" this year to help reduce the strain on healthcare systems responding to the coronavirus pandemic, the Centers for Disease Control and Prevention has said.
Flu vaccination campaigns usually begin in October, and outbreaks tend to start to ramp up in December and run through the cold, winter months. The Centers for Disease Control and Prevention has said immunization campaigns against the potentially deadly viral illness should continue "as long as flu viruses are circulating … even in January or later."
The military elsewhere in Europe have already begun vaccination campaigns. At the Navy's hospital in Rota, Spain, the first community flu shot event was held last week for active duty members. More events are expected for others in the days and weeks to come.
Army health officials in Europe "don't anticipate a delay at this point" and expect to begin vaccinations in late October, said Gino Mattorano, spokesman for Regional Health Command Europe, based in Sembach, Germany.
The CDC has said there are "no significant delays" reported in vaccine deliveries, but delays could occur "because of the record number of doses being produced this season" which means production and distribution will occur over a longer period of time.
vandiver.john@stripes.com Twitter: @john_vandiver