First NATO-owned surveillance drone arrives at Sigonella as alliance looks to Middle East, Africa
by
John Vandiver
November 22, 2019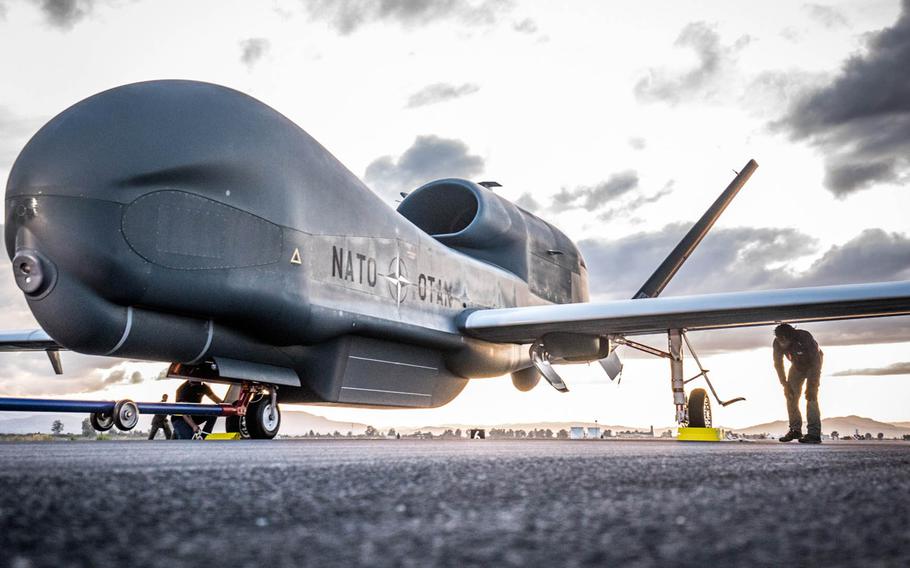 STUTTGART, Germany — NATO's first unmanned aircraft has arrived at an alliance base in southern Italy, where reconnaissance missions are expected to begin next year.
The first of five Alliance Ground Surveillance drones arrived at Naval Air Station Sigonella in Sicily on Thursday, after completing a 22-hour test flight from Palmdale, Calif., a statement said.
The RQ-4D aircraft, ordered in 2012, are based on the Air Force's Global Hawk Block 40 high-altitude and long endurance drone, but modified to NATO specifications.
"This demonstrates that NATO Allies are committed to modernizing the Alliance and investing to deliver key cutting-edge capabilities to the benefit of our shared security," NATO Secretary-General Jens Stoltenberg said in a statement.
Allies will collectively own and operate the aircraft and will have access to the data and intelligence that is gathered, NATO said.
The NATO base is operated by the Italian air force but houses U.S. Naval Air Station Sigonella and its thousands of service members as its primary tenant, along with other NATO personnel. The base also serves as a major transportation hub used by all Defense Department services.
A NATO official thanked Italy for co-hosting the new AGS unit. He said it will comprise nearly 600 personnel, and will include a new Data Exploitation and Training Center which will be able to train up to 80 students per year.
"The NATO AGS will be co-located with the U.S. Air Force Global Hawks and the U.S. Navy Broad Area Maritime Surveillance unmanned aircraft systems which are (also) in Sigonella," said the official who could not be named in line with NATO regulations. "This will provide for synergies in logistics and sustainment."
The arrival of the first drone comes as NATO attempts to get a better handle on security along its southern doorstep, where instability in northern Africa and Syria has been an area of concern.
In 2017, NATO launched a new information hub in Naples tasked with collecting data from Middle East and African countries, in an effort to give early warning on threats such as terrorism and illicit trafficking.
Each of the remotely piloted planes will undergo a system verification phase after arriving at Sigonella. When testing is finished, the aircraft are handed over to the NATO AGS Force. Initial operating capability is expected early next year, NATO said.
The main contributors to the project are the U.S., Bulgaria, Czech Republic, Denmark, Estonia, Germany, Italy, Latvia, Lithuania, Luxembourg, Norway, Poland, Romania, Slovakia and Slovenia.
vandiver.john@stripes.com Twitter: @john_vandiver