Face masks and gown or virtual? Graduation ceremonies for DODEA Europe schools adapt to the coronavirus
by
Jennifer H. Svan
May 22, 2020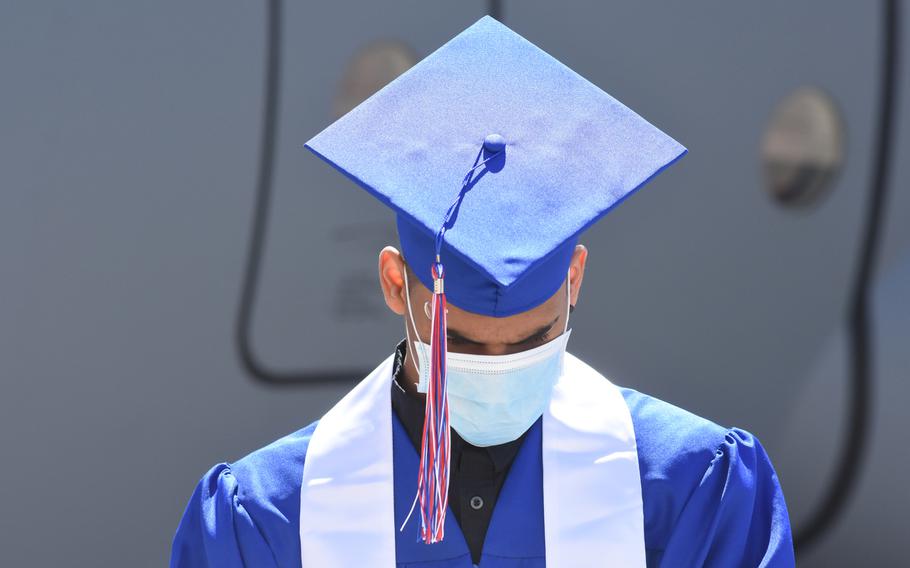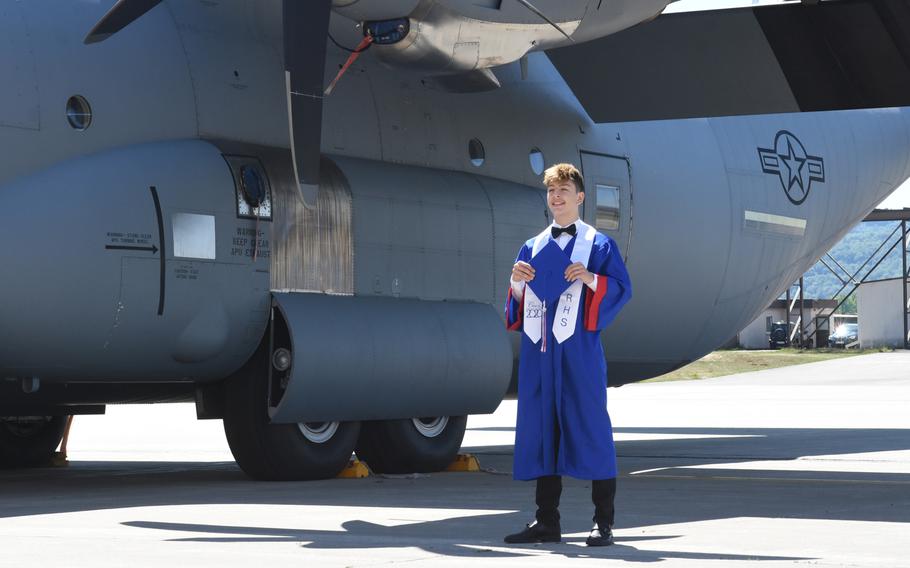 Stars and Stripes is making stories on the coronavirus pandemic available free of charge. See other free reports here. Sign up for our daily coronavirus newsletter here. Please support our journalism with a subscription.
KAISERSLAUTERN, Germany — For Becca Adams and more than 1,400 other high school seniors preparing to graduate from Defense Department schools across Europe, the coronavirus pandemic has upended a traditional rite of passage.
Adams had been looking forward to walking across the stage in the stately Kurhaus, where her school, Wiesbaden High, has held its graduation ceremony for years.
"I know how special that ceremony is and how much it means. It's a beautiful space," Adams said.
Instead, she and others in the class of 2020 will mark the end of this chapter of their lives in nontraditional ways.
Some commencement exercises will be entirely virtual, featuring recorded speeches and video clips of graduates, while others will be live ceremonies with rules meant to prevent the spread of the coronavirus.
Principals at 21 DODEA schools in eight countries have developed graduation plans along with military officials that incorporate the new normal imposed by the pandemic.
In Wiesbaden, for instance, the Kurhaus can only accommodate 100 people if social distancing rules are followed, and there are more than that in the graduating class alone, not to mention their families.
So instead, Wiesbaden's class of 2020 will have a "drive-in movie-style graduation" that will be livestreamed at a different venue, principal Heather Ramaglia said.
Seniors and their families will drive on to the airfield to the Pomp and Circumstance March at Clay Kaserne on June 5, and watch recorded speeches, a virtual presentation of diplomas and a class video.
Before the recording begins, the graduates will pick up their diplomas, transcripts and congratulatory notes, and get photos taken in their cars. The event will finish with a parade through Clay's housing area.
"Typically, they would get to walk across the stage, shake my hand, get their photo taken," Ramaglia said. "I think the big thing is trying to get it as fun and as close to what they would have experienced as we can."
The class of 2020 at Naples will walk in the same venue as past graduating classes, with some differences. The 56 seniors expected to participate will sit on chairs spaced 6 feet apart from each other on the stage in Carney Park, a military recreational facility situated in the caldera of an extinct volcano near Naples.
Graduates will wear face masks and only their parents will be able to attend the ceremony, while watching from parked cars. Diplomas will be awarded but graduates won't be able to toss their caps due to distancing rules, principal Fredo Ontiveros said.
At Ramstein, a community parade for the 218 seniors is planned. Graduation was supposed to be at Fritz Walter Stadium, home of the Kaiserslautern men's soccer team.
The class, along with seniors from Kaiserslautern and Baumholder, had the opportunity last week to have their photo taken in cap and gown in front of a C-130J Super Hercules parked at Ramstein.
Many seniors have also altered their post-graduation plans. Gone is the traditional college freshman experience with dorm life, canteen food and classes in hallowed institutions, replaced for the first semester at least by online classes and life with relatives.
Gone for others, like Wiesbaden senior Adams, who is graduating at the age of 16, is the plan to take a gap year before heading to the University of Virginia in 2021.
"I've realized that I'm ready for college, and I don't want my gap year to be what my life is now, where I'm stuck in the house all of the time," she said.
The changes are "a really big let-down," said Ramstein senior Michael Brink, 18.
But the class of 2020 is trying to take the moment in stride.
"It is what it is," Brink said. "We're in the middle of a pandemic."
svan.jennifer@stripes.com Twitter: @stripesktown
---
---
---