Europe-based Army Strykers to receive anti-jamming systems
by
Martin Egnash
December 5, 2019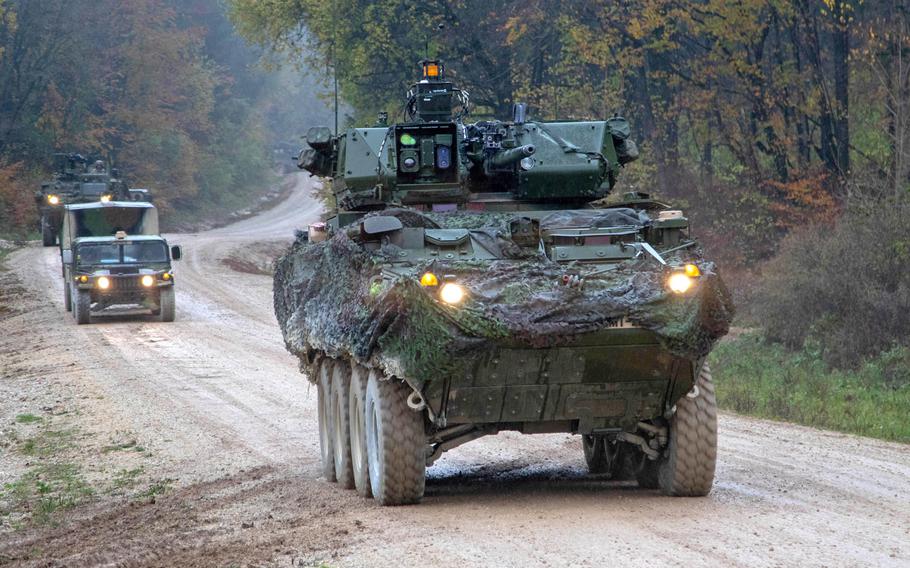 VILSECK, Germany — The Army plans to install anti-electronic warfare systems in more than 300 of its Stryker armored vehicles in Europe, a decision made amid concerns that Russia and other adversaries would attempt to disable GPS-based systems in the event of a conflict.
The new Mounted Assured Positioning, Navigation, and Timing System, or MAPS, allows Strykers to transmit their position and communicate with each other when their GPS systems have been jammed.
The Strykers have been steadily upgraded with new systems and firepower over the past few years. Some can fire CROWS-J anti-tank missiles, while the "Dragoon" armored vehicles equipped with 30 mm cannons look more like narrow, high-speed, trackless tanks than light armored vehicles.
The weapons functions and other systems rely on electronics, which has spurred Army efforts to guard against jamming attacks.
The cyber domain is often times more contested than land, said Chief Warrant Officer 3 Michael Flory, an electronic warfare technician with the Army's 2nd Cavalry Regiment based in Vilseck, Germany.
The Army tested about 60 of the anti-jamming systems last month during the Germany-based Dragoon Ready exercise. The systems held up well during range tests, Flory said.
MAPS is controlled by a combined GPS and anti-jamming antenna that lets soldiers know when they are under threat from electronic warfare, the Army said in a statement.
"It allows combat formations to continue their mission when in GPS-denied environments," said James Spofford, the Army's assistant product manager for the system.
The Army also plans to equip armored units with the technology and put MAPS in vehicles such as the Bradley Fighting Vehicle, M1 Abrams tank, and the M109 Paladin self-propelled howitzer at some point in the future, the statement said.
In Europe and beyond, Russia's ability to launch cyberattacks and jam GPS signals has been a concern.
Last year, Western officials blamed Russia for jamming Norwegian military signals during Trident Juncture, a major allied exercise.
In Syria, Russia has been suspected by U.S. officials of launching electronic attacks and jamming coalition communication systems.
egnash.martin@stripes.com Twitter: @Marty_Stripes
---
---
---